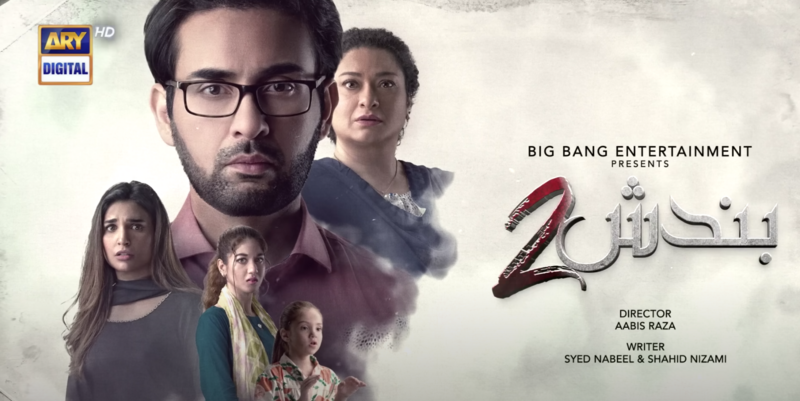 The rejection of Rabail's potential proposal for strange reasons and Humaira's feeling of an unknown and unseen...

The rejection of Rabail's potential proposal for strange reasons and Humaira's feeling of an unknown and unseen pressure indicate that Farhana's evil acts are at last beginning to bear fruit.
Horror and thriller drama Bandish 2 airs on on ARY Digital every Friday. Bandish 2 has received a lot of love and acclaim from drama fans all over the world, especially those who enjoy the horror genre, following the enormous success of its previous sequel. The family at the centre of the tale has fallen victim to black magic cast by the brother's wife who is envious of them and wants to acquire their ancestral home. Along with her married son Sameer (Affan Waheed), whose wife is Wania (Amna Ilyas), and their daughter Hoorain, Humaira (Sania Saeed) recently relocated from Sukkur to Karachi. Manahil (Areej Mohiuddin) and Rabail are Humaira's other two unmarried daughters. Because Farhana (Zainab Qayyum), the wife of Humaira's brother, sought to inherit the family home despite having already received their part in the past, Humaira's husband never got along well with them. Although both the brothers are no longer alive, Farhana is still determined to use black magic to destroy their family. Hoorain, Wania, and Manahil see strange occurrences in the house, and both Wania and Manahil are convinced that the house is haunted.
When Baba Saeein asked Farhana to visit the cemetery in the previous episode, she obliged. As a result, she has now begun to experience strange feelings. In her room, she hears her deceased husband calling her name and telling her that she can bring him back to life, but that she shouldn't tell anyone about it. Farhana, however, wakes up and realizes it was a dream. Farhana visits her Baba Saeein and complains that ever since she returned from the cemetery, she has been feeling sick. She was convinced by Baba Saein that she had to give up something in order to obtain something. In actuality, she will acquire multiple strengths as a result of what she would do for him. He requests that Farhana bring him pictures of each member of Humaira's family. Farhana complains about not having their pictures or a camera phone. Baba Saeein responds that she must follow instructions. Baba Saein provides her a black cloth and instructs her to place it inside Humaira's home anywhere she can.
As the family of Sameer's friend is visiting for Rabail's proposal, Farhana arrives at Humaira's house. However, it appears that Rabail is beginning to develop feelings for her boss, and when she is informed that someone is seeking her marriage proposal, she says that she simply wants to concentrate on her job and does not want to be married just yet. The cloth has been tucked under the sofa's cushion by Farhana, and in an extremely unsettling way, the cloth is seen moving around the house by itself.
Everything appears to be fine as the family arrives, but when the guy meets Rabail, he appears to be feeling sick and having trouble breathing. Naturally worried, he is rushed to the hospital, where all his tests come out fine and he himself feels fine. However, Humaira suggests Sameer to reject their proposal for Rabail because she suspects they may be hiding something. Wania also informs that Rabail does not want to get married right now. A sleeping Hoorain was seen waking up as this was happening and smiling in a very creepy manner.
Farhana asks from her son Armaan, whether Rabail is having any issues at the office. He responds by saying that the boss thinks she is doing an excellent job. Farhana responds that she would experience difficulties and that Armaan is the person who needs to support her the most. When Rabail arrives at work the following day, her boss's brother has just arrived and requests that Rabail bring the file for the client they had a meeting with. However, the file was with him because she left it at the restaurant where their meeting was meant to take place. She obviously feels embarrassed when her employer reprimands her for being careless. She explained what had occurred when Armaan asked her about it, but added that since he was the boss, they had every right to criticize her because it was her fault. Armaan acts as though he is extremely worried by this and will speak to the boss about it. But Rabail urges him to not do or say anything. Later, the boss also realized his error and expressed apologies to her.
The episode didn't have anything big happening, but we like the drama's pace because, as a suspense and thriller drama, a lot of things happening all at once and too rapidly might be a little overwhelming. Everyone has been faithful to their roles, but Amna Ilyas as Wania stands out because she is so natural and likeable that we enjoy watching her in every scene. The background music and the horror scenes have been so expertly staged and positioned that they really bring out the fear in the situations that call for such intensity. The scene with the cloth moving, and Farhana's name being called made us wonder what it may be like for someone who practices such things. For us, it really did send shivers down our spine.
Do you have any ideas as to what Farhana will do next? Comment below and let us know.