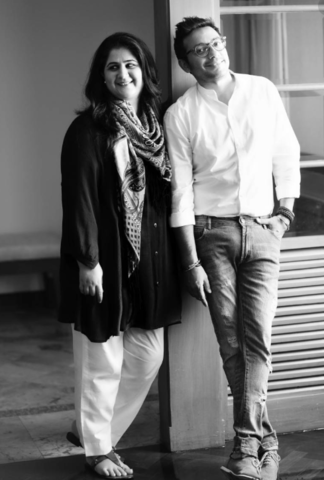 Guddu Shani share their vision implementing a digital National Growth Plan to trigger an innovative economy in Pakistan!

Guddu Shani have worked with various brands, be it fashion or home textile, collaborating with influencers to build up brands as well as introducing the concept of Design Thinking. Team Hip In had a few questions for the dynamic duo,
How has the experience been?
It had been a tremendous journey. We started our career as fashion photographers, but the best part had been that we didn't stop there. We started brand consulting, explored film making, design thinking, data-driven creative & marketing, and so many other things:) some people think that we are mad. Still, our satisfaction is winning of brands that grew exceptionally during these years and admired our efforts.
You took part in Pak-US Tech Exchange Tour in February 2020, how was your experience, and what can our industries learn from this?
It was a great experience to present our case study of Data-Driven Creative & Marketing at Silicon Valley. We met very high-end diaspora and felt super proud of fellow Pakistanis who have raised the bar for the country. One crucial thing that our industries need to learn is Innovation Economy, Value Addition, and Marketing. Our industry needs to shift the mind-set to design thinking and invest in innovation; otherwise, in the future, we will be choked due to this old smoke-stacked industrial model.
The brand has evolved in the past 15 years, how have you seen this transition when it comes to your clients?
We have evolved with our clients, and they have grown with our futuristic vision. The successful journey of both of us was not possible with having faith in each other. 
Keeping in mind the dire constraints of industries today due to COVID-19, do you think there is a need for innovative thinking within the industry? If yes, possible to provide us with further details on how this can be achieved
Design Thinking enables us to resolve human-centered/consumer-centered problems through the wisdom of the crowd. This definition alone emphasizes enough to the need for innovative thinking. Not only within the industry, in fact, across the nation.  We are dedicating ourselves towards enablement; this initiative is all about helping the nation to resolve current issues and grow more in the future. We have worked out a digital platform as National Growth Plan. This is an integrated and unified digital platform. The core objective is to Trigger Innovation Economy in Pakistan through Knowledge of Design Thinking. This will be consisting of multiple apps & web. It will work as an Innovation Lab for Industry, as a school for Learners (Youth & working professionals) and a Community to connect innovative human resources with industry for freelance work, jobs and resolve more significant challenges through crowd knowledge. The platform will primarily be working on fertilizing the mind-set of Pakistani's for the Innovation Economy. 
Where do you see our industries heading towards if such innovation is practiced?             
I see ourselves producing robotic surgeries, driver-less cars, resolving human-centered problems, addressing consumer-centered needs, and a lot more. Pakistanis have a great opportunity of using design thinking as we already do it frequently in our daily lives. Almost everyone uses a particular type of "JUGAAD" to resolve day-to-day problems. That is the baseline of design thinking. We can do miracles, only if we just learn to make our Jugaads little structured and process based.
With this new concept of thinking and execution of a National Growth Plan, Guddu & Shani have implemented a platform to move towards an integrated and united industry where businesses, working professionals, youngsters, job management alike can come together to prepare effectively for the post-pandemic period.