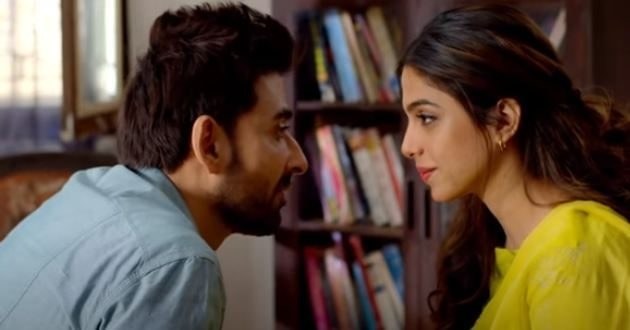 Story So Far Following the meltdown Hoorain (Sonya Hussayn) had at home, her condition became highly unstable and...

Story So Far
Following the meltdown Hoorain (Sonya Hussayn) had at home, her condition became highly unstable and Asfandyar (Sami Khan) had to take the difficult decision of admitting Hoorain into the psychiatric hospital where they would be treating her for her schizophrenia. Asfandyar pours out his feelings to his best-friend and talks about how worried he is for Hoorains health and whether she would be able to get better. Fortunately, Hoorain requests the nurse for a phone call and speaks to Asfand over call. This episode finally gives us hope that Hoorain is definitely on her way to recovery, instead of fighting with the medical staff, she seems to be co-operating with them and also asks for her medicine on time. On the other hand, Hoor's father asks Warda's (Ghana Ali) husband to take her back home. He then requests his wife and daughters to improve their relationship with Hoorain and end their differences too. After a long time coming, Hoor's mother realises the grave mistake she's made in understanding her youngest daughter and visits her at the hospital. A bitter-sweet moment is shared between Hoor and her parents, her mother apologises profusely for how Hoor was treated all her life. Back home, Naimal decides to fight back her older sister after they had a confrontation earlier. She begins her vengeance by agreeing to the marriage proposal sent by Sufyan.
Brilliant Performances by the cast of Saraab make the drama a must watch!
Sonya Hussayn is Acing her Role as Hoorain!
Saraab covers the difficult topic of mental illness which the society in general does not accept easily. The drama tackled this genre in the most spectacular way, the winning scene would have to be Hoorains mother finally realising the mistake she had made with her daughter and how things could have been different for Hoorain if mental illness was treated equally as important as we treat any physical ailment. It was heart-wrenching for Hoorain to be apologising to her parents for something she has no control over, Sonya Hussayn is seen in the most deglamorised role in Saraab and she has absolutely nailed each performance with utmost grace and finesse.
Sami Khan gives an Applaud- Worthy Performance
Sami Khan as Asfandyar, Hoorain's knight in shining armour broke down in Saraab 's latest episode and it was heartbreaking to watch! Saraab gave us the chance to see Sami Khan perform one of his best, be it the caring and loving husband to Hoorain or the vicious and manipulative hallucination that she imagined in her mind. His expressions changing within a split second were a treat for the sore eyes.
Saraab Sends Out a Strong Message for Accepting Mental Illness.
It is not often that such plays are made for the masses to watch. However, this was the need of the hour, awareness on mental illness is what should be shown on our screens and given exposure. Saraab has shown us how positively Asfandyar has taken Hoor's schizophrenia and accepted that it is merely an illness which needs proper care and medical treatment instead of believing in the supernatural mumbo-jumbo! Instead of typical in-law behaviour, Asfandyar's parents have supported Hoorain's condition and treat her as their own child.
Watch the next episode to know whether Hoorain is released from the hospital and will Naimal get married to Sufyan?