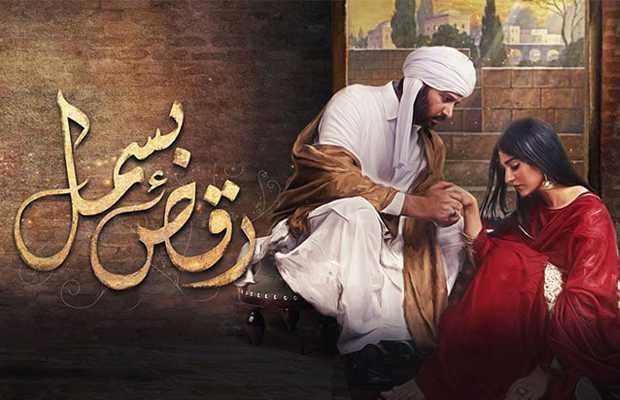 Everything happens for a reason in Wajahat Rauf's directorial comeback Raqs e Bismil

A good drama is one in which everything happens for a reason, and in Raqs e Bismil, everything that has happened, has happened for the right reasons. Be it Moosa's expulsion from his own house, Zohra's marriage to Malik Sheheryar, Sakina's turning over a new leaf, or the car accident that resulted in Zohra's disappearance, everything has gelled so well that you neither find it boring or dragging. Kudos to Hashim Nadeem for penning the situations so well, and director Wajahat Rauf for not moving away from the script, resulting in a play that keeps on getting better with every passing episode.
The Plot – The 'Moosa Effect' changes everything in his path!
After Moosa (Imran Ashraf) enters Laila's (Zara Sheikh) household as her bodyguard, everything changed in the household. His presence irks her husband Tauqeer Khalid (Azeem Sarwar) who wants to kill his wife and become the owner of her business, but Moosa saves her life on a couple of occasions. Tauqeer, on the other hand, ends up in prison after a failed 'Dial M For Murder' kind of attempt on his wife, but still tries to plot Moosa's downfall from behind bars. Moosa also saves Zohra (Sarah Khan) from the clutches of Seth Shehbaz (Sajid Shah), making her appreciate his love for her. Malik Sheheryar uses the Moosa effect to divorce Zohra and cuts a deal with Laila who agrees to pay for Zohra's independence for Moosa's sake.
In the meantime, Moosa also helps younger brother Eesa (Momin Saqib) reconcile with wife Sakina (Anoushey Abbasi) in a dramatic scene, and meets Zohra one last time who asks him to return to his house, and to his family. Unknown to Moosa, Zohra ends up in front of Faizi's (Tahir Jatoi) car who tries to cash in her disappearance. However, he has no clue that Saranga and his men would be helping Moosa and that's how he ends up in front of the don, who orders to have him killed if Zohra is not found. Zohra, on the other hand, escapes from Faizi's clutches after Laila pays the ransom, and ends up at the very shrine where Moosa's father is in charge. He sends her to his house so that she can spend the post-divorce days at his place, without realizing that she is the reason behind his elder son's rebellion.
The Good – Raqs e Bismil moves steadily without beating around the bush!
If a director has confidence in his ability, a writer has belief in his pen, then the result is Raqs e Bismil, a drama that doesn't beat around the bush to get ratings, or extend its run. With near-perfect casting and excellent script, hardly anything goes wrong in the drama. Imran Ashraf as Moosa is not just the main lead, but also a hero who takes pride in doing the right thing. He saves her love Zohra from the clutches of lecherous man, rescues his brother's wife while she wants to run away, and accepts punishment despite knowing that his father was wrong in his judgment. Sarah Khan's Zohra on the other hand looks like a vision in every scene she is in; her ability to act makes her an integral part of the drama as she keeps the spotlight on her character despite being overshadowed by Moosa.
The rest of the cast also looks believable in their avatars – Mehmood Aslam as the Pir, Nida Mumtaz as the Pirni, Sajid Shah as the lecherous businessman, Furqan Qureshi as the hopeless husband, Azeem Sajjad as the yesteryear hero, Rashid Farooqi as the underworld don, Saleem Meraj as the friend in need, Anoushey Abbasi as the reformed wife and Momin Saqib as the brother who lost his elder sibling to family politics. When you watch them onscreen, you can relate to their characters rather than the actors playing them, and that's why Raqs e Bismil keeps getting interesting with every passing week.
The Bad – The audience is intelligent enough to see through the flashbacks!
A couple of questions arise after the many twists and turns in the drama; if Moosa's brother knows that his elder brother defended his sister-in-law's honor and shot the three boys, why doesn't he explain this to his father (Mehmood Aslam) and get Moosa back? Why hasn't the mother intervened in this regard, considering she still feels bad for lying to Moosa when he asked her about her visit to Zohra's house? After all, Moosa was expelled from the house for pursuing 'a woman of disrepute' and later saving her honor, when in fact he was doing his family a favor.
And then there is the strange case of flashbacks; a technique that used to unravel a mystery in older times, but is now added in TV dramas to extend the serial's length! Why are all the characters thinking about the past in the episodes when they could be planning ahead, and doing the audience a favor? The viewers are now intelligent enough to see through the flashbacks and if they weren't there, the drama would have been even more interesting. Thanks to YouTube, you can forward the flashbacks but on TV, it would give you a break before the break, in which many might switch the channel to something without any flashbacks!
The Verdict – Hashim Nadeem's script, Wajahat Rauf's direction is a deadly mixture!
Raqs e Bismil keeps getting better with every passing episode; one must commend the makers for staying with the once-a-week formula that has kept the drama interesting. The high-quality performance of everyone from the major players to the minors saves the drama from becoming boring or dragged, and the Captain of the ship Wajahat Rauf must be commending for that. Had his wife Shazia Wajahat (the producer) not made him make a comeback, Raqs e Bismil might have aired on another channel, with another team and that would have been a disaster. Nobody could have played Moosa and Zohra better than Imran Ashraf and Sarah Khan, and the same goes for the other characters as well.
Will Moosa return to his home in the remaining four episodes, and if yes then how? Will his father accept Zohra after realizing that it was she who turned his pious son into a Romeo? Will Malik Sheheryar meet the end he deserves? Will Laila find peace after seeing Moosa and Zohra reunite? Will Eesa and Sakina start behaving like husband and wife? These are the questions the audience wants answers to, and the sooner they get them, the better. They also want to see Tauqeer Khalid and Seth Shehbaz get what they deserve, for they have wreaked havoc in the lives of our leading man and leading lady, because of their ulterior motives.