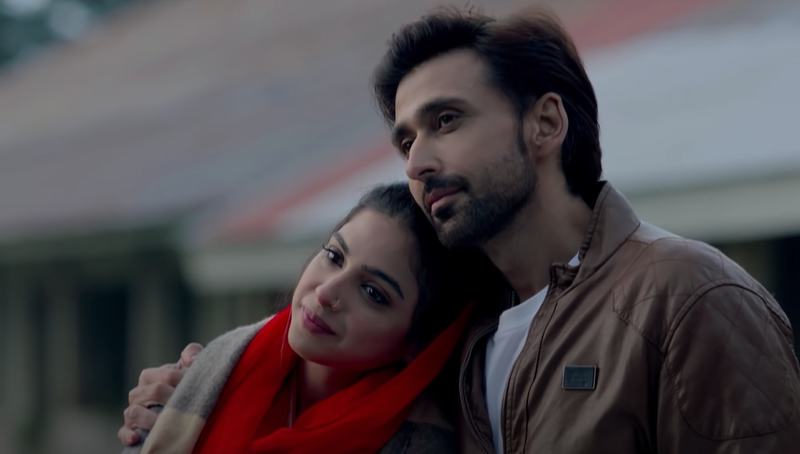 Drama series Saraab comes to an end after keeping its audiences engaged with its intriguing plot!

The last episode of Saraab which aired on Thursday, was nothing short of an emotional rollercoaster, yet thankfully left a smile on our faces! The play based on a schizophrenia patient and how her true love was able to protect and save her from the big bad world had its audiences hooked till the end.
The Plot
The last episode of Saraab was power-packed with performances that made our jaws-drop, Hoorain (Sonya Hussayn) had started getting hallucinations again and was mentally unstable. She believed everyone was trying to take away her son from her and give him to her eldest sister Warda (Ghana Ali) who had no children of her own. She had a melt-down and even called the police asking them to rescue her as she was being held in the house against her will. The turn in her personality from the ever loving Hoorain was brilliantly portrayed by Sonya Hussayn.
Finally the family decided to re-admit her in order to continue her treatment once again. Her journey on getting better for her son was shown and after a tedious 3 months she was finally allowed to go back home to be with her family, however this is where there was a dramatic twist in the plot and a fellow patient narrated her story to Hoorain and why she chose to remain in the hospital instead of going back home. Hoorain paid heed to what the lady said and refused to acknowledge Asfandyar (Sami Khan) when he came to visit her. Asfand being her true soulmate knew it in his heart that there was something wrong and went back to Hoorain, he convinced her to come home after she admitted she remembered him and their child, his promise to always protect her against all odds brought Hoor back home.
On the other hand, ties between Warda and Namal (Nazish Jehangir) resolved and the sisters apologised to each other and were sorry about the way their behaviour added to Hoorain's predicament since childhood. The two were now married into the same household and decided to become a loving family once again.
Like they say all's well that ends well, we see Hoorain, Asfandyar and their son living happily ever after, far away from the hustle and bustle of society in order to keep Hoor protected from her illness.
What was special about Drama Serial Saraab?
The psychological thriller was a Pakistani drama sans the saas-bahu plot. It sent out a much needed meaningful message to the society and created awareness about mental illness and how we should be tackling it. The expected storyline would have seen Hoorain's in-laws not supporting Asfand's decision of marrying her or getting her treated, however Saraab pleasantly surprised us with a narrative that was a treat to watch. Hoorain was treated like a daughter by her in-laws and never faced any issues after marriage, in fact she was better-off with them rather than her own parents. The play emphasised on the importance of treating schizophrenia with medical attention and giving the patients the utmost love and care instead of locking them away.
The Cast that Made Saraab a Worthwhile-Watch!
Sonya Hussayn proved her mettle once again with her role as Hoorain, her nervous breakdowns and chaotic scenes where she was actually dragging herself across the floor were bone-chilling and gave us goosebumps every single time. Her impeccable transition between the two worlds she lives in were perfectly performed. From her sweet expressions as Hoorain to her spooky transitions when she had her hallucinations, Sonya proved herself time and again as the queen of expressions!
The dapper hero, Sami Khan has made us fall in love with his charm more than ever before. From the first episode to the last Sami's Asfandyar has shown us the type of guy that every girl dreams of. The way he loved and cared for his soulmate Hoorain against all odds has left us in awe of him. Sami Khan has proved that his performance game will be an all-time high with expressions to die for.
Nazish Jehangir and Ghana Ali gave notable performances throughout the show as the two wicked sisters. While Kinza Malik and Sajid Shah as Asfandyar's parents frankly deserve the best parent-in-laws award if there is one out there!
Kudos to the Director for Pulling off Saraab Efficiently!
A bold subject for the Pakistani audience, the psychological thriller Saraab was executed brilliantly by ace director Mohsin Talat. His impeccable style of seamlessly combining suspense and romance throughout the drama was applaud-worthy. Telling the audiences two sides of the story in Hoorain's mind was indeed note-worthy.