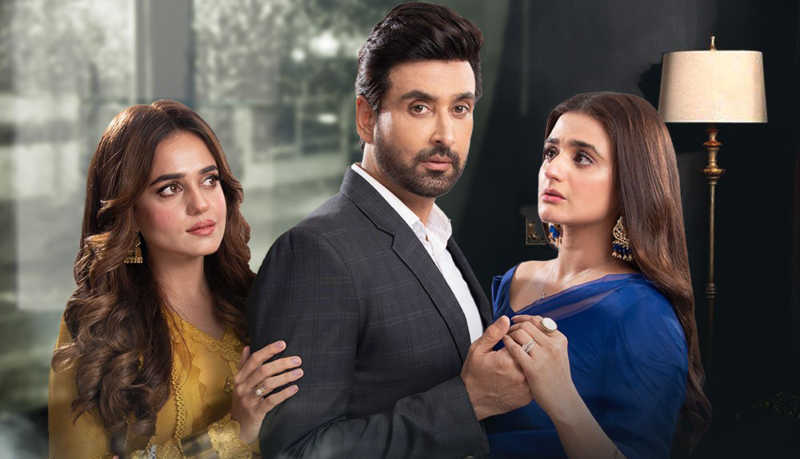 Shocking plot twists and exemplary performances make Main Hari Piya a must-watch!

The Plot - Three Marriages in Shambles in Main Hari Piya Thanks to Farwah!
This week's episodes of Main Hari Piya were nothing short of dramatic scenes, major plot developments and shocking twists! With Sarah finally having enough with all the blame-game going on in the family against her. The nail in the coffin being Fawad doubting Sarah for having an affair with his younger brother Saud. She decides to leave the house early in the morning, a shocking twist we did not see coming, but Sarah could not take the accusations from Fawad and she was determined to make him realise his mistake at any cost.
We saw a distraught Fawad realising his loss after he woke up and found Sarah missing from the house early in the morning. Sarah's sister informed him that she was with her and Fawad ran to meet her and bring her back home, however Sarah refused to go back stating that her trust in their relationship was broken and could only be fixed when Fawad will be able to prove her innocence.
On the other hand, the siblings Saud and Maria's weddings are on the stake after Hina accuses her husband Saud for having an affair with Sarah. She believes Saud is not a person she can trust anymore and leaves his house after Farwah's insistence. Seeing Hina's marriage in shambles, her mother decides to send her daughter-in-law Maria back home in order to teach Saud and his family a lesson.
While Farwah has been plotting and scheming in order to win over Fawad's love for eternity, her brother has been hatching a scheme of his own to become an overnight millionaire. He steals a hefty amount of seven lacs from Fawad's office safe and buys an entire prize bond series illegally. Fawad has just discovered the missing money and has already begun doubting his Farwah's brother for it. The next episodes will show how this will affect Farwah's position in her home.
Farwah Reveals her true face!
The mask that Farwah had been wearing all this time, showing herself as the sweet, caring and obedient girl is finally off. Once she realised she had won the battle against Sarah, she let her guard down and changed her attitude and behaviour with all at home. Farwah who was Maria's confidant and best friend had a face-off with her and told her she was nolonger welcome in the house, she was also disrespectful to her mother-in-law and told her she would no longer be doing all the extra chores in the house including taking care of her. She was sure to show everyone that she was not Sarah who would tolerate their crass behaviours with a smile on her face.
This left Nafisa (Marina Khan) realising that Farwah had played mind games with all of them and had clearly wanted Sarah out of the picture. However, it seems that it is too late now since Sarah has left their house and has refused to return.
Farwah Becomes the Mastermind She-Devil!
The mastermind behind every issue in the house from the past couple of weeks was Farwah, from turning each and every person against saint-like Sarah to creating a rift between the newlyweds Saud and Maria. She crossed all limits after swearing upon her son Saad in order to make sure Fawad believes her over Sarah. Sumbul Iqbal has proved her mettle once again with her versatility, it has been a treat to watch her perform a negative role after always being the 'good girl' in all the other dramas she's recently done. We're loving her love-hate relationship with Sami Khan, the two have paired up once again after Dulhan and are absolutely acing their performances.
What's Next?
Farwah's true face has been revealed by herself, now that her real persona is out in the open, will this prove as an opportunity for everyone to believe Sarah has been innocent all along? We'll have to watch Main Hari Piya to find out.