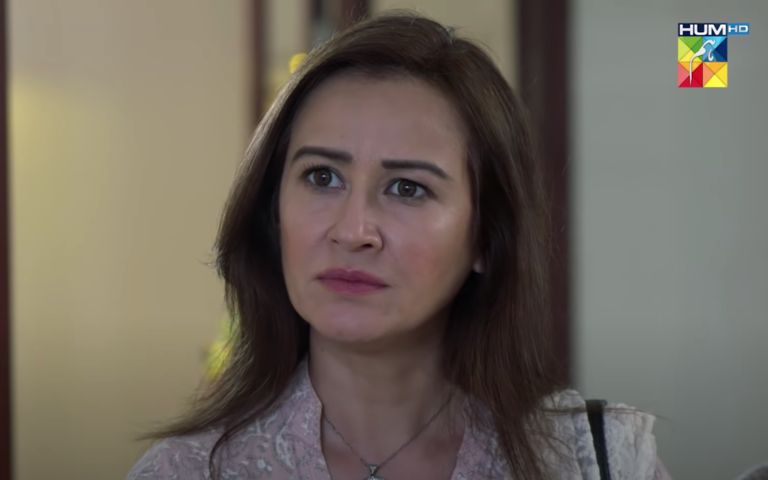 Arjumand Rahim, Shahzad Sheikh excel in the cat-and-mouse game

Phaans is no more a thrilling whodunit that grabbed the audience's attention on Saturdays; instead it now airs midweek, the audience knows who the person is behind Zeba's assault, and that she was telling the truth from the day it happened. After 24 episodes being aired, the audiences only concern remains to see Sahil behind bars for his crimes, and how that happens in the coming weeks. From the way Arjumand Rahim and Shahzad Sheikh are performing, one hopes the end isn't near because they look so good opposite each other. He, teasing her with his constant 'expression swings' and she realizing that she gave birth to a monster every time she sees him.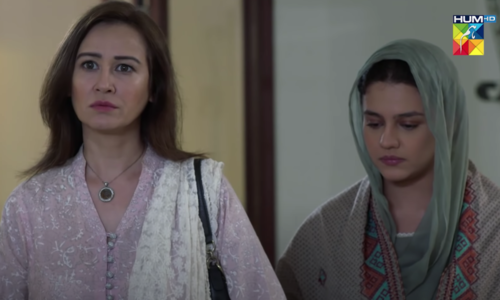 The Story – Nadia moves to court against her own son, hoping to expose him!
Despite her best intentions nobody seems to believe Nadia (Arjumand Rahim) who knows her son Sahil's secret. Neither Zeba (Zara Noor Abbas), nor her husband Siraj (Ali Tahir) stand by her for she doesn't want to trust her, and he knows the complete story. The recently-acquitted Sahil (Shahzad Sheikh) thinks it's all over when all of a sudden, his own mother moves court against him. She doesn't think twice when her lawyer (Madiha Rizvi) asks her to think again, and that's where she wins half of the battle.
Not only does she convince Zeba of her pure intentions, she also brings her to her house, tells Resham that she is safe there, and slaps her daughter Hafsa (Yashma Gill) when she calls her insane. Samad (Sami Khan) stands by her at every step, while Hashim (Zain Afzal) sees a controversy in everything; with nothing to support her theory except the now-gone Resham's testimony, will Nadia emerge victorious, or will Sahil elude justice thanks to his dad's clout over the police.
The Good – Arjumand Rahim takes it from perfect employer to perfect woman!
When Phaans began, everyone was impressed with the way Arjumand Rahim's Nadia treated her housemaid Shakila (Kinza Malik). In a country where the elite don't want to share the table with their house help, Nadia's conduct was appreciated, until the mother in that employer woke up. She said very terrible things to Shakila and her daughter Zeba because they accused her mentally-challenged son of doing something that she believed he couldn't do. When she saw him behave normally on multiple occasions, and that made her switch the side for the right reasons. Not many TV characters have taken a U-turn like that in recent years, and Nadia's switch wouldn't have been possible had Arjumand not showed us her good and bad sides.
Talking of good and bad sides, Shahzad Sheikh is just phenomenal as Sahil, the bad boy. The way he switches from an innocent person to a vicious one gives the audience goosebumps for they can't accept him in such a role. Every time he comes on the screen, you feel like hitting him so hard that he ends up in a hospital for good. As an actor, he hasn't done such a role before but after this, people might opt for him when it comes to challenging roles. Zara Noor Abbas isn't far behind as the wronged Zeba who stands for her right despite going through tragedy, death, betrayals, deceit, and losing her strength. She paints the picture of a perfect woman who knows that when Almighty is with you, there is nothing to fear. He might take things away from you but give you enough strength to forget about the losses.
Watching Sami Khan play the good guy is always a pleasure, especially the scenes where the veins in his head pop out due to his intense acting. He may be playing second fiddle in this drama, but he is the leading man for every girl out there. They need a Samad in their lives who can stand by them, save them and take a stand for them, when the time arises, and Sami Khan does exactly that. The rest of the cast led by Ali Tahir and Zain Afzal does a fabulous job as well, and their confusion is a result of their brilliant performances, one that makes you want to watch Phaans again and again.
The Bad – Too much of anything can be disastrous for the viewers!
Phaans might have become more interesting with its twists and turns but too much of the same thing can be dangerous for the audience's intellect. Zeba's shuttling from one place to another, everybody coming to the other person's home, Sahil's harassment inside the house with no one noticing, and even his acquiring the key to the servant quarter is too much for an audience that has already suffered from delayed justice. If his father knows that his son is a culprit than a victim, it is he who should support his wife not stand against her. And why isn't the wife telling the kids that the father knows, is also not understandable!
Also, why is Samad not admitting his feelings for Zeba is beyond logic; he has been there for her since the beginning, and with his mother (Mariam Mirza) on his side, he can give her the protection she needs. Her constant checking up on her, his visits to her house (or wherever she is!), and his hand in the latest twist are things only someone who loves you, does for you. One must also mention the SHO's behavior that resembles more of a gangster than an officer of the law. One moment, he is in the police station, the next he is asking Zeba's neighbors to make her already miserable life a living hell, and paying them to do that.
The Verdict – Phaans moves towards the beginning of the end!
Phaans seems to be moving towards a thrilling climax, where the righteous will likely win, and the villain will likely be punished. However, there are a lot of things that the viewers might not understand – at the moment – and that's what gives the drama the edge that it was missing. One also hopes that in the end Zeba doesn't forgive Sahil like Hajra did in Inkaar a couple of years back (Sami Khan was in it too!) because a) it will set a bad example for real-life victims, and b) it will encourage culprits around them. Phaans has reached a place from where they can deal a defining blow to those animals in our society who need to be behind bars. They should use it effectively to show that justice can be trusted, it might be delayed but it is never denied.