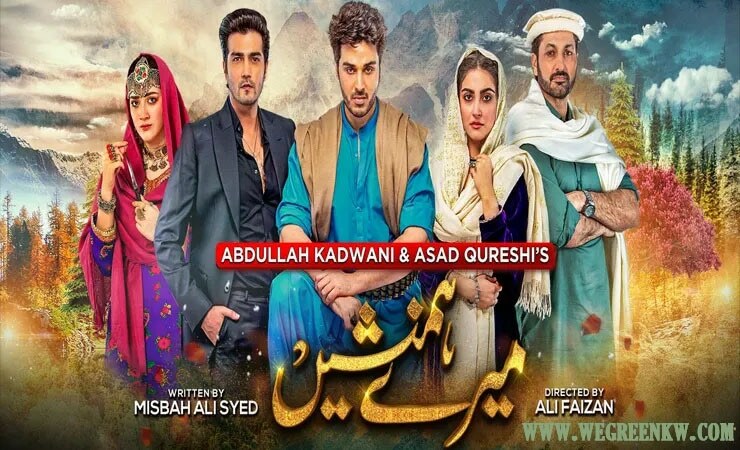 The fans were overjoyed to see Khajista and Hadi together as their problems are now behind them. After the last...

The fans were overjoyed to see Khajista and Hadi together as their problems are now behind them. After the last several episodes where everything was out of control, their hard but happy ending was a breath of fresh air.
Mere Humnasheen, a popular Geo Television network drama with a stellar cast and a unique storyline, has finally come to an end. The cast included Hiba Bukhari, Shahzad Sheikh, Ahsan Khan, Syed Jibran, Haris Waheed, Moomal Khalid, and Meharbano. Ali Faizan directed the drama, and Misbah Ali Syed wrote the script. The narrative focused on the conservative Pakhtoon traditions and how a girl overcame all of those restrictive customs to pursue her dream of becoming a doctor. The drama quickly became a fan favorite thanks to Ahsan Khan and Hiba Bukhari's superb acting and flawless Pashto accents.
When Hasan (Haris Waheed) shares with Khajista (Hiba Bukhari) that Hadi (Shehzad Sheikh) is still single and living alone, Khajista is taken aback. She seemed unmoved, but her heart was broken when she recalled Hadi's devotion to her and how he kept his promise of not contacting her again. Hasan meets Amroze (Syed Jibran) and expresses his sadness upon hearing about Darakhzai's (Ahsan Khan) passing.
Later, Hassan asks the hospital head to persuade Hadi that he accepts a position in Khajista's hospital. Hadi surprises his parents by accepting the offer right away. When Hadi arrived to the hospital to see the owner of the facility he hoped to join as a cardiac surgeon, he was shocked to discover Khajista there. Khajista was equally as astonished because she had not anticipated meeting Hadi in this manner. During their conversation, Hadi expressed disappointment that Khajista had never gotten in touch.
Later at the village, Hadi and Khajista along with their families, were seen at her hospital inaugrating a cardiac facility. Hassan asks the two of them for forgiveness because he had put so many obstacles in the way of their relationship. Khajista and Hadi both forgive him. Hadi promises to never put a stop to her dreams and to always support her in achieving all of her dreams.
The story concludes with a scene in which the two lovers are ultimately seen strolling together in Khajista's beautiful village.
We were glad that the drama came to a happy conclusion and that Hadi and Khajista were able to find love after suffering through so much. However, in our opinion, it would have been better if the story ended differently for Darakhzai rather than having him die. Every performer, however, completely transformed them into a genuine Pakthoon, nailing their respective roles and raising the bar high for actors to follow in the future when playing such challenging characters.
Ahsan Khan was particularly outstanding as Darakhzai since he not only played an unusual but also a negative role, and he did great justice to it by having us both love and detest Darakhzai throughout the growth of his character from evil to good.
How would you rate the final episode of Mere Humnasheen?