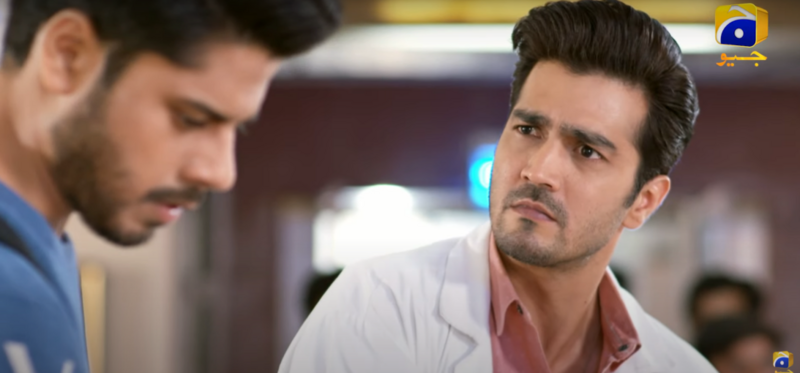 Mere Humnasheen on Geo TV tells a compelling and unique story about women's empowerment and the right to an ...

Mere Humnasheen on Geo TV tells a compelling and unique story about women's empowerment and the right to an education every Friday and Saturday. The drama, produced by Abdullah Kadwani and Asad Qureshi, showcases powerful performances in the lead roles by Ahsan Khan, Hiba Bukhari, and Shahzad Sheikh.
Mere Humnasheen's quick advancement suggests that Hadi (Shehzad Sheikh) and Khajista will face difficulties (Hiba Bukhari). Amroze (Syed Jibran) and Shanzay (Momina Iqbal) have kept something sectret about their childless marriage.
This week's episodes were all about Khajista (Hiba Bukhari) and Hadi (Shehzad Sheikh). Not to mention Hassan! Now that Hassan has informed Dr. Sabika (Salma Hassan) that Hadi is very interested in Khajista. She couldn't believe it at first, but Hassan's convincing, and later Hadi's acceptance of the fact, convinced her that it was true. When Aima (Moomal Khalid) learns that Dr. Sabika is also unhappy with who Hadi has chosen for himself as a life partner, she decides to live in the hostel rather than in Hadi's house. Hadi tries to persuade Aima that his heart now belongs to Khajista and that he won't be able to keep Aima happy even if they marry under family pressure. Aima continues to emphasise that they can make things work and that she will forget about whatever happened between Hadi and Khajista.
At the hospital, Khajista is accused of killing a patient's husband, which upsets her, but Dr. Shehryar(Farhan Agha) convinces her that their profession isn't about giving lives, but about saving and healing them. She appears to be upset about losing a patient, but she has realized that this will happen frequently and that she must learn to control her emotions.
The most significant development, however, was Hadi finally expressing his feelings to Khajista. Khajista's friend, Dr. Bia, attempts to convince Khajista that she should seriously consider Dr. Hadi's proposal in order to get the life she deserves and bid farewell to Darakhzai (Ahsan Khan) and his regressive mentality. Khajista, having second thoughts, asks Bia not to talk nonsense because she is only here to brighten her future and become a doctor; she belongs to her roots and traditions and can never leave them behind.
After surviving Behram Khan's gunshots, Daji (Rehan Sheikh) advises Amroze(Syed Jibran) to be cautious and consider starting a family to have an heir in case something like this happens again. Shanzay becomes enraged and requests Amroze to inform his family of the true reason for his inability to have children despite being married for ten years. Daji, Darkhzai, and Mor believe there is something wrong with Amroze and that he should see their trusted Hakeem. Amroze reveals that it is not case, but the fact that Shanzay is their murdered uncle's daughter, is why he has only looked at her with vengeance. This makes everyone sad because their desire for vengeance has ruined the lives of two people. Mor (Munazzah Khalid)feels terrible about her behaviour with Shanzay because Shanzay's rage was completely justified. Daji, on the other hand, being a typical tribal misogynist, suggests that Amroze marry for the second time. Amroze appears enraged by this suggestion and tells them that it will never happen.
Hadi slaps Hassan(Haris Waheed) for misbehaving with Khajista and tells her not to be credulous because boys in their class are never serious about relationship. Dr. Shehrayar has been informed of the situation, and it appears that he, too, will learn about Hadi's feelings toward Khajista.
We liked how these episodes depicted things in grey, rather than just black and white, with the realization of enmities destroying lives handled masterfully. We particularly like how Khajista's character has been written. She is strong-willed but sensitive, and rather than giving up on her dream of becoming a doctor despite all the obstacles, she is slowly but beautifully maturing into this strong individual.
However, it is clear that things will not go well for Hadi and Khajista. We're looking forward to seeing what happens next.