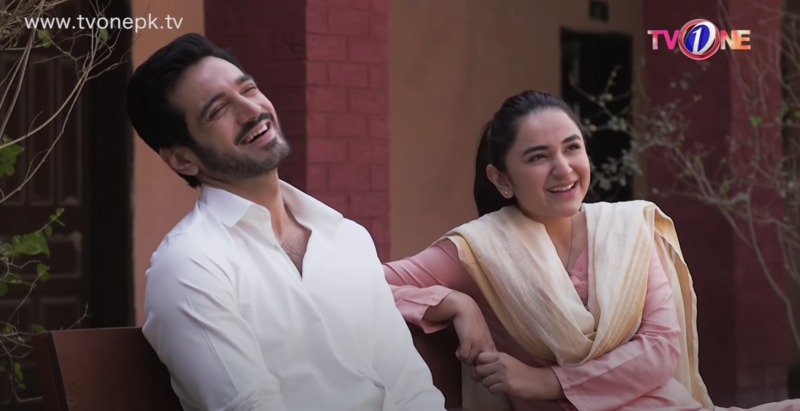 Yumna Zaidi steals the show with stellar performance in Dil Na Umeed toh Nahi's last episode.

Dil Na Umeed toh Nahi's journey comes to an end after the finale was aired last night. The drama was able to tie up all the loose ends and finish off on a satisfactory note. Yumna Zaidi's Sumbul and Wahaj Ali's Jimmy's final scene brought a smile to our face and we couldn't be happier that the two lost souls found each other after all those years apart, giving us the happily ever after we all hoped for.
The Plot - The Finale We All Wanted!
After the cliff-hanger that we witnessed in last week's episode, we had lost hope that Fajjer Khan aka Naseem Zehra would survive after her father (Noorul Hassan) had vowed to kill her mother, sisters and herself after the stunt she had just pulled. However, we were pleasantly surprised to see him realise his mistake after discovering the truth about the two-faced Naeem Sherwani (Kashif Mehmood). Naseem and her siblings also discovered her father was a cricketer who had been stopped by his parents thus we believe he had continued the same with Naseem when he stopped her from playing cricket.
On the other hand Sumbul couldn't get herself to trust Zulfi (Omair Rana) she only calmed down after Savera begged her to trust Jimmy, TK and Zulfi as they were the good guys working against the people who were running the brothels. Zulfi shared the reason behind working undercover with Savera, telling her about his sister Aisha who was fooled the same way as Naseem Zehra was, Savera recognised her from the photo he showed and told him she had come to same brothel as hers, years ago and had committed suicide by drinking battery acid. The news broke Zulfi and Savera tried to console him, she told the others about it and they now understood why he was working against the women trafficking mafia so intently.
The finale saw the end to the notorious Doctor, Ikraam and Baba Ranjha too after all these years, however the face behind the infamous 'Baray Sahab' was not revealed till the very end. Naseem Zehra fulfilled all her dreams and got selected to play in the under 19 National Women's Cricket Team while Sumbul worked in the 'Darul Aman' with all the women, she believed she could help them as she had a bond with everyone that had gone through a tragedy in life.
The HIP Review - All's Well That Ends Well
A happy end to a very sad drama was all that we needed as viewers to give us hope in the system and the workings of life. Yumna Zaidi's Sumbul got her happy ending with her childhood friend and sweetheart Jimmy (Wahaj Ali) we couldn't have been happier about this. We would have liked to see what became of Savera, did she continue to work at the women's shelter, did her and Zulfi end up together? These are some things which we would have loved to see. The ending may have seem a little rushed but it was all about winning the battle against the bad guys. With the Doctor and Baba Ranjha behind bars, we were sure Ikraam would have faced the same fate too. However, we will always wonder who was the man they all addressed as Baray Sahab? The show runners chose not to disclose his identity to the very end to maintain the mystery. The last storyline that featured Naseem Zehra concluded beautifully after she was able to achieve all her dreams of becoming a cricketer, we absolutely loved how her mother Mumtaz finally stood up against her husband and was ready to fight him in order to protect her daughters.
Yumna Zaidi Shines in Dil Na Umeed toh Nahi with Phenomenal Performance!
The play based on the various societal evils plaguing our society showed Yumna Zaidi playing the role of Sumbul, a brothel worker who had been sold into prostitution at a very young age by her parents. Zaidi has proved her mettle once again with her role as Sumbul, every scene she featured in was exemplary and there couldn't have been a better Sumbul than her! Yumna Zaidi has shown the versatility she can bring to her characters through Dil Na Umeed toh Nahi, from the fiery Sumbul to the innocent Rakhi, her transitions were applaud-worthy, crowning her the queen of Pakistani television!
Kudos to the team behind Dil Na Umeed toh Nahi
With an exemplary cast that included Yumna Zaidi, Wahaj Ali, Omair Rana, Yasra Rizvi Noman Ijaz, Noorul Hassan, Samiya , Kashif Mehmood and a special shoutout to newcomer Fajjer Khan who played Naseem Zehra, the little girl who believed In her dreams and achieved them against all odds! A Kashf Foundation project, Dil Na Umeed toh Nahi is written by Amna Mufti and directed by Kashif Nisar this story about not losing hope was a breakthrough in the Pakistani drama industry that we definitely needed. Kudos to the cast and crew to have pulled off this feat and brought this masterpiece to our television screens.