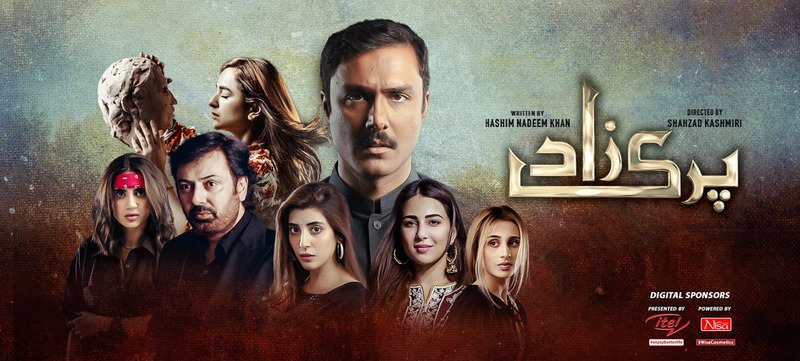 Drama serial Parizaad aired its final episode last night as viewers waited in anticipation for our hero's fate....

Drama serial Parizaad aired its final episode last night as viewers waited in anticipation for our hero's fate. Would he finally re-unite with his lady love and let go of his many complexes or would he lose her forever was the question on everyone's minds.
Parizaad is based on the novel by ace author, Hashim Nadeem and has been brilliantly directed by Shehzad Kashmiri. Parizaad is one drama that has proven to be the ultimate game changer for Pakistan's television industry. Breaking through the clutter and moving away from the same old love triangles and 'saas-bahu' sagas, it has been completely different from the rest of the competition, Parizaad has captured the hearts of the audiences with ease. From a 'hat-ke' leading man - an unconventional hero that doesn't look like the hero neither does he meet the acceptable 'beauty' standards set by the society is now ruling the viewer's minds! His quest for success is what makes the drama worth your time. The poetic flair in Parizaad gives it a special touch and one cannot help but fall in love with it. The anxiety of what was in store for our hero definitely kept us hooked to the story but we can't help but say, we're truly going to miss this master-piece of a show!
Let's take a look at what Parizaad's finale was all about:
Parizaad and Annie's long awaited meeting finally took place and as much as we had been excited about it, the scene was quite the let-down. Don't get us wrong, we hoped and prayed for a happy ending to take place, wishing upon stars to not let Parizaad end on a tragic note. With expectations set too high, the finale did not meet expectations fully.
Annie and Sharjeel had been searching for Parizaad after Kamali told them a rough idea of Parizaad's whereabouts. The duo was just about to give up when Parizaad's student from a village achieved a distinction in the examination and Annie's news channel asked her to cover the story. Annie who had only heard Parizaad speak and not seen his face even though we live in a fast-paced technological world where pictures and details about every person is available online. How was P Z Mir's picture or information not available anywhere will remain a mystery to us.
Once Parizaad began addressing the crowd at the event kept in honor of his student, Annie realized this was the same Parizaad that she had searched high and low for. The two finally met and the chemistry between the two was off the charts once more. Annie decided she would also leave her life behind and start fresh with Parizaad as he was not willing to go back to his old life as P Z Mir. The happy ending we had all been hoping for was delivered by the makers and we can't help but feel the finale could have been much better.
The Cast that Brought Parizaad to Life!
Ahmed Ali Akbar essayed the role of the leading man, Parizaad, not only was he different from what we expect from a hero but Ahmed's phenomenal acting skills kept us hooked. He proved his mettle episode after episode, could someone give him an Oscar? Please! There couldn't have been a better Parizaad than him and we're definitely waiting to see what project Ahmed will be coming up with next. The reigning TV Queen, Yumna Zaidi played the bubbly, charismatic and larger than life, Annie who went on to become Parizaad's true love. Of all the characters we saw coming and going through Parizaad's life, Annie had the most impact on the selfless hero. Drama serial Parizaad adds another feather to Yumna's hat, her performance as Annie was top-notch and speaks volumes of her acting repertoire.
Parizaad saw various characters who made cameos in the storyline, from Naumaan Ijaz's powerful Behroze Karim who commanded each scene he was in to newcomer Asad Malik's Guru who played Behroz and Parizaad's henchmen and right hand, we were in awe with his profound acting skills. The Parizaad ladies also left quite the mark, Mashal Khan's Lubna aced her scenes with a strong dialogue delivery and her scene with Parizaad just before she got married off to a rich business tycoon, left us in tears. Ushna Shah as Parizaad's first love Naheed and Saboor Aly as Bubbly Badmash were loved by all!