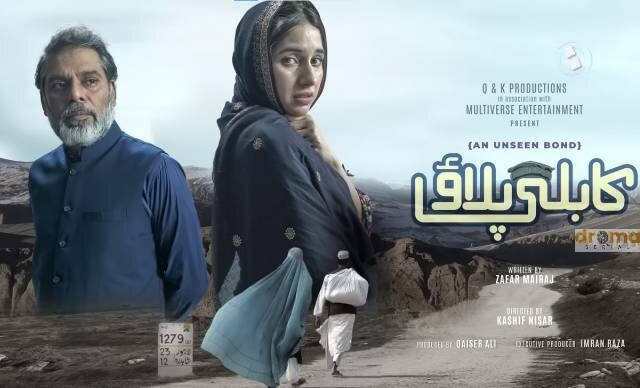 Move aside Barbie, Barbeena in Kabli Pulao is here to stay!

TV dramas in Pakistan got a huge boost with the arrival of Green TV Entertainment which is all set to raise the bar with its thought-provoking dramas. However, the one play that stands out from the channel's repertoire is Kashif Nisar's Kabli Pulao which revolves around a young Afghan refugee girl who marries a sympathetic elderly person and how that one decision turns their life upside down back home. So far only five episodes of the play have been aired but it has become one of the most-watched plays on YouTube despite not having a big star in the lead.
The play's success proves that if the writing and direction are at par, you don't need big actors to attract the audience, just the right ones, which is exactly what has happened here. Let's try to find out what makes Kabli Pulao the best 'dish' in the market and why it is still being served as a hot entity despite being five weeks old.
When Ehteshamuddin does an Amitabh Bachchan as Haji Sahab
Most of us know Mohammed Ehteshamuddin as the maverick director behind films like Superstar & Dum Mastam and the man who called the shots in TV plays like Udaari, Sadqay Tumhare, and others. However, Kabli Pulao brings out the actor in him who has done countless theatre plays as the main lead, but has hardly been considered for a leading role on TV. He has been cast as Haji Mushtaq here, who has deliberately chosen not to marry all his life so that he could set his siblings. One good deed sees him getting nikahfied to Barbeena and his life would never be the same.
The way he suppresses his anger at not being able to announce his marriage to his family, the manner in which he expresses his love for his newly-wedded wife, and his decision to keep it a secret from everyone is what makes Haji Mushtaq nothing less than an angel in the viewers' eyes. Ehteshamuddin plays the character to the best of his abilities and reminds you of those elders who are nowhere to be found these days. It wouldn't be incorrect to say that had the story been executed in India, only Amitabh Bachchan would have been able to pull it off.
Sabeena Farooq's Barbeena makes viewers forget Haya
Every once in a while, an actor gets to play a character that sticks to him or her for the rest of their lives; Sabeena Farooq has been lucky in this regard since she has played not one but two characters back-to-back that have redefined her as an actress. While she was part of Tere Bin as Haya, the whole country hated her for making the lives of the lead cast a hell with her scheming antics and no one would have given her a chance to bounce back from that role in coming years.
However, she made a comeback with Barbeena in Kabli Pulao and turned the tables on those who were not willing to give her a chance. Now she is easily the most loved onscreen character in the country and everyone wants to see her have a happy ending, which is contrary to how the audience wanted for her a couple of months back. She not only compels the viewers to fall in love with her character which she plays with innocence and charm, but she also seems to have learned Pushto for the role, which she speaks fluently on screen.
Nadia Afgan, Saquib Sumeer lead the impressive supporting cast
To have an impressive supporting cast is nothing short of a blessing in disguise for a director and with Saqib Sumeer, Nadia Afgan, Munazzah Arif, and Adnan Shah Tipu in full form, Kabli Pulao comes out as the winner. The director might have typecast them in one way but they don't look stereotyped at all. Saqib Sumeer who continues to play the bad guy in dramas has his own agenda in Kabli Pulao as Ghaffar and if you look at it from his perspective, he might not seem that wrong to you.
The same goes for Nadia Afgan who plays Shamim, Haji Sahab's neighbor who believes she is also his girlfriend (in her own mind!). Her first meeting with Barbeena, her demanding an explanation from Haji Mushtaq on seeing him console her, and finally her decision to go public with her new-found knowledge is what makes you want to hate her from the bottom of your heart. If that doesn't prove that Nadia Afgan is a brilliant actress, then nothing will. The scene where she returns to her home to splash water on her face is stuff dreams are made of.
Adnan Shah Tipu plays Haji Mushtaq's younger brother and Munazzah Arif his wife and while they find nothing wrong with Barbeena staying with them, they do get suspicious when the news gets out. The way they will react in the coming episodes will have a huge impact on the story, and one hopes they carry the good work they have done so far in the future as well. The actors who play the kids also impress since they come out as the characters, not as actors playing them which adds credence to their abilities.
The name's Mairaj, Zafar Mairaj!
The best playwright on the drama scene Zafar Mairaj has a knack for coming up with stories that are common, yet not used when common sense is applied. He uses the current situation between Pakistan and Afghanistan as the basis for his story where a young and beautiful widow gets married to an older gentleman just because he agreed to pay his injured brother's medical bills. The characters he created are from within us and that's the reason why we might be able to relate to them, since we find something of ours in them.
The simple dialogues make the viewers fall in love with the screenplay where every dialogue is a thought in itself. The best thing about Zafar Mairaj is that every character speaks differently unlike other star writers who don't deviate from one mode while penning dialogues. He doesn't unnecessarily drag the story using flashbacks or by incorporating arcs for the sake of better rating, and that's why he seems at home with Green TV Entertainment where his work seems to be appreciated, and passed without any intervention.
Director Kashif Nisar keeps raising the bar high!
And then there is Kashif Nisar, possibly the best director in the business, that too for a reason, or reasons. No one else would have been able to come up with 'Point of view' shots during the nikah scene, make overlapping sequences so interesting, and pick the perfect actors for the characters rather than choosing the most popular ones.
He doesn't falter at any point during the play and makes you appreciate his previous plays Inkaar and Raqeeb Se in which he was also at the top of his game. As a master storyteller, he knows exactly what the viewers want and delivers it to them in his own style. He compliments Zafar Mairaj's script in the best possible manner and one hopes that the drama keeps on getting interesting in the coming weeks so Pakistanis around the world can add one more serial to their 'must-watch' list just like other dramas from Zafar Mairaj – Kashif Nisar team.