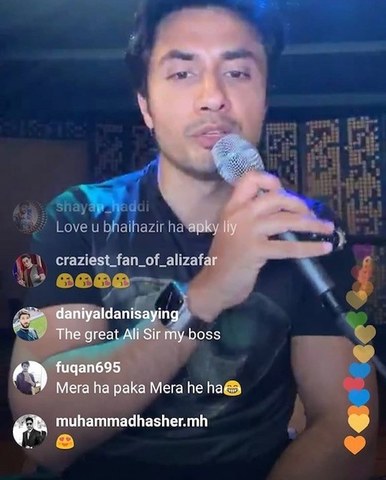 Ali Zafar doing live sessions on different social media platforms.

Pakistani music sensation, Ali Zafar, held live sessions on his social media platforms on Sunday the 29th of March, 2020 during the quarantine period. In this difficult time of self-isolation and social distancing, the renowned artist interacted with fans online, reassuring and entertaining them with music, requests and engaging in lively conversation.
Starting off with Mehdi Hassan's "Yeh Watan Tumhara Hai" in his studio, the singer had the audience hooked, replying to their messages and taking song requests as they came, enticing the fans with his guitar chops as he went on to sing Asman, Chal Dil Mere, lifting the spirits of the fans, receiving feedback such as "this is the best thing anyone has done" and responding to them, engaging them and giving them the songs they want to hear. The melodious Jhoom saw more fans and friends, family members and people from around the globe joining in to hear the joyful medley, an activity Ali Zafar held for whoever might need cheering up and connection in this lonely time. People from Nepal and India messaged in with high regard for the artist, this was a bonding experience more necessary than one would think as it brought people together into a wave of positive energy and appreciation.
Continuing to humour the fans and answer questions as well as giving shout outs to family and friends, Ali Zafar's viewership continued to build as he dedicated "Sajna Door" to his wife, Ayesha Fazli, and made it a genuine heart-warming moment. Fans were even more enthusiastically participating as they thanked the talented songwriter for doing this in a time where people are getting depressed, live interactions, connection, participation is what makes people feel lighter and heard, which is exactly what the goal was. "The whole human race is like a family, it needs to take care of each other, and in times like these it matters the most how you react and how you are and how you come together."
The esteemed poet and lyricist spoke on his YouTube live session after going on Facebook and Instagram respectively, about how this experience is important to bring people together and connect, making each other feel better and safe and assured as he offered to dedicate songs to people from the members, involving them and uplifting the isolated atmosphere. Taking us back on a trip down memory lane, the charismatic actor sang his famous song Channo as well as his first recorded song for the movie Shararat, Jugnuon Say Bher Le Anchal as well as reading out his moving poetry with the poem "Kuch Toh Ghalat Ho Raha Hai" sharing more of his life and his time with people, making it a wholesome and sincere experience.
During this time of isolation which may be difficult for most, and anxiety-provoking, Ali Zafar has taken it upon himself to time and time again connect with people and make sure important messages are heard through his social media; for example, the catchy spin on Ko Ko Corona, to advocate safety and hygiene as crucial elements in preventing the virus. Taking out the time, sharing space and his own studio, listening to what people want to hear from him and hosting encouraging words and active conversation on 3 different platforms, attempting and succeeding at lifting spirits and brightening up this dark period of distancing and quarantine.