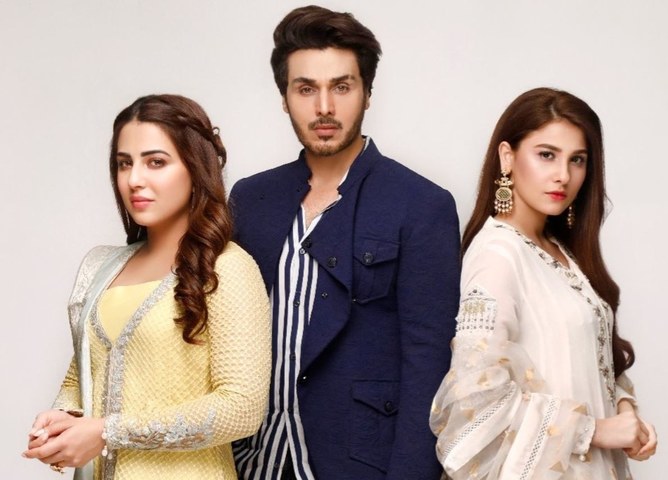 This dynamic episode was full of exciting, action-packed performances and we're eager to see more!

Three weeks down, Bandhay Ek Dour Se continues to be a laughter riot! It was yet again an episode packed with powerful performances, hilarious moments, and intense family drama.
Umer Gears Up Again to Marry Roshni
Finally, Umer (Ahsan Khan) realizes that his cousin, Maunnas (Ali Rizvi) is not getting married to Roshni (Hina Altaf). In fact, it is their other neighbor Fazila who will be soon becoming his 'bhabhi'.
It is Maheen (Ushna Shah) who cleans up the entire mess like the good-natured soul she is. Her character just cannot get more lovable. It is apparent she harbors a soft heart and a good intention for everyone.
Upon realizing the whole confusion, Umer sheds away his broken-hearted-lover-boy mood and makes a fiery entry at Maheen's engagement. Dancing with glee, his crazy bhangra moves attract everyone's attention, annoying his mother at his thrilling performance but pleasing his Zakia Chachi (Saba Hameed) for adding joy to the event.
But our jubilant hero aims to entertain just one person at the wedding and this is his future mother-in-law, Roshni's mother. However, his aim to butter her up fails. Eventually, Roshni's mother dislikes Umer's flamboyant attitude towards her. What's worse, she ends up assuming that Umer is trying to woo her. While this was indeed comical, it was also foolish of her to confess this in front of Roshni, who is now under the impression that her happy ending with Umer is a distant dream.
Adding fuel to the fire, a high-intensity war erupts between Zakia Chachi and Umer's mother after the engagement. Poor Umer, all his efforts to unite his dysfunctional family went down the drain.
The most exciting part of the episode was Nabeel's (Adeel Chaudhry) standout 'Shah Rukh Khan' style entry. Exactly why he has donned a sweater vest in hot and humid weather as shown in the drama is beyond us! But we are not complaining so much as he looked extremely handsome and dandy on-screen. Of course, it is love at first sight for Roshni upon seeing him and she has devised a full-fledged plan to get rid of Umer once and for all!
We want to see more scenes of Ushna Shah with Ahsan Khan!
Episode three of Bandhay Ek Dour Se was equally entertaining like the first two episodes. Humorous dialogues rule the show and genuinely made us break into laughter! Hina Altaf is doing complete justice to her role as the 'patakha' parosan. Her bubbly features and her vile dialogue delivery just adds to her fantastic screen presence.
Ahsan Khan is every inch a hero on-screen and he has proved this time after time. We love his energy, be it any mood he is depicting. He has truly channeled that crazy in love, romantic hero inside him who can go to any lengths to win the love of his life.
Ushna Shah has donned a cute, adorable, and innocent character in it. Her pure, simple look brings out the sophisticated charm Maheen is all about. She was dressed so modestly as a bride in the engagement scene but stole the spotlight, appearing the most graceful from all. Coming to think of it, we want to see her more and more in the drama, especially paired up in candid moments with Ahsan Khan. We have to wait surely for that time to come as the story will gain pace with time.
Kudos to both Saba Hameed, Samina Ahmed, and Saba Faisal for carrying the drama with sheer women power! The three veteran actresses are ultimate boss ladies on screen, making us laugh and even cringe at their characters. Fingers crossed for the upcoming episode. A romance between Roshni and Nabeel will be in full swing!