The controversy sparked during popular comedy show, 'Bulbulay' resulted in a 'Boycott ARY' trend across social media.

'Boycott ARY' was a trending topic on Pakistani social media after an offensive joke was made on the long-running family drama 'Bulbulay' which stars Nabeel Zafar, Ayesha Omar, Hina Dilpazeer and Mehmood Aslam.
The "joke" was offensive to the Pashtun community, which was said to show Pashtuns in a negative light. The joke concerned a Pashtun guest in a conversation between Mehmood Sahab and Nabeel, where they discussed how a Pashtun person could only bring naswar or a bomb if he was coming to visit.
'Boycott ARY Digital' became on of the top trends on social media following the incident, with people reacting on twitter and shaming the channel for airing such content. However, the actors on the show, Nabeel Zafar in particular, took to social media to address the issue at hand.
'I'm here on this platform to apologise to any one who has been hurt by any thing we have said or done in Bulbulay! Our intentions are to make people happy not to discriminate or hurt any one. We are extremely sorry!'
The actor and producer discussed how the show 'Bulbulay' is meant for lighthearted humour and is in no way intentionally targeting any audience. He further went on to disclose how the major viewership for the show came from the Pashtun area, and it is not possible that they intentionally meant to offend them whatsoever.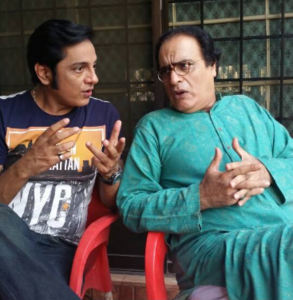 Nabeel Zafar also went on to emphasise how there was no intention of stereotyping Pashtuns, as the show is comprised of all characters, the stars themselves being characters, not meaning to hurt anyone with their jokes. The show is simply meant to be entertaining and after seeing the response on twitter, Zafar himself profusely apologised for any unintentional or indirect harm or disrespect caused because of it.
Actors using their platform to address issues and clear out matters is crucial in this day and age, as social media is all over everything in the blink of an eye.