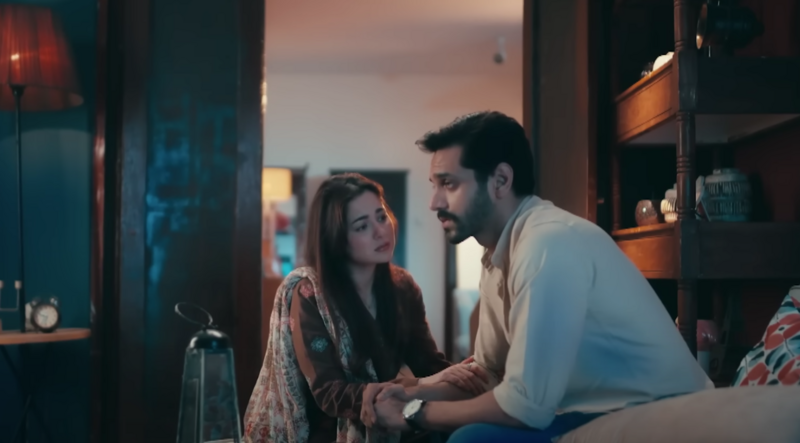 Maheer decides to support Saad against all odds

Maheer is on board to help Saad through thick and thin now that she is aware of the loan and how it has been worrying him out. However, Areeb continues to persuade her to take divorce from Saad and get married to him instead.
"Mujhe Pyaar Hua Tha" airs on ARY Digital each Monday. The story revolves around, Maheer (Hania Amir), Saad (Wahaj Ali), and Areeb (Zaviyar Noman), the three main characters who are caught up in a love triangle. The story begins with Saad, who has been secretly in love with Maheer. But a new chapter begins when Areeb enters Maheer's life. Maheer falls in love with him, and the two of them are getting married, but a small misunderstanding cause everything to fall apart, and Maheer ends up getting married to Saad instead. "Mujhe Pyaar Hua Tha" tells a story about the intricacies of love, heartbreak, and the difficult decisions that come with it.
In the previous episode, Saad and his family were seen to be concerned about a sizable loan their father had taken out for a business that had failed. However, when Azhar provided Neelo the house file so that Saad could arrange for the loan repayment and sell the house, Rafia makes a big deal out of it and accuses them of faking the loan in order to obtain everything. Maheer heard everything as she arrived home from Anabia's house.
She went to Saad and protested that despite being his wife, he had been keeping things from her. Saad was quite happy to hear her say this because it was the first time she had acknowledged and openly said that they were indeed life partners. She assures him that she is by his side and that they will work out a solution. Saad promises that he will never let this house get sold.
After receiving several calls from Areeb, Maheer, finally picks up his call and agrees to meet him—with the condition that this will be their last meeting. When Areeb agrees, they meet. She turns down Areeb as he tries to convince her once more that she should get a divorce from Saad, telling him that he needs to accept the reality that she is now married and will not leave Saad under any circumstances.
Saad was overjoyed to hear from the company for which he had applied that he has been recruited. In order to help Saad through these difficult times, Maheer also makes the decision to hunt for employment. However, when Saad learns about it, he requests Maheer to not do this because he dislikes the idea of his wife working.
Rafia, on the other hand, wants Maheer to work since she feels her daughter is only subjected to difficulties and hardships in her home and that doing so will help take her mind off from her problems. Also, she believes that by doing this, Maheer will be able to support her parents as well, so that they don't have to rely solely on Saad. But when Anabia and Rafia learned that Saad forbade Maheer from working, they both lost their cool and began accusing Saad of having a stereotypically misogynistic view that makes him hate the idea of his wife holding a better job. Maheer became furious at their criticism about Saad and yelled that she would not tolerate hearing anything negative about Saad. She questioned them that what has he actually done to deserve all this hatred.
Saad runs into Faha somewhere, and she tries to convince him that Maheer is a shameless home wrecker for continuing to meet her fiancé. Faha also made an attempt to place the blame for Areeb's continued inability to get over Maheer on Areeb's mother. Due to this behaviour, Areeb's mother became enraged and left, urging Faha's mother to teach her some manners.
As Saad begins working at his new job, he finds out that Areeb's business, Rehan and Sons, has secured a major deal with his employer. Areeb meets Saad at his office and demands to know why he is not letting Maheer go. He confronts him by saying, Maheer certainly does not deserve this life. Saad responds that he will leave Maheer when she herself asks him to let her go.
We finally saw Maheer acting logically and supporting her husband, which made the episode a little better. It was nice to see her stand up for him and reassure him that she is there for him when things become rough, as rather than letting her mother and Anabia's attempts to shape her opinions affect her. We were a little disappointed at Saad's response to Maheer's wish to work, though, as we felt that even if he did not want her to work out of love, he should have given Maheer the freedom to make her own decision. Saad seemed to be a little relieved in this episode, but Areeb ruined it by being over confident about Maheer still loving him.
We think Anabia and Areeb would do all in their power to sabotage their relationship, despite Maheer's efforts to improve matters between her and Saad. What are your thoughts on the latest episode? Post a comment and let us know.