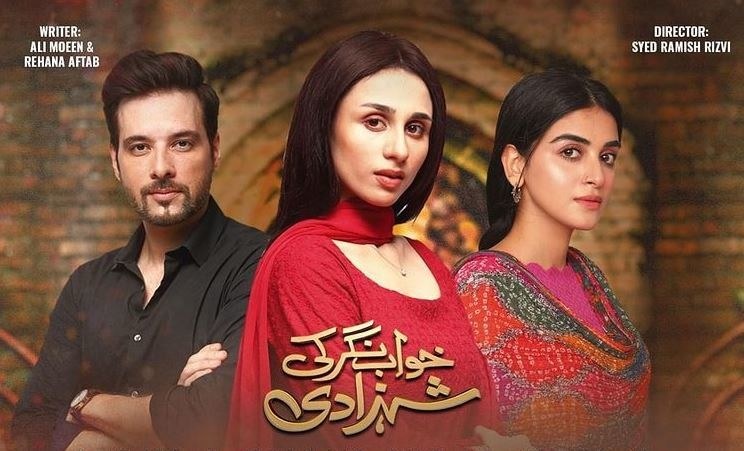 The first episode of 'Khwaab Nagar Ki Shehzadi' has us waiting to see what will happen next!

Khwaab Nagar Ki Shehzadi's first episode aired with a bang on ARY Digital. The drama boasts of a stellar cast that includes Mikaal Zulfiqar, Mashal Khan and Anmol Baloch in the leading roles. The play is another mega-project under the banner of iDream Entertainment and is directed by the brilliant Syed Ramish Rizvi.
The Story So Far
A happy family living in complete bliss is what we are introduced to in the beginning scene, Mashal Khan playing Meera is married to Saim (Mikaal Zulfiqar). The couple has a son too. On the other hand we are introduced to Sehar's (Anmol Baloch) family from a lower income, all the women in her family work as maids and her mother Shamim works in Meera's house as a house-help. The family is facing a crisis after Sehar's father is unable to pay off his debts to their colony's mobster and the issue escalates even further after they ask for Sehar's older sister's hand in marriage in exchange for forgiving the outstanding dues the family owes. The girls and their mother are disgusted by this suggestion and are fighting with all their might against it, however their father is ready for the marriage to take place.
As matters get worse, Sehar's mother asks her employer Meera for help, Meera feeling sorry and sympathetic for her maid is determined to help her out by involving the police in this matter, however, Saim and her mother-in-law are against her idea and ask her not to meddle in these affairs. They ask her to help the maid with some extra cash and to let the matter go.
What we Loved About Sehar!
The first episode was quite an interesting watch, two contrasting worlds were highlighted for the audiences. Sehar plays an ambitious girl who dreams of all the good things in life and wishes to become rich and powerful just like all the people she works for. We love how the drama portrays Sehar and her sister, they are not ready to easily give in to their father's wishes and are ready to fight him and face the consequences.
Meera is Determined to Do What's Right
Mashal Khan plays the powerful character of Meera who is willing to help out those who are in a crisis. After facing her husband and mother-in-law's refusal to help out their maid in her time of need, she is determined to do whatever needs to be done even if she has to do it all herself. The scene where she schools her husband has to be one of our favourite parts of the show.
What's Next?
Khwaab Nagar Ki Shehzadi has just begun, and through its teasers it seems that we will be witnessing a love triangle between Mashal Khan, Mikaal Zulfiqar and Anmol Baloch. Will Sehar's dreams come true of marrying into an 'ameer' family and owning all the things her heart desires? Will Meera regret her decision on involving herself in her maid's family crisis?
Watch the next episode to find out more!
Khwaab Nagar Ki Shehzadi airs every Monday to Thursday at 9 pm on Ary Digital.