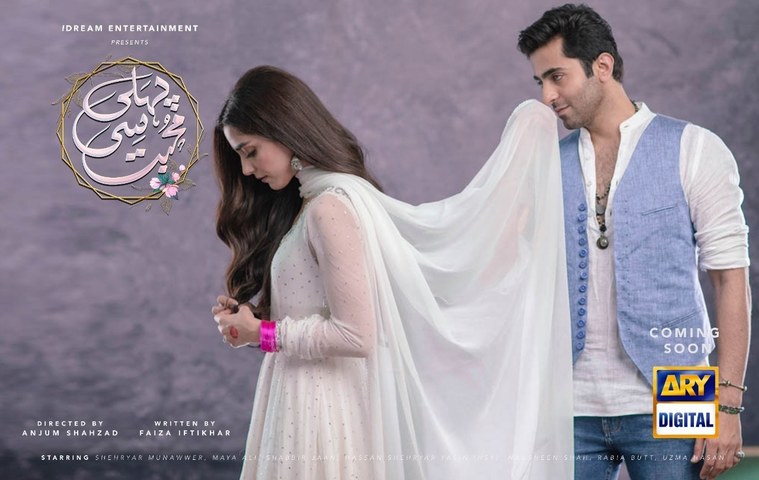 A heartbreaking twist in the tale has intensified matters in 'Pehli Si Muhabbat'!

Maya Ali and Sheheryar Munawar star as the lead actors in Pehli Si Muhabbat, this story of first-love and the sizzling chemistry between the duo has the audiences anxiously awaiting every episode. Trending in the top 10 on YouTube, Pehli Si Muhabbat has garnered over 6 million views!
The Story So Far
Rakhshi and Aslam's love story seems to have hit a speedbump which came sooner than expected. The news of Aslam's 'baat pakki' has torn Rakhshi apart with heart-break. Aslam continues to pursue Rakhshi, but she finally confronts him and calls him a liar and a cheat who is nothing but a mere 'loafer'. Nargis (Rabia Butt) encounters two neighbourhood men who stop her from buying vegetables, she gets into a war of words with them, leaving them speechless. Aslam finally gets his chance of apologising to Rakhshi on the terrace, and he professes his undying love for her, thankfully she agrees. Their love story gets back on track and Rakhshi escapes her father and meets Aslam secretly in a park. The love-birds are giddy in love, Aslam confesses that he has always been in love with Rakhshi since they were kids. Akram (HSY) and Aslam get into a quarrel over Aslam visiting Faizullah's shop, to which Aslam ends up in a fit of laughter. We are introduced to Aslam's married sister Zainab (Uzma Hassan), who comes home for Aslam's engagement ceremony, she reminisces of her life before marriage and thinks about someone she once loved.
The Drama's Ensemble Cast Deserves A Huge Applause!
Sheheryar Munawar's dialogues are heart-warming and we love how he stands up for Rakhshi against his friends' advice. Sheheryar plays the hero that every girl needs in her life. Maya Ali and Sheheryar make the perfect couple who remind us of our very own first-love!
Maya Ali fires up the screen in the first scene with her heart-wrenching performance, embodying someone who has lost their first-love. Her screams send a chill down our spine and we can't help but feel her intense pain during this scene.
Rabia Butt acts flawlessly in the scene with the neighbourhood goons, her words were no less than a thundering slap across the faces of the two men which had them scurrying back to where they came from. It is safe to say that she managed to steal the spotlight with her power-packed performance and explosive dialogue delivery!
Saba Faisal plays the best mother we've seen on TV in a long time, she answers her son Akram (HSY) with true facts that not every mother would dare to say, we're glad she is able to put her son straight instead of taking his side even when he is wrong.
Thumbs Up For the Production, Direction and Script Writer
Pehli Si Muhabbat has been produced under the banner of iDream Entertainment's production house and is penned down by Faiza Iftikhar while the play has been brilliantly brought to execution by director, Anjum Shehzad.
What's Next?
With the new character of Zainab introduced in the story, we are yet to see if as an older sister she would understand Aslam's plight since she went through something similar in the past? Watch the next episode to find out how the story unfolds further.
![ ](https://www.youtube.com/watch?v=kMuQ5ICrPvE