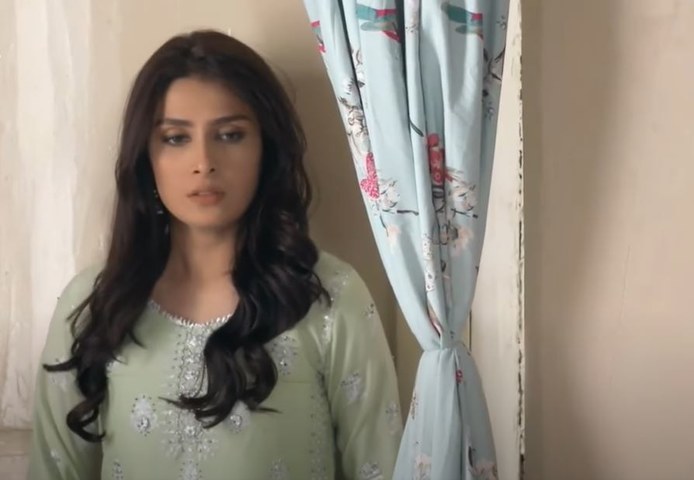 Meherposh may be trending on screens, but it is slowly falling into the genre of a 'clichéd' narrative bordering on predictable.

Ruling strong on the screens with its nineteen episodes, Meherposh might have become one of the most trending stories of the season. But this cannot stop the drama from entering the category of 'clichéd tales' that we are tired of watching on television.
This week's episode made us sigh with exasperation as too many aggravating situations became a nuisance to watch.
Let's take a quick review of the story that has shaped up in Meherposh so far.
Too many clichés are killing the plot
As foreseen, love between Mehru (Ayeza Khan) and Shahjahan (Danish Taimoor) has finally blossomed. Those meetings that were earlier filled with loathing have now turned into flirtatious moments. Our hero gifts a dress to his lady love and takes her on a ride on his newly-bought car. It is just eerie how all of this happened with Mehru detesting him in the previous episodes and now has readily given her heart to him!
However, neither of them knows that this sweet romance will not last long. Back at home, an unknown woman, who comes out of nowhere, has chosen Mehru as the wife for his divorced son. So much so, she has forcibly fitted the engagement ring in Mehru's hand and declared her daughter-in-law within seconds of seeing her. Meanwhile, Mehru's mother (Sania Saeed) remains silent, watching the whole coercion with a smile on her face. We wonder which mother will not notice the unease of her daughter over the entire matter and not realize that this pressure of marriage is disturbing her.
This 'almost engaged' incident has shaken Mehru who is fully prepared to rebel against it. Annoyed, she screams at her mother and makes her realize that she cannot marry someone in the blink of an eye. Her mother, despite remaining soft, remains unclear over the pain her daughter is going through. She still plans to visit the family and say yes, if all appears well.
Meanwhile, Shahjahan's mother is all set to give his proposal for Ayat and he still has no clue that it is not Mehru he will be tying the knot too! Poor Ayat (Zainab Shabbir) cannot stop dreaming of Shahjahan and has no hint of the brewing love equation between him and his sister. Yet again, this is the most typical love triangle of a sort that can be seen happening in most Pakistani dramas and this is indeed tiring us.
Even Naeem's character (Ali Abbas) has become wearying to watch. He only resorts to shouting at everyone who crosses him, other than being depressed for ruining Mehru's life. The episode ends on a much-predictable revelation that the man Mehru has become engaged to, is a well-known smuggler and a goon.
Bring back Iffat Omar!
We miss the 'Shakila-factor' in Meherposh. She played a strong, negative role in the drama of a conniving woman and we surely believe that her powerful performance, despite that of a toxic character, made the drama so much more interesting!
The plot needs to stop bringing us the usual, overused elements to make the drama exciting. All of it is making Meherposh all the banaler. The promo of the next episode doesn't show much growth in the story. Shahjahan is still ignorant that Ayat will be his wife and Mehru is still hanging in between Naeem, Shahjahan, and that shady man she has been forcibly hooked too!
Zainab Shabbir as Ayat is shining her way through main members of the cast and is convincing us of her acting prowess. Not only does she have an adorable face, but her expressions are also natural. We wish her good luck in the future!