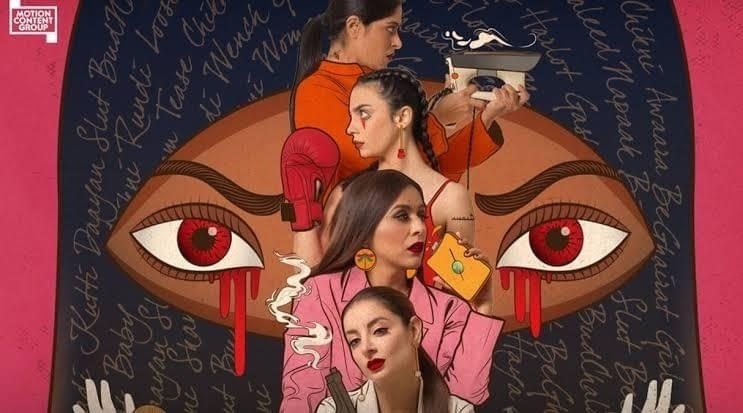 The web series that took the media world by storm has now been banned by PEMRA, adding to their list of 'indecent' content.

Churails, a program which has seemed to garner a lot of attention for a different storyline than what Pakistanis are accustomed to, bringing up the matter of feminism, and women sticking up for themselves, a fresh initiative as it gives more power to females with a heated plot, seeing Sarwat Gilani, Nimra Bucha, Yasra Rizvi and Mehar Bano in empowered roles as they seek revenge for mistreatment.
When released, Asim Abbasi's web series was met with an overall positive response, not simply trending in Pakistan but abroad as well, giving a platform to women to watch a cathartic and exciting turn of events, with women being the leads in a girl-powered venture. However, the positive reviews spoke too soon and caught the attention of PEMRA, the Pakistan Electronic Media Regulatory Authority to up and ban the series, censoring it in Pakistan.
With the Gala Biscuit ad being banned yesterday Churails was quick to follow, after being quite successful on ZEE 5, further angering the media industry, with director Asim Abbasi and other members of the media fraternity expressing their disillusionment with PEMRA's latest lash out.
It seemed having four fiercely independent women in starring roles was too much when put up against fixated patriarchy, Abbasi himself took to twitter, stating the inevitable after a series which opens conversation about crucial subjects while revolutionizing the mindset to see women as human beings, something the country needs at this point in time.
'How strange for #Churails to be lauded internationally, and now be shut down in its country of origin. In the very country where hundreds of artists came together to create something that could initiate dialogue and open doors for new narratives.'
The Cake director continued to discuss how the squashing of creativity and narrative would bear no fruit, resulting in a 'home-run' for misogynists as well as being a great loss for women and marginalised communities in society. Further, others took to conquer Abbasi's sentiments, such as comedian Shehzad Ghias Shaikh who expressed his disarray with PEMRA's latest censorship decision.
Not only does this decision cancel out a budding movement for feminism but it has completely stunted Pakistani content growth and opportunities to connect to international platforms, being banned in the country of its origin.
Celebrities such as Haroon Rashid have also condemned the ludicrous ban, who wrote 'This is disappointing and a huge step back for the Pakistani entertainment industry. Stop brushing real issues under the carpet. Stop glorifying domestic violence and normalising misogyny on TV. Stop restricting women from having a fair platform to be their unapologetic selves.'
Why such shows which pose no harm to the youth and instead provide messages of empowerment and independence face the threat of being banned continue to escape us as we question PEMRA's decision regarding what is 'inappropriate' and what is not.