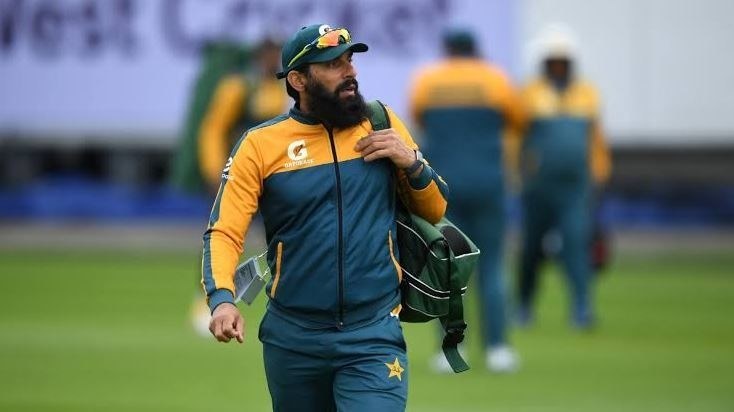 Cricketing legend and coach of Pakistan's cricket team, Misbah-ul-Haq has resigned as the Chief Cricket Selector.

Previous Pakistan cricket crew skipper, Misbah-ul-Haq, who was named to the joint situation of lead trainer and boss selector for the men's group in Sept 2019, has left his part as boss selector, he reported in a presser on Wednesday.
The cricketing coach said that made a decision once he believed he was unable to do equity to both the jobs, keeping in sight the group's global responsibilities. "At the point when I was told by the PCB (Pakistan Cricket Board) to [work as both lead trainer and boss selector], I said I would do it yet we had a conversation that in the event that I ever felt that offering time to both would be hard, I would leave." "Had this been the case, I would have been removed from both posts."
Misbah said when he was given the charge in 2019 he had conveyed his doubts to the PCB about the challenges of wearing two hats.
"They (PCB) gave me the option to decide which responsibility I would like to retain and I opted for coaching."
However, he clarified that he would select the teams for upcoming Zimbabwe and New Zealand series as a final responsibility.
Misbah said he had advised the PCB that he needed to zero in exclusively on training and valued that they had acknowledged his choice. "Obviously, the attention is on making the Pakistan group on a par with conceivable," he said.
The international cricket player explained that his acquiescence was not a result of any conflicts with the cricket body or a gathering with Prime Minister Imran Khan a month ago over a strategy matter of the board relating to annulling departmental cricket, after which the PCB had chosen to require a clarification.
Since Misbah took over both the roles, Pakistan featured in only two series, with moderate success. Bangladesh toured Pakistan in January 2020 and lost the three match T20I series 2-0. The Test series had to be called off after the first Test, which was won by Pakistan, due to the Covid-19 pandemic. When asked to share his opinion on working as chief selector and head coach, Misbah said it was a good experiment but his engagements have increased now. The new chief selector would assume his duties on December 1, he added. Former cricketer and analyst Sikandar Bakht termed it as a positive U-Turn and said Prime Minister Imran Khan must be very happy over it.
"It is said that wise people take U-turns and I think, albeit late, he (Misbah) took the right step. We have been saying this for the last one year."
He also slammed the PCB officials who had given Misbah dual responsibilities.
Commenting on the development, cricket expert Alia Rasheed said this is the right thing to do as it was a challenging task and Misbah took the correct decision.
The Pakistan team received some flak when they toured England for the Test and T20I series as they lost the rain-marred Test series 1-0, while drawing the T20I series 1-1.