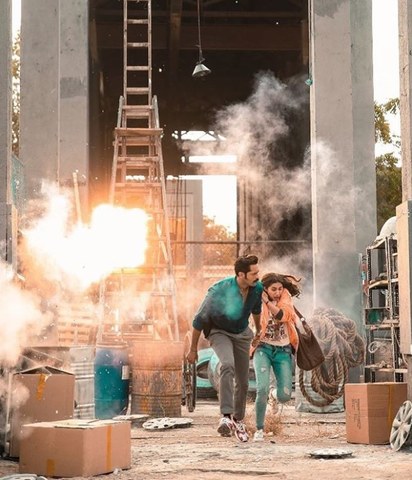 Quaid-e-Azam Zindabad's teaser is officially out, and it has blockbuster written all over it!

Quaid-e-Azam Mohammad Ali Jinnah founded Pakistan, and Nabeel – Fizza resurrected the film industry in 2014; together, they are back to make the 'film' industry stand on its two feet with an aptly titled Quaid-e-Azam Zindabad. The teaser of the film was released online and became the talk of the town because of its epic everything. Be it Fahad Mustafa's swag, Mahira Khan's new look, Nabeel Qureshi and Fizza Ali Meerza's ability to predict what the audience would love or the help from Quaid-e-Azam, everything is there in bulk.
Fahad Mustafa Is The New King of Swag
We have seen him win hearts with his energetic hosting skills, shine in multi-starrer films with his acting skills, and steer the industry in the right direction as a producer. With Quaid-e-Azam Zindabad, Fahad Mustafa dons a new avatar where he not only saves the day but also the whole film industry that was banking on his return so they could make a comeback. Yes, his character does resemble the many mustached cops from Bollywood, but trust me, he has made his characters different before, and he will do that again. In the list of three 'Corrupt Coppers', think of him as the fourth one (Sooryavanshi is yet to come). Not only does he have the swag of a cop who can do no wrong, but he also gets the job done 'by hook, or by crook' if you know what I mean.
Mahira Khan 2.0 Is What The Doctor Ordered
We all know that when it comes to looking beautiful, elegant, and graceful, Mahira Khan has no equal but here, the makers have cast her in a role that she has never done before. Unlike the Mahira Khan of Bol, Bin Roye, Raees, 7 Din Mohabbat In, Ho Mann Jahaan, Verna, Superstar and Parey Hut Love, this Mahira Khan is clad in western outfits, the kind that suits her, or the kind that will become popular after the film. The new-look Mahira is also courageous and knows how to defend herself, be it with pepper spray or her fists. Since Superstar and Parey Hut Love last year, her fans were waiting for her return in Maula Jatt but Quaid-e-Azam Zindabad happened first, and they can't believe their luck. Mahira Khan 2.0 is easily one of the highlights of the film and the audience can't wait to watch her set the screen on fire.
Nabeel Qureshi Raises The Bar, Again!
Fahad Mustafa might be performing the stunts on-screen, but the person behind the daredevil acts performed in the teaser is Nabeel Qureshi, the director. After all, he was the one who announced the entry of Billi in Na Maloom Afraad in a Circus, and is now heralding the cop films in Pakistan in his unique style. Move over James Bond, stay away from the screen Wonder Woman, our 'Wonder Boy' director is here with his magic wand, that gave us Na Maloom Afraad 1 & 2, Actor In Law, and Load Wedding. Along with Nadeem Baig, Nabeel Qureshi is the only director with more hits than flops to his credit in the current lineup of directors with multiple flicks, and it seems that he is here to better the equation with a little help of Quaid-e-Azam.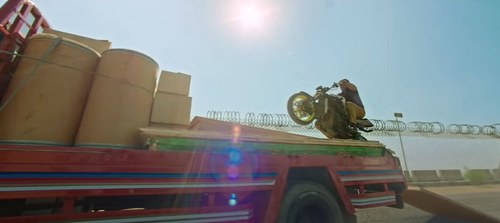 Fizza Ali Meerza Knows What The Audience Wants …
As a producer and co-writer, Fizza Ali Meerza knows exactly what the audience wants. She knew that the crowd wanted something like the careless heist films that became popular in India, and along with Nabeel, they came up with Na Maloom Afraad. Actor In Law was their joint effort that turned out to be a timeless classic because of its relatable story; and when they did go all desi in Load Wedding, that was viewed by a sensible audience as a step in the right direction. With movies like Dabangg, Singham and Simmba breaking records across the border, it was a matter of time that some daring producer ventured into the cop zone with a Pakistani touch and voila, Fizza Ali Meerza was that daring producer. The combo of Nabeel – Fizza knows how to please the audience and with Fahad Mustafa as their leading man once again, one is bound to be entertained with this venture.
It's Bigger and Better Than Ever Before!
When was the last time you saw a mid-air fight sequence in a Pakistani film? The climax of Son of Andata was the closest we could ever get until now. With Fahad Mustafa's character stuck in an airplane – as shown in the teaser – Pakistan has managed to raise the bar, literally. His look, his swag, and his chemistry with Mahira Khan are exactly what the audience needs in order to forget all about Covid-19, and start afresh. Nabeel Qureshi and Fizza Ali Meerza gave life to Pakistan's film industry with Na Maloom Afraad in 2014, and they are back to breathe life in both the industry's body and the audience's mind. It has been over a year that a good Pakistani film was released in cinemas and after the teaser of Quaid-e-Azam Zindabad, it seems that not only will it break the run of bad films, but also create records of its own.