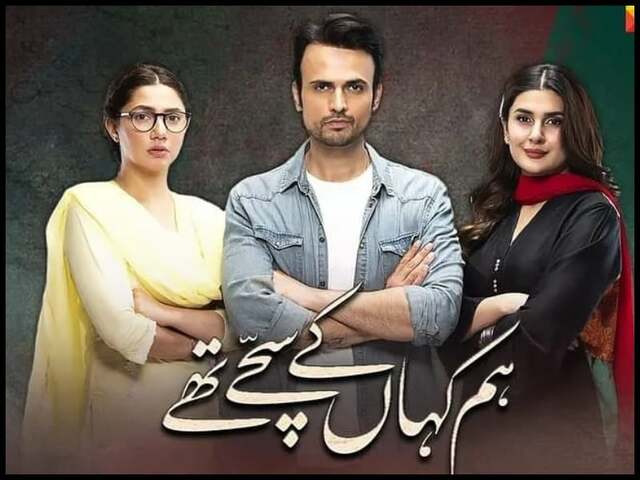 The story came in full circle in Hum Kahan Kay Sachay Thay's final episode. Unlike the novel, the tale ended on a...

The story came in full circle in Hum Kahan Kay Sachay Thay's final episode. Unlike the novel, the tale ended on a good note and we wanted to see Mehreen's character at peace after a life packed with tragedy.
The drama indeed received a lot of limelight for both good and bad reasons. Some episodes troubled us with the turns they took, the rest left us moved with the heart-rendering scenes. The finale was all about its characters eventually realizing the truth and sorting their ways for good.
Let's do a quick review of Hum Kahan Kay Sachay Thay's final episode and the lessons the drama left teaching us.
The road to redemption
After narrating the reality of the night that changed everything, Aswad (Usman Mukhtar) pleads for forgiveness from Mehreen (Mahira Khan). From here onwards, the duo begins a new life. Mehreen starts to heal the minute she leaves the hospital. In a heart-to-heart with her mother (Laila Wasti), she complains to her about how she abandoned her but eventually gets convinced that her mother loved her throughout.
She visits Mashal's (Kubra Khan) grave and reminisces how her cousin wanted to craft a beautiful dupatta for her before her death. Upon coming home, she gets a warm welcome from Saleha Khala (Huma Nawab) and Aswad decorates her room with all the awards and accomplishments she has achieved. An overwhelmed Mehreen questions the celebration of her feats and Aswad only replies to her that she deserves it all. So much so, she joins university again and the glee on her face revealed that Mehreen, at that moment, felt alive all over again
But Mehreen only gets peace after she visits her Nani (Shamim Hilaly), Shagufta (Zainab Qayoom), and Tahir (Ali Tahir). Filled with bitterness, she said it all-the complaints, the pain of childhood, and how the hatred of their parents destroyed their lives forever.
Fortunately, they all understood what Mehreen had to say and despite being broken, were eager to walk the path of redemption.
The episode ended with a romantic moment between Aswad and Mehreen. The two get closer and the husband, eventually realising the error of his ways, turned over a new leaf. It was evident that he wanted to turn over a new leaf and was trying to give his wife the life she deserves.
A sweet farewell to the story
Hum Kahan Kay Sachay Thay was a long, tragic journey. The viewers saw the character grow and fall, agreeing to some things they did and disagreeing with the others. Everybody hated Aswad and believed that he truly never deserved Mehreen. He played with her life and toyed with Mashal's feelings as well. His character got saved in the end from a punishment he really should have gotten. Nevertheless, we are happy for Mehreen for she eventually got the love and happiness she should have gotten since she was a child.
Kudos to the supporting cast of Shamim Hilaly, Kaif Ghaznavi, Zainab Qayoom, Ali Tahir, Huma Nawab, and Laila Wasti for their phenomenal acting throughout. The leading women, Mahira and Kubra were a strong duo, truly dominating the ending month of the story and leaving us with a performance that will be remembered for years to come.
There were a lot of things in the drama that we didn't agree to. However, we must admit that the drama was an eye-opener for adults who suppress their kids and stifle their growth. We learned that each child has his or her talent and personality. It is never the right strategy to make them compete with siblings, cousins, or friends around them. At the same time, adults have a responsibility to discourage the practice of bullying amongst kids forit plants the seeds of trauma, depression since childhood. Later, it turns into a life-long fight with anxiety and despair that gets challenging to battle.
After a couple of weeks of being monotonous, the conclusion was packed with moving scenes and a reunion that overall marked a sweet farewell to Hum Kahan Kay Sachay Thay.