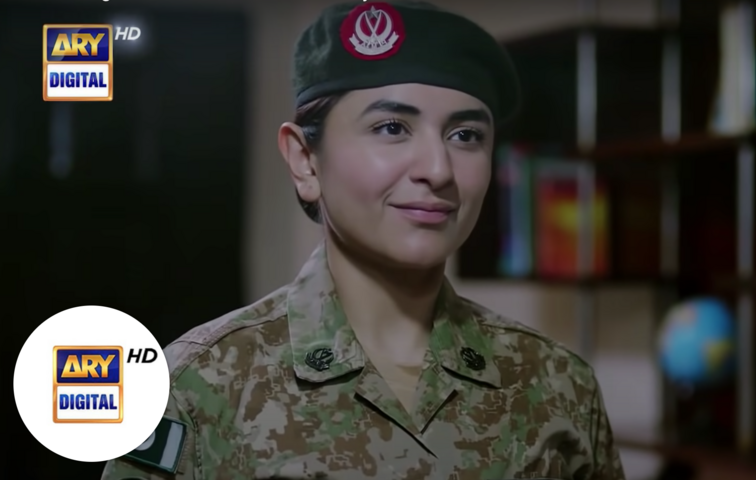 The drama has a women-centric cast, featuring Yumna Zaidi, Sajal Aly, Kubra Khan, Ramsha Khan, Syra Yousuf & Tashi Kalidasa

ISPR's recent bio-pic, Aik Hai Nigar made quite the massive splash in the industry and how can we forget the fond memories Ehd-e-Wafa created with audiences. ISPR is now, all set to raise the bar even higher with its latest one of a kind project titled, 'Sinf e Aahan'. The drama is yet another blockbuster in the making and boasts of a stellar star cast that includes all the big-wigs of the television industry. The show will be having a women centric cast, featuring Yumna Zaidi, Sajal Aly, Kubra Khan, Syra Yousuf, Ramsha Khan and Srilankan starlet Tashi Kalidasa. The project is a joint venture of ISPR, Six Sigma Plus and Next Level Entertainment and will be aired on ARY Digital.
The teasers for drama Sinf e Aahan have just begun releasing one after the other and have created quite the buzz on social media, and why not? The crème-de-la-crème of the Pakistani television industry has been roped in for this grand project, it is bound to become a fan favourite like none other. The first teaser shows us a sneak peek into the lives of the Sinf-e-Aahan leading ladies, promising a plot that will revolve around women empowerment and the starlets are giving off major girl-power vibes on screen!
The story has been penned down by none other than Umera Ahmed who needs no introduction with blockbuster scripts like Aik hai Nigar and Alif while maestro, Nadeem Baig has worn the Director's cap for this massive project.
Let's take a deeper look at what we know about the women of steel in Sinf-e-Aahan
Yumna Zaidi who is still basking in her critics award for her winning performances from 'Pyaar Ke Sadqey' is known for choosing only the most challenging roles, making each performance of hers even better than the last. We are excited to see her in the uniform for the first time on screen and are absolutely loving her cute 'pashto' accent making it look all the more realistic. From the teaser that has introduced Zaidi's character 'Shaista Khanzada' in Sinf e Aahan, we find out that she belongs to a conservative Pashtoon family and goes against their wishes to join the army and serve the nation. We love how strong, brave and determined Shaista is in the drama in order to achieve her dreams. Special mention to Zeb Bangash for her mesmerizing vocals, definitely waiting for the OST to come out !
While the rest of the leading ladies will be seen together on screen for the first time, Yumna Zaidi and Sajal Aly are already sharing the screen in drama Ishq e Laa, we can't wait to see how the two create further magic in Sinf e Aahan. Sajal Aly like her counterpart, always picks her projects with great caution, only doing the most interesting and engaging roles, giving her best to each performance. Sajal Aly will be seen as Rabia Safeer in Sinf e Aahan wanting to make a name for herself in the army. The starlet is seen commanding the platoon of strong women and donning the army uniform.
Along with Sajal Aly we see Usman Akhtar playing her brother Daniyal and Asim Azhar in the teaser.
Kubra Khan was just seen on screen with her role as the evil Mashal in drama Hum Kahan Ke Sachay Thay, we are loving her role in Sinf e Ahaan as Mahjabeen Mastaan. Her character Mahjabeen has a disturbed life at home and seems to have an unpleasant relationship with her mother too. She is determined to prove her mother wrong by achieving success in the army.
It will be after ages that we will see our favourite Syra Yousuf on our television screen as Arzoo Daniel.
Meanwhile, this project is bound to make the rising star Ramsha Khan climb even higher on the ladder of success after hits like Shehnai and Gissi Pitti Muhabbat.
Are you looking forward to watching all these amazing stars on screen together? Let us know in the comments below.