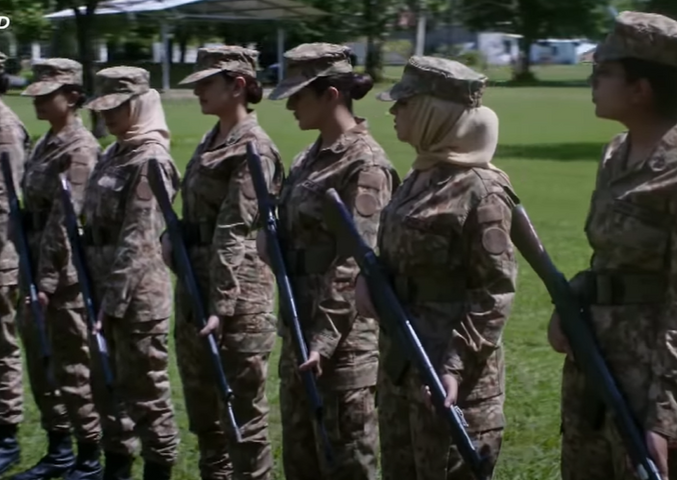 It is no secret that Sinf e Aahan has become every Pakistani's favorite drama. The story is moving and has a...

It is no secret that Sinf e Aahan has become every Pakistani's favorite drama. The story is moving and has a purpose; thus finding a home in the hearts of the viewers.
The recent episode was emotional, entertaining, and enlightening. The girls wrote letters to their families, progressed in their training, and strengthened bonds with each other all the more.
Let's do a quick review of what went down in Sinf e Aahan last night and what scenes touched our hearts in this episode
Of Letters, Throwbacks, and Challenges
The last episode gave us a heads up that the Sinf e Aahan women will be writing letters to their beloved family members. Witnessing them pouring their hearts out in the notes addressed to home after weeks was indeed a heart-warming sight.
Mahjabeen's (Kubra Khan) message was all about how much she is rising as a person, as a trainee, and as a citizen of Pakistan with her training in Kakul. Growing up in a dysfunctional family, she never found comfort in her home but she admits missing her parents back home.
Shahista (Yumna Zaidi) made us laugh with a very entertaining letter penned to her Dadi. After all, she was the most hostile towards her amongst all family members and thus, Shahista chose her to pen a message.
She wanted to inform her how PMA is disciplining her like her grandmother intended to. However, at Kakul she wants to be the best version of herself while her Dadi's relentless admonishment tends to discourage her.
Rabia (Sajal Aly) selected her sole confidant, her brother Daniyal (Usman Mukhtar) to write a note to. She could finally relate to her brother's life away from home and was glad that she too can play a part in serving her homeland as a woman.
The training gets tougher. The squad is trained how to hide and fight with the enemy on war ground. Holding heavy guns, the girls crawl on their elbows and are exhausted by the challenging activity. Yet they are determined to achieve their goal.
Pariwash (Ramsha Khan) and Shahista try to mend ties between Rabia and Mahjabeen. But fail in their efforts. Meanwhile, Nathmy (Yehali Tashiya) gets exposed for lying all along from the girls about not knowing Urdu. While all the LCs gang up on her, they soften once they realize that she loves Atif Aslam and Fawad Khan, Mahira Khan and Humayun Saeed are her favorite stars.
Meanwhile, we realize that Major Usama (Shehryar Munawar) and Kiran's former husband, Taimoor were old friends. Gradually, Kiran's past is unwinding and it seems like her baby girl's father is the martyred army hero.
Scenes that we loved
Amongst all the letters, Mahjabeen's note moved us to the core. Kubra Khan truly did justice to this scene with her character beautifully expressing her words and penning her emotions on paper. The whole scene and the feelings felt real and relatable. Meanwhile, Yumna Zaidi ruled the screen while narrating her message to her dadi. It was hilarious, emotional, and touching. The actress is surely the queen of expressions and never fails to charm the viewer.
The scene where Nathmy is caught red-handed by Rabia was yet another entertainer. We adored how the writer Umera Ahmed added her scripted dramas like Zindagi Gulzar Hai and Daam to the scene. Nathmy also mentions Meray Pass Tum ho as her favorite drama, making the whole idea of a Sri Lankan cadet loving Pakistani stories thoroughly enjoyable.
We are loving where the story is heading and want to see what happens with the women once they complete their six-month training at Kakul.