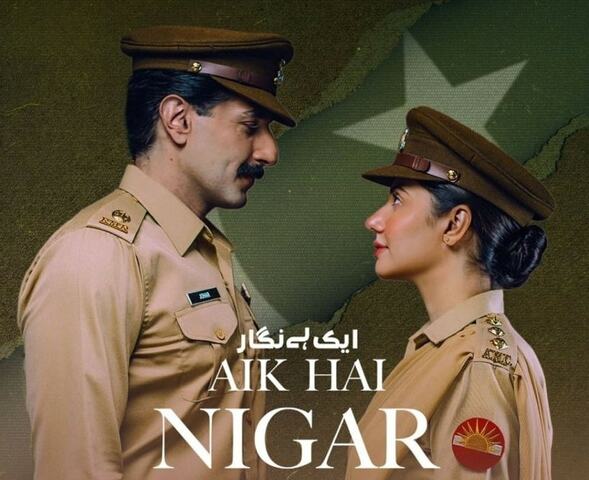 The release of Mahira Khan and Nina Kashif's produced short film Aik Hai Nigar in collaboration with the ISPR has...

The release of Mahira Khan and Nina Kashif's produced short film Aik Hai Nigar in collaboration with the ISPR has been making waves all over the internet since Saturday evening, but on Twitter, it has managed to become a trending topic that everyone cannot stop talking about!!!
Starring Mahira Khan as the eponymous living legend Nigar Johar – who is Pakistan Army's first female Lt. General, along with Bilal Ashraf playing the role of her husband, the late Johar Khan, the short film explores themes of bravery, empowerment, and resilience through the mighty narrative of the powerful tour de force that is the titular woman.
The story – along with the aesthetics through which the short film was shot – were enough to make everyone emotional and in awe of the project, and of course, Twitter wasn't shy from saying what they felt!
Let's explore…
As soon the film released, some of the earliest tweets started noticing, just how important the emotions were in playing an important role within the narrative.
Tweeple continued to be all praises thus, for Mahira Khan's emotional range as she portrayed Nigar Johar just perfectly!
On the lines of empowerment too, Mahira Khan's portrayal of Nigar Johar showed people all around how important her story is for everyone to know. Truly, she is a symbol of power!
The praise was also shared with the lead actor of the film, Bilal Ashraf! Not only did people appreciate his acting skills, they also could not get enough of how well he was able to have a chemistry with Mahira Khan.
Many on Twitter even were able to connect due to the relevancy it had to so many around us who have had families be a part of the armed forces. The struggle which they go through truly was captured in essence through Aik Hai Nigar.
The story about support, empowerment and most importantly companionship truly tugged at the heart strings, making Nigar Johar's story one that everyone around us should not only know, but also celebrate!
We can't help but agree with everything Twitter has been saying about Aik Hai Nigar, and all we can say is that we wholeheartedly understand how the whole of Pakistan is loving the film! We too, cannot stop talking about it!
What do you think about Aik Hai Nigar? Tell us in the comments section below.