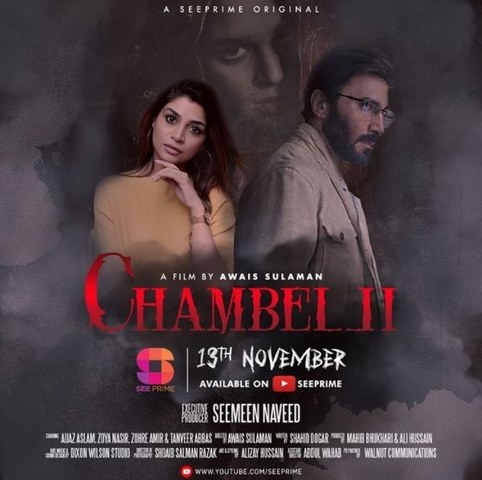 Zoya Nasir and Aijaz Aslam's latest short film is bound to cause a few scares with its intense storyline!

Awais Sulaiman's Ustaad was first on the successful streaming platform, leaving a lasting impression about the meticulous work of the director. Now, he has embarked on the horror genre, but Chambeli's trailer indicates we're in for some excitements and a few screams - especially for horror movie enthusiasts!
The eerie trailer gives us a glimpse of what to expect when a husband and wife plan a getaway but end up with an entirely different scenario than what they had initially planned. Not only will they have to deal with accumulating circumstances but the teaser itself hints at menacing behaviour and unwelcome presences roaming about the house in shadowy figures, which will cause more than a thrill for the married couple.
The short film boasts a stellar cast, with Deewangi's Zoya Nasir who has wowed audiences with her diverse style of acting from menacing roles in Zebaish and comical performances in Ranjore Line Ki Rajjo. Opposite her will be Qismat's Aijaz Aslam, a renowned name in the field, both in leading roles, with Zohreh Amir as well. The popular actors will be playing the unsuspecting couple who are in for a scary surprise, and we can't wait to see what's in store for them!
The thriller is planned to release on the See Prime platform and YouTube on Friday the 13th of November, so sit tight and let yourself revel in the horrors to come!