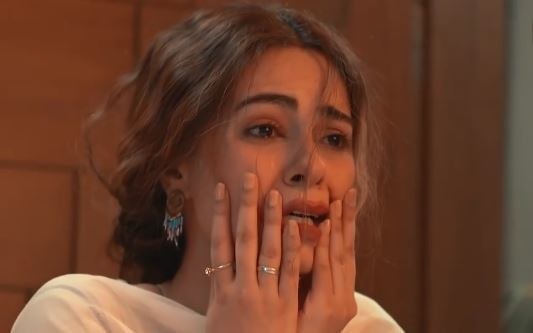 Here are a few reasons why you should keep a look out for the thrilling new drama serial 'Qayamat'!

The year 2021 might be a week away but Geo Entertainment wants you to wait for the New Year and their new drama Qayamat with bated breath. Why wouldn't you, for the play has been produced by the successful 7th Sky Entertainment, written by Sarwat Nazir and directed by Ali Faizan, who reunites with his Bandhay Aik Dour Se star Ahsan Khan even before the play has ended. But there are many other reasons for 'anxiously waiting' for Qayamat, and let us explore those reasons on the basis of their released teasers.
Ahsan Khan in another unforgettable role
Ever since Udaari, Ahsan Khan Fans have been on the lookout for a role that matches the intensity of Paa Imtiaz. Yes he was outstanding in Aangan and also in Alif but they were not lead roles, and when Ahsan Khan isn't leading, he isn't winning (for his fans). That's why the first teaser of Qayamat features him in the role of Rashid, a spoilt brat who wants to be the best actor in the world (more accurately, Indo-Pak), has loads of money to waste, and is also not liked by anyone. Even then he gets married to two beauties – Amar Khan and Neelam Muneer – for some strange reason. What's the reason, you have to wait for the drama to air sometime soon!
Neelam Muneer looks like a vision in promos
Oopar Walay Ne Chappar Phaar Ke Husn Dia Hai fits Neelam Muneer perfectly, for she looks drop-dead gorgeous in the teasers. In the last two years, she has delivered multiple hits like Dil Mom Ka Diya, Kahin Deep Jalay and Bikhre Moti but this one looks something unreal, like her stunning persona on screen. Not only because the drama features her in the role of a strong, confident woman who knows that people listen to her because she is also good looking, but because of her chemistry with her co-stars. That's enough to make the drama worth the wait!
Amar Khan's performance makes you want to be a better man!
She might be new to the industry in terms of dramas but Amar Khan is a complete package; she can write, direct and act and uses that experience to the best of her abilities in Qayamat. The scenes where she is being tortured by her husband (played by Ahsan Khan) are gold, considering both the actors are at par on screen. Yes, the audience loves a crying woman but here you see Amar Khan smiling as well, and the audience is intrigued as to how and why her life becomes a living hell, after getting married to a happy-go-lucky rich brat!
Haroon Shahid returns with what he does best
Haroon Shahid may have been in love before, but the way his character looks at Neelam Muneer's is how every woman wants to be looked at. Also, with a guitar in hand, he comes in the mood that made him a heartthrob as a musician, long before he became an actor. Whose kid is he holding in the teasers? Why is the woman he loves marrying another guy who looks like him? Why can't he have a happy ending for once, for he usually doesn't get the girl he likes in dramas? Watch Qayamat in order to get the idea; and let the teasers please your eyes, for you may not have witnessed so many gorgeous gals and handsome hunks together in one play, as the lead!
The teasers are unlike Geo Entertainment!
Usually teasers of GEO TV's dramas are more in the Star Plus category than a Pakistani drama category, and that's why not many people take them seriously. But writer Sarwat Nazir and director Ali Faizan must be commended for coming up with interesting characters that dominate the promos. The 'actual shots' from the drama replace the 'specially shot' promo sequences, enticing the audience that usually watches other channels. Let' see when the drama releases and what kind of reaction it gets from the viewers, but one thing is certain, it is going to be Qayamat from the looks of it.
Finally, there is the OST...
Although the producers haven't released the OST yet, you can catch the feel of Naveed Nashad in the background, and with Naveed Nashad on your side, everything will fall into place. The master music composer has had multiple hits like Mere Paas Tum Ho, Aangan, Ghalati, Do Bol, Mushk, and Saraab in the last couple of years, but this OST has something extra. Something that no other OST had before it – actress Amar Khan has penned the lyrics who also plays an important character in the drama, and from what we have heard so far, it looks more polished and pleasing that many OSTs that came out in 2020!