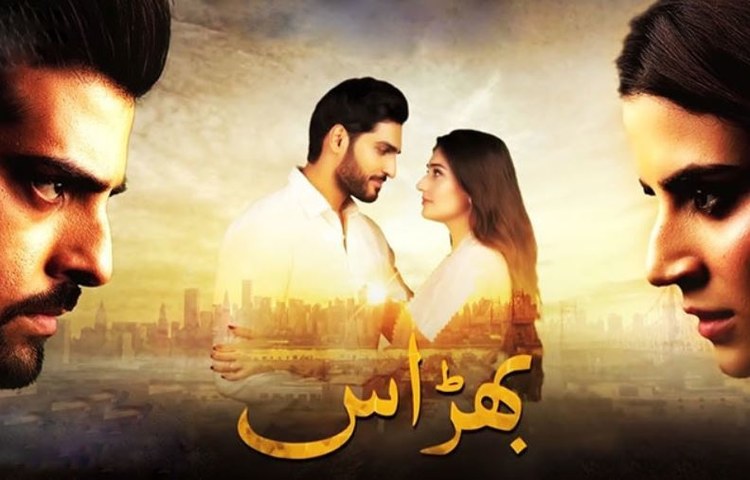 'Bharaas' is getting more and more intense as old flames reappear and new tensions arise in the household.

Written by Adeel Razzaq and directed by Nain Maniar, ARY's Bharaas is a series full of family drama, lost love and betrayal. Personifying the 'evil eye' we see how Zubab Rana's Kiran and Shaheen Khan team up with Kamal (Furqan Qureshi) to break the happily married Hassan and Zoya apart, played by Omer Shahzad and Dur-e-Fishan Saleem respectively.
As the story progresses we see the fragile nature of Hassan's (Omer Shahzad) trust in his wife. A once extremely loving marriage turns sour as Hassan's faith in Zoya completely deteriorates during his father's final days, with Kiran (Zubab Rana) organising a malicious plot using 'Ramzi' to break the camel's back for the couple's marriage.
Trust issues are addressed in the drama
A crumbling of trust leads to no foundation, giving the audience a firsthand view of how important it is to respect one's spouse and not fall prey to the jealous ploys of others. The essential matter of stressed upon is expressed beautifully as we see Dur-e-Fishan's Zoya try everything in her power to save her marriage to Hassan. However, her better half is too consumed by his insecurity to see what's right in front of him. Showing a gradual degradation of trust, we are giving an omniscient view of the goings on in all households.
Kamal Plays Dr. Jekyll and Mr. Hyde
You have to give it to Furqan Qureshi, who does a fantastic job showing the duplicity of society through his portrayal of Kamal. We know he's doing a great job through evidence of fans being displeased with his treatment of Zoya after marriage. From being manipulative, insecure, and financially somewhat of a 'Scrooge', the audience sees the reality of the Hell Zoya is having to experience. This only makes the viewer sympathise with Dur-e-Fishan as she shows us an independent woman and the harsh reality of an average Pakistani girl who's trying to make her second marriage work for her family's sake. A strong, resilient girl, Zoya is not dependent on any man yet to the audience's dismay she unfortunately has to deal with Kamal and his torture inflicted onto her, as she herself points out. From making his wife take off his shoes to using her father's money while living in their house, it's clear that Zoya and her second husband's values differ tremendously, leaving us to wonder how it could work.
What is next for Hassan and Zoya?
Already emotional from the minute he laid eyes on his ex wife, Hassan seems to be a man conflicted and still harbouring affection towards the very woman he cast out of his life...and his home! During his father's funeral, Hassan's cruel condemning of Zoya in front of every single family member in the house before divorcing her and quite literally dragging her out of his home automatically makes him a tragic hero. From a loving husband to one consumed with rage and irrational insecurity makes the audience feel frustrated for Zoya, who has become extremely relatable as the audience is able to not only feel for her, but with her as well.
Now, after all the damage has been done and the two exes run into each other with their new spouses we see how Omer Shahzad's conflicted Hassan still feels protective over his first wife, preventing Kamal from using any form of aggression against her as well as when he can't stop looking at her when he sees her outside her office by chance when picking his brother's (Salam Saeed) wife. After these interactions, the viewer can't help but wonder will these two find their way back to each other...do we even want them to?
Bharaas manages to emotionally involve the audience while progressing
Through and through we have been able to relate to the happenings in Bharaas with brilliant performances from all the characters, with Dur-e-Fishan Saleem refusing to play a victim despite her difficult circumstances, Omer Shahzad internally in pain from the consequences of his own actions, Zubab Rana's envy visible through all her expressions and of course Furqan Qureshi playing the role of an egotistical captor to a tee.
With a stellar cast including Behroze Sabzwari, Khalid Anam, Shaista Jabeen, Shaheen Khan, Musaddiq Malik, Tara Mehmood, Salman Saeed and Noreen Mumtaz, Bharaas is definitely a drama to look out for, showing us the darker side of humanity and the effect it has on a household.