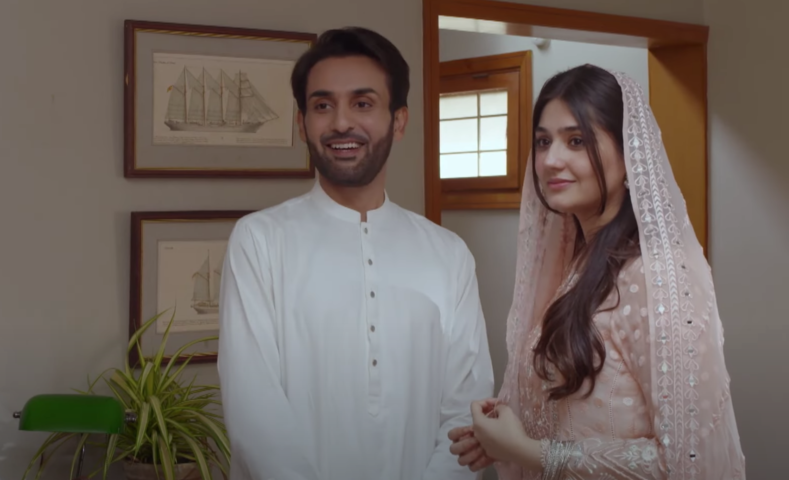 Aiman and Ebad's impromptu wedding takes another turn as the plot thickens in ARY Digital's Pardes!

The Plot
The impromptu 'Nikkah' taken place due to Ahsan's insistence in last week's episode led to another sudden development in the story in this week's Pardes. After Zaid got into a terrible accident, Ebad and Aiman rushed him to the hospital, back home Zubaida, Asim and the rest of the family members were not aware what was taking Aiman so long to return home and Asim and his wife Nausheen jumped to conclusions, deeming Aiman characterless for staying out so late in the night with Ebad, forgetting she was with her lawfully wedded husband not a boyfriend. She finally returned past 2am and Asim forbade her from entering the house. Ebad stepped up for his wife and said he would willingly take her to his home but Zubaida asked him to return next day with his mother and she would perform Aiman's 'Rukshati'. Just like that, a shotgun wedding took place and Aiman reached Ebad's home only to learn that his mother was angry at her for interfering with Ebad's future and the dreams she had for him. She further forbade them to stay in one room until Ebad's university exams were over and he could secure a good job. As per her orders, Aiman was to live in the guest room till then.
Nausheen who has been singing praises for her son seems to be in a dilemma after her god-sent Nomi wants to move abroad for studies and requires a whopping amount of about 90 lacs, Asim says he is unable to get that kind of money but Nomi is adamant on studying abroad. Nausheen who was against selling the house for Ahsan's treatment now believes it is a wise decision to sell off the property in order to secure her son's future.
Dur e Fishan and Affan Waheed Sizzle on Screen Together!
Affan waheed and Dur e Fishan have been paired opposite each other for the first time and we're loving the duo together on screen. The two have great rapport and we're hoping to see aiman and Ebad overcome all the hurdles thrown towards them!
We're loving the leading ladies of Pardes with their stellar performances!
The leading women in Pardes have impressed us with their impeccable performances! From the fiery Aiman portrayed by Dur e Fishan Saleem, we're floored by her acting skills and she has proved her mettle once again in Pardes after giving hits like Bharaas! Shahista Lodhi as the helpless, wife and mother has stolen our hearts while the latest to enter the drama, Atiqa Odho, is playing a woman who has been living a life as the second wife and just needs some recognition for herself and her son, we're loving her character and can't wait to see how her relationship with Aiman unfolds further on. The very sassy Jenaan Hussain as Ebad's step-sister has us hooked with all her witty and sarcastic comebacks, we're eager to see how her character gels into the storyline further on. Faiza Gillani as Aiman's aunt, Nabeela, we did start off by hating her to the core for the greedy sister that she was but as the story has progressed we're loving the new and improved Nabeela who is not afraid to take her son's side against her husband and has realised her mistakes over the years. The iconic Bushra Ansari played the mother in law from hell but changed over time when she saw the sacrifices Ahsan and Zubaida made for her while the rest of her children just forgot her once she was paralysed and bed-ridden.
What's next?
Will Asim and Nausheen sell the house leaving Zubaida and Zaid out on the streets or will Aiman save the day once again?