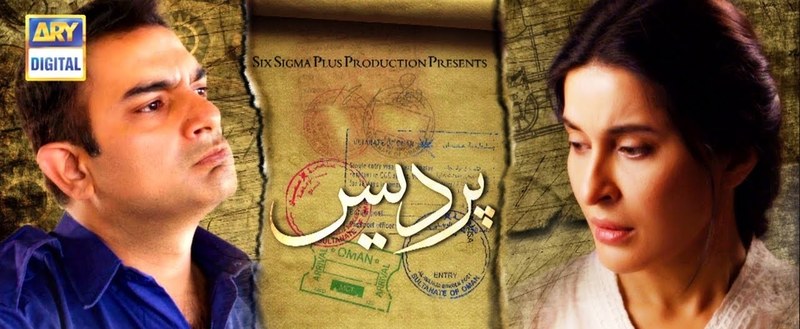 The drama Pardes was an emotional story based on the difficult and lonely lives of expats living away from their...

The drama Pardes was an emotional story based on the difficult and lonely lives of expats living away from their loved ones. The show came to a befitting end this week. Starring Sarmad Khoosat, Shahista Lodhi, Dur e Fishan Saleem and Affan Waheed in the leading roles, Pardes managed to have the audiences hooked to its emotional plot. The play did go through a downward spike after Sarmad Khoosat died and the Plot shifted towards Dur e Fishan and Affan Waheed. However, we did love the happy ending that the show ended with. With some note-worthy performances by the leading cast, Pardes sent out a great message to the viewers and shed some much-needed light on the issues faced by expats and their families while they go away for work.
All's Well That Ends Well
The second last episode left us in quite the shock after things between Aiman and Ebad were rocky. The two kept fighting with each other and Aiman couldn't bear it anymore after being confronted by her cousin Salman. She then asked Ebad for a divorce, her sudden outburst finally brought Ebad back to Pakistan and he tried reasoning with Aiman but he was adamant on returning back to England after a month. Things got worse and Aiman was ready to move out and asked Ebad for a divorce causing Aiman and Ebad unimaginable pain. Atiqa Odho as Rahila, Aiman's mother in law decided to intervene and asked Aiman to patch things up with Ebad before he gets on the plane back to England. In a dramatic, nail-biting sequence Aiman rushed towards the airport but was heart-broken after she was told Ebad's flight had already departed. While we saw no hope for the love-birds anymore, a sad Aiman returned home and received the greatest surprise ever. Ebad finally chose to stay behind and lead a life with his loved ones instead of working abroad. History did not repeat itself and Aiman did not become the next Zubaida.
Aiman Decided to Forgive and Forget
The young Aiman who faced many difficulties and witnessed the harsh realities of her family members from a tender age had built up hatred in her heart for her uncle Asim (Gohar Rasheed) and his wife Nausheen. Her recent chance meeting with them outside the doctor's clinic changed her entire perspective and after Asim apologised for all his injustices Aiman couldn't help but forgive them for all the pain they caused her. Dur e Fishan Saleem essayed the role of Aiman with great finesse adding another feather to her cap after her blockbuster drama Bharaas.
Sarmad Khoosat and Shahista Lodhi steal the spotlight in Pardes
Pardes started off with a bang and had the audiences hooked with its emotional narrative. The story of Ahsan and Zubaida played by Sarmad Khoosat and Shahista Lodhi was a winning combination that we never knew we needed to see. They made the perfect on-screen couple, Sarmad Khoosat's performance is going to be remembered by viewers for a long time. The duo who withstood the pain and suffering of losing each other for decades all due to the sacrifice Ahsan chose to give for his family would often bring tears to our eyes. With strong power-packed performances, amazing chemistry and hard-hitting emotional dialogues, the senior actors Sarmad Khoosat and Shahista Lodhi came out as the winning pair over the course of the show.
Kudos to the supporting cast of Pardes for their remarkable performances
Gohar Rasheed as the notorious younger brother Asim who took advantage of his saint-like brother portrayed the negative role effortlessly. We loved the change in character for Asim after karma finally came around to him for all his bad deeds, although we despised throughout the play, we couldn't help but feel sorry for him towards the end.
Newcomer Atabiq Mohsin grabbed the spotlight as Aimen's younger brother Zaid, his transformation from the rebel kid to the most caring and responsible son was carried out well, proving his mettle once again after his role in Bharaas.
Faiza Gillani, Hammad Shoaib, Aliha Chaudhary, Atiqa Odho and Bushra Ansari all excelled in their performances and played their parts well. Veteran actresses Bushra Ansari and Atiqa Odho both played the role of mother-in-law's who had great control over their sons and meddled with their lives, kudos to them for pulling off their roles effortlessly.