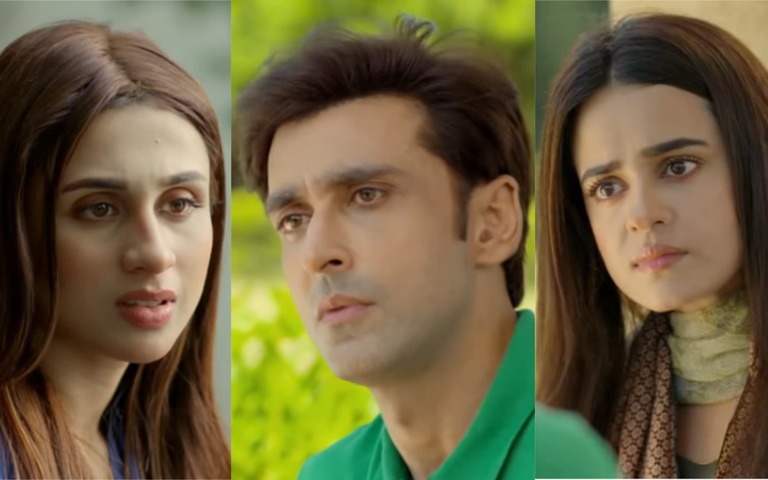 Hum TV's Dulhan starring Sami Khan, Sumbul Iqbal, Faizan Khawaja and Mashal Khan has had its ups and downs since ...

Hum TV's Dulhan starring Sami Khan, Sumbul Iqbal, Faizan Khawaja and Mashal Khan has had its ups and downs since it first aired on our screens. The drama started off with power-packed episodes in the beginning and had an unimaginable twist right at the start which immediately caught the attention of viewers. Along the way it somehow lost its charm, however, we're happy to see that Dulhan has changed its course with the last few episodes becoming game-changers! With an intense story line, Dulhan has left us guessing on what's next, every twist in the story is as unpredictable as ever making this play a treat to watch.
The Story So Far
Mikaal (Sami Khan) and Annie (Mashal Khan) are newly married and instead of the happy and blissful 'honeymoon' period the two are at loggerheads with each other at all times due to the dagger hanging between them aka Amal (Sumbul Iqbal). Since Amal announced infront of everyone about her nikkah to Mikaal, Annie is unable to trust him. She also visits Amal and offers her a hefty sum of 10 lakhs however, Amal refuses to take the money and is stuck on her story about being Mikaal's first wife. Shahmeer tries to become Amal's knight in shining armour by helping her with a job in his friends' office. Amal refuses to accept his help but he involves her step-mother and uses her greed for money as a way to trap Amal into taking the job. Amal has no choice but to take up the offer and begins working at the office. In the meanwhile, Shahmeer proposes marriage to Amal and finally she decides to stand up for herself and puts up her own propositions that he must fulfil including helping her get the divorce from Mikaal. Back at home Amal's step sister Naushaba is busy hatching a plan on getting out of the hell house she calls home and running away with her beau Akram.
Amal Finally Takes Control Of Her Life!
We are ecstatic to see Amal's character take such bold steps and finally step up for herself. Sumbul Iqbal as Amal is absolutely smashing the performance! The way her expressions, dialogue delivery and body language changes from one scene to another is impeccable. The tables have finally turned and she has taken control of the situation at last, coming up with a way to make the two men pay for their wrongdoings.
Mikaal Has Us Confused Between Prince Charming and Devil in Disguise?
Sami Khan has us hooked with his acting in Dulhan, from the loving, ever-so charming Prince right out of a fairy tale, Mikaal then turns to a monster we've all grown to hate. However, over the course of the play, Mikaal's care and affection towards Amal cannot be ignored, while at the same time he's ruined her life too. Juggling between Annie and Amal will Mikaal realise who he truly loves before it's too late?
Mashal Khan Aka Annie Is One To Watch Out For!
Mashal Khan as Annie has impressed us with her performances throughout, we've seen the sweet Annie, and the one we wouldn't want to mess with. We love her in all her avatars and can't wait to see what she does next after finding out the truth about Mikaal!
What's Next?
As the story unfolds, we are anxious to see what Amal's next move will be in her fight for justice. Will she be able to punish both Mikaal and Shahmeer for what they have done? Watch the next episode to find out.