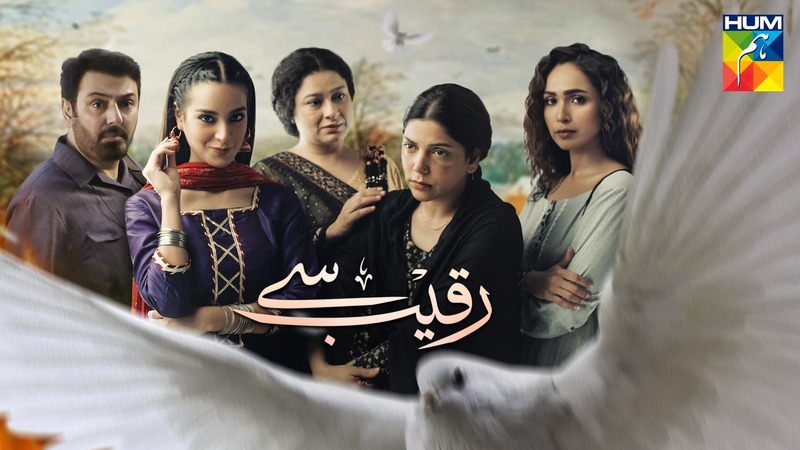 The drama that truly is poetry in motion, Raqeeb Se has audiences hooked to this two-decades-long romance.

The Story So Far
Ameera (Iqra Aziz) and Maqsood Sahib (Noman Ijaz) return from the village, awaiting them were worried Hajra (Sania Saeed) and Sakina (Hadiqa Kiani). Maqsud asked Sakina to apply for a divorce from her husband Rafiq Ali, she blatantly refuses and admits coming to the city was a huge mistake on her part. After listening to the recollection of events that happened at the village, Insha accused Ameera of making it all up and confronted her father on the issue. Maqsud's revelation on how Sakina made sure he ended up in jail for two years was earth-shattering for Insha! Upon questioning her mother Hajra about it, Hajra had an unexpected outburst, Sakina then revealed the entire story, where she saved her own brother by falsely testifying against Maqsood for the murder of his younger brother. All of this happened 20 years ago on the night Sakina and Maqsood tried to run away from the village together. Insha is heart-broken after hearing this news and shares her thoughts with her beau. At the end of the episode we are introduced to Maqsood's elder brother and Sister-in-law (Saba Faisal) who have come to find out why Maqsood went to the village after so long.
An Unexpected Revelation Has Shocked Us!
This episode brought up the most shocking revelation of all time. Sakina's false accusation cost Maqsood, two precious years of his life rotting in jail for a crime he did not commit. After knowing this piece of the puzzle, we are not sure how or why Maqsood has been in love with Sakina for all these years, even after how her lie destroyed him.
Hajra and Sakina share an amazing on-screen rapport which reflects during their scenes together. The legendary actors Noman Ijaz and Sania Saeed shared the scene with Hadiqa where she is told about her divorce, each and every dialogue and expression was outstanding by the three!
Hajra Finally Shows Another Side to her Personality
The ever so calm and poised Hajra surprised us with a different side of her personality, when she snapped in frustration at Insha, we are excited to see what Hajra has in store for us, her out-burst was not something we anticipated. Is it because she is scared for her future as the wife of Maqsood Sahib after learning that Sakina would be staying on indefinitely?
Faryal Mehmood And Iqra Aziz Give Power-Packed Performances!
The meltdown Insha has during this episode was shown brilliantly, Faryal owned this episode throughout, from her hard-hitting dialogues where she calls herself a 'project' to her confrontation with Noman Ijaz, she has definitely made her place amongst the veterans in this drama. Iqra Aziz performs with her comical dialogues amongst a team of characters that all have serious personalities. Ameera portrayed beautifully is bound to make you laugh out loud, from her cheerful dialogues to her bright coloured outfits, we love her bubbly persona in the play.
Will Sakina take a divorce from Rafiq Ali? Watch the next episode to find out.
https://youtu.be/WO8I_wFA29c