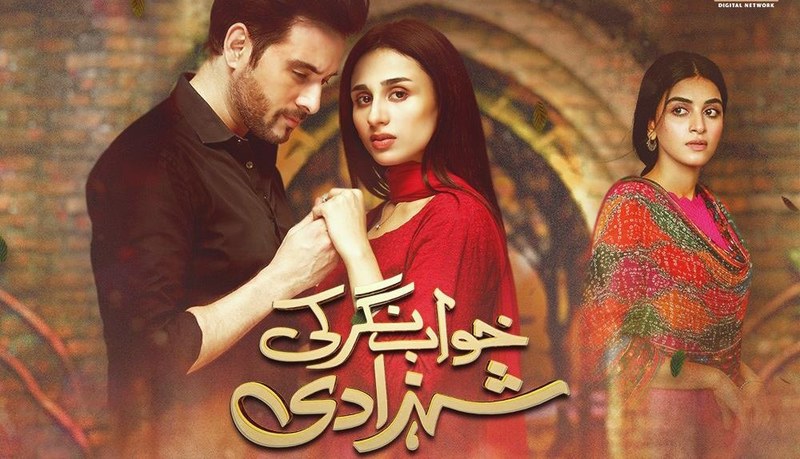 iDream Entertainment's Khwab Nagar Ki Shehzadi continues to keep audiences hooked with its intense storyline.

The Story So Far
Meera's (Mashal Khan) world comes crashing down as she walks in on the maid Sehar (Anmol Baloch) and her not-so-faithful husband. In the spur of the moment Meera calls Sehar's father to take his daughter back after what she's done. However, the tables turn on Meera and Saim as Sehar's family bring their entire gang who blame Saim for taking advantage of the maid. Saim is forced into marrying Sehar and Meera can do nothing about it except watch as her happy-life crumbles around her. After the Nikkah, Meera leaves home and heads to her mother's house, she claims to have left Saim for good. The next day, Saim's mother and brother are shocked to find Sehar in Saim's room and are flabbergasted when they receive the news of the mid-night Nikkah. Saim gets blamed by his family for leaving Meera for a mere maid and threaten to cut-off ties with him.
On the other-hand, Sehar and Saim's relationship faces a major change, the mistress is now the wife and Saim is not happy about losing his wife and child due to Sehar. He blames her entirely for seducing him and forcing him into marrying her. The two end up fighting and Saim slaps her. He continues pleading with Meera's family on the phone in order to speak with her but is unable to do so.
Applaud worthy performances by Mashal Khan, Anmol Baloch & Mikaal Zulfiqar!
Mashal Khan, Anmol Baloch and Mikaal Zulfiqar have acted brilliantly in the play. This week's episode brought a dramatic shift to the entire story and left viewers shocked!
Mashal Khan as Meera continues to win the hearts of viewers, one cannot help but feel sorry for her. It was disheartening to see how Sehar made a fool of her not once but multiple times. Meera now regrets her decision of helping out Sehar and we are anxious to see how the story progresses on.
Anmol Baloch plays the perfect vamp and the ambitious Sehar with dreams of touching the skies. She carries out the role perfectly, her character has had a complete change from the earlier damsel in distress to now this cunning mastermind who is actively using her ulterior motives to make her place in Saim's life.
Mikaal Zulfiqar portrays the best role as the 'bechara' husband who has cheated on his wife but still blames the other woman for seducing him into it. Saim's helplessness was brilliantly shown in the latest episode. We are yet to see how he is able to win back Meera after the chaos that erupted.
What's Next?
Will Meera be coming back home after Sehar and Saim's Nikkah or will Saim divorce Sehar in order to win back Meera? Keep Watching Khwab Nagar Ki Shehzadi to know!