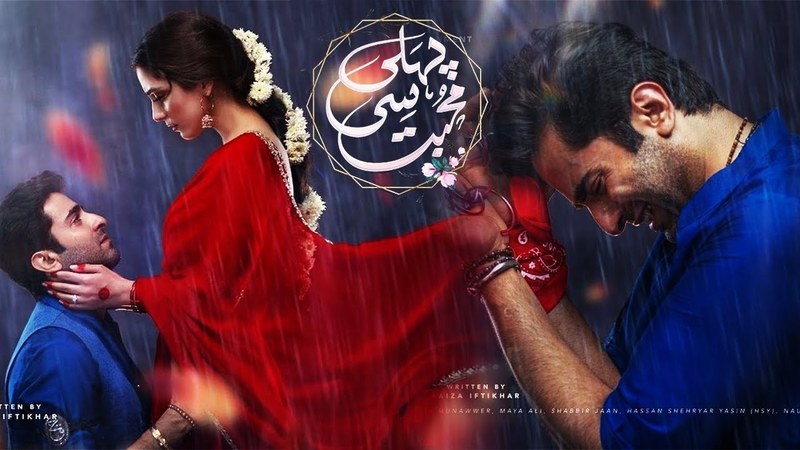 This week's episode was intense with some major developments in the storyline. Written by Faiza Iftikhar and directed by Anjum Shahzad, Idream Entertainment's Pehli Si Mohabbat is a play that has the audiences engaged, with its fresh take on 'first' love. Starring Maya Ali and Sheheryar Munavar in the lead roles, this classic love saga is a must watch!
The Story So Far Aslam asks his neighbour 'Nagina Apa' for helping him convince Rakshi to meet him at her house. The two lovebirds meet the next day at Nagina's place, Rakshi asks Aslam if his engagement to his cousin Bushra has been called off, he refuses and Rakshi is heartbroken to hear this. Aslam later realises he made a huge mistake in involving Nagina into his matter after she starts blackmailing him for money in order to keep his relationship a secret.
The latest episode sheds light on Aslam's elder sister Zainab and her marital life which is far from bliss. Her daunting husband played by Paras Masroor is seen constantly taunting her and she is visibly uncomfortable and frightened throughout.
Back at Faizullah's residence, Nargis silently cries while remembering a heart-breaking secret she has been harbouring from Faizullah after he asked her why she chose to marry him. She remembers a love-affair with a man named Faris, who made false promises to marry her after establishing himself abroad. He even takes a whopping amount of 8 lacs from Nargis, however it seems he cheated her, running away with her money.
The episode ends with Aslam and Rakshi's relationship at risk after a prospective proposal for Rakshi has her worried, the family will be coming to her place for dinner. Will this put a stop to their 'pehli si muhabbat?'
The Performances We Loved!
Maya Ali & Sheheryar Munaver share sizzling on-screen chemistry, the scene where the love birds secretly meet at Nagina's place has left us swooning. The doe-eyed couple is absolutely nailing this scene with intense emotions, just the right amount of drama and brilliant dialogue delivery, Shehryar and Maya have both aced it here!
Uzma Hassan as Zainab performs brilliantly as a woman suffering in an unhappy marriage, this episode introduces her husband, the scene left us feeling sorry for the poor Zainab who not only was in a loveless marriage with a monstrous man but would never be welcomed back into her 'maika' if she ever chose to leave him. Zainab's story is shared by thousands of women all across Pakistan who have been forced into marriages and are silent victims of domestic violence for years behind closed doors.
Finally we're glad to see a 'softer' side to the rowdy, stern and strict Akram bhaijaan (HSY), at least he's showing some much needed love to his wife played by the gorgeous Noreen Shah, and surprises us by giving her the money she wants for buying a new outfit. He surprises us further on by giving Aslam some money too!
What's Next?
Will Rakshi & Aslam's story meet an unexpected hurdle with Faizullah trying to get Rakshi's proposal for his friend's son? Keep Watching Pehli Si Muhabbat on ARY Digital.