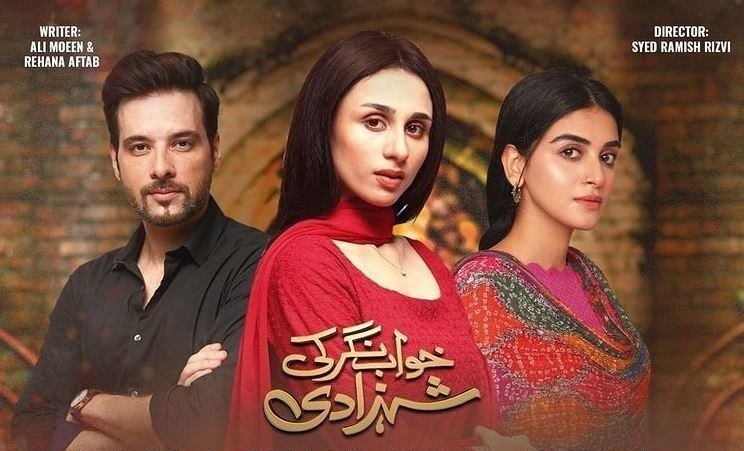 Khwaab Nagar Ki Shehzadi on ARY Digital boasts of a stellar cast that includes Mikaal Zulfiqar, Mashal Khan and Anmol Baloch in the leading roles. The play is another mega-project under the banner of iDream Entertainment and is directed by the brilliant Syed Ramish Rizvi.
The Plot
The Khwab Nagar Ki Shehzad aka Sehar (Anmol Baloch) has finally achieved what she had always wished for, a house of her own, a rich and handsome husband and a lot of money! She has it all but at the same time has lost all interest from Saim (Mikaal Zulfiqar) as he feels he was forced into the marriage with Sehar. Saim also blames Sehar as he has lost the love and respect of his entire family including his mother, Meera (Mashal Khan) and son Hassan. Saim's elder sister faces an ultimatum from her husband regarding his dishonourable deed and forbids her from meeting her family.
On the other hand, a courageous Meera has decided to file for divorce from Saim as she does not see any chance of reconciliation between them. However, this comes as a shock to everyone around her and they force her to take some time and think it over but she is adamant about it.
Sehar is indirectly being extorted for money by her father Sajid but she hasn't realised it yet. He demands for PKR 10,000 and she in-turn asks Saim for some 'shopping' money. However, he refuses blatantly and this angers Sehar, she scavenges for money and hits a jackpot, Meera's jewellery and a large sum of money in one of the drawers. Sehar conveniently takes it all for herself and informs her father to collect the money he needs.
The Good
Mashal Khan as Meera and Anmol Baloch as Sehar have both given impeccable performances, where the viewer feels heart-broken with Meera, we're utterly shocked at Sehar's audacity to reach beyond the stars for what she's always wanted. Mashal Khan impresses as Meera who remains steadfast in her decision to divorce her cheating husband even after facing discouragement from her own mother.
The Bad
It is surprising to see Saim being frightened of Sehar and her band of relatives, not only does Saim have more power than them, but did the script writers forget he has a cousin in the police force at a top position that they could call within minutes? We're pretty sure if Saim tried to involve the police into the matter he would actually be able to get 'rid' of Sehar pretty quickly instead of just threatening her!
What's Next?
Will Meera change her decision of divorcing Saim, or will Saim leave Sehar in order to win back Meera? Keep Watching Khwab Nagar Ki Shehzadi every Monday to Thursday on ARY Digital.