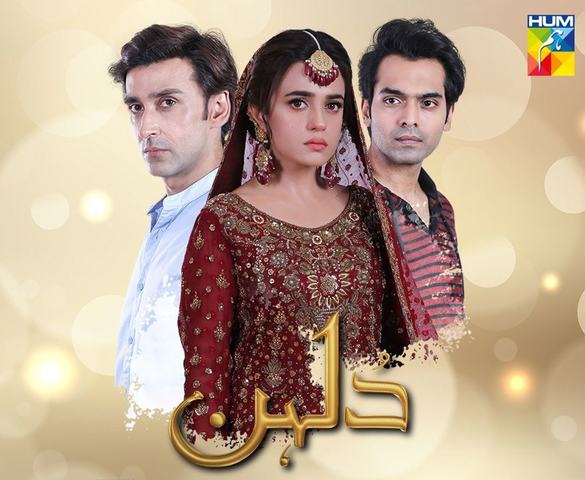 The on-going gamble between Shahmeer and Mikaal takes a new turn!

HUM Tv's Drama Dulhan starring Sami Khan, Sumbul Iqbal Khan, Mashal Khan and Faizan Khawaja in the lead roles has changed its course with the last few episodes becoming game-changers! With an intense story line, Dulhan has left us guessing about what's next, every twist in the story is as unpredictable as ever making this play a treat to watch.
The Plot
The play has had two intense episodes within the last two weeks, not only did Amal (Sumbul Iqbal) agree to marry Shahmeer (Faizan Khawaja) but to the audiences dismay, she was actually going through with the unthinkable! Mikaal (Sami Khan) suddenly reached the wedding and created havoc holding Shahmeer at gunpoint and taking away Amal to a secret place and was keeping her hostage with him. It was finally a turning point in Mikaal's character where he managed to gain the confidence to stand up for his wife Amal and admit that they are married to one another infront of everyone present there. He even carried proof of his and Amal's 'Nikkahnama' so he could stop her marriage to Shahmeer. Amal continued to ask Mikaal to let her leave but he refused saying she was safe with him.
Shahmeer's true colors were discovered by his father who told him to return the 50 lacs otherwise he would cut off all ties with him. He went around asking his friends to help him after his father took away all his credit cards, cash and car keys from him. This did not deter him and he continued his thirst for vengeance against Mikaal. He threatened his mother that he would find Mikaal and kill him as he wishes to win Amal over by any means.
On the other hand, Amal's sister Naushaba decided to take matters in her own hand and run away with a boy from the neighbourhood, little did she know he would run away with the money she was stealing and leave her stranded on the station.
Dulhan Pleasantly Surprises Us!
We absolutely loved the scene with Mikaal (Sami Khan) and his mother (Shaheen Khan) who entirely blamed him for his wrongdoings and how wrong he was to treat a woman like she was a piece of property that could be gambled away in a game. Shaheen Khan's performance in the scene was moving and we could imagine her plight!
The same fate was waiting for Shahmeer who thought he could get away with anything, his father did not accept his rash behaviour and the way he wanted to 'own' Amal. We are glad to see Shahmeer not receiving support from his parents over the crime he has committed.
Mashal Khan's Annie Turns into the Scorned Wife!
Annie (Mashal Khan) who feels betrayed by Mikaal is no longer willing to play second fiddle to Amal and is looking for ways to get rid of her for good. She instructs her brother Shahmeer to take care of Amal in a way that nobody would be able to locate her ever. Mashal Khan definitely turned the tables in this episode, from a woman crying over her ruined marriage to one out for Amal's life, Khan nailed her performance in the scene where she conveniently 'pretended' not knowing what was going on when Shahmeer goes missing and her parents are trying to contact him frantically!
What's Next?
Will Mikaal manage to convince Amal that he loves her and divorce Annie? The promo for the upcoming episode shows a deadly fight between Shahmeer and Mikaal, we are anxious to see what happens next. Watch Dulhan every Monday at 8pm on HUM Tv.