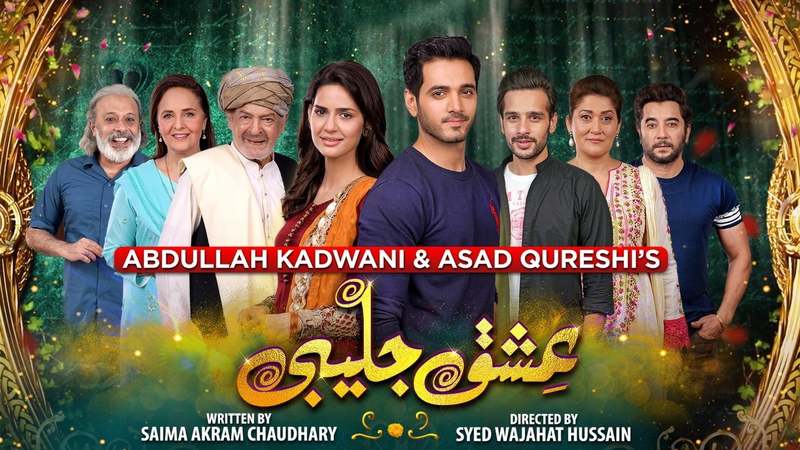 Ishq Jalebi has us hooked with its funny, witty and dramatic storyline!

The month of Ramadan is upon us and this it a time when entire families are able to sit down together for meals. Cashing in on this opportunity, Ramadan special dramas are airing on major Pakistani channels. Geo Tv's 'Ishq Jalebi' is a light-hearted family drama that is penned down by Saima Akram Chaudhary and directed by Wajahat Hussain who is currently riding on the success of Khuda Aor Muhabbat. The show is produced under the banner of 7th Sky Entertainment and is produced by the dynamic duo of Asad Qureshi and Abdullah Kadwani.
Ishq Jalebi stars the gorgeous Madiha Imam and dapper Wahaj Ali in leading roles, the legendary Qavi Khan and veteran actors Hina Bayat, Noor -ul- Hassan, Kashif Mehmood, Irsa Ghazal, Mehmood Aslam and Shaista Jabeen. The youngsters in the play include Maryam Nafees, Maryam Noor and Usama Khan.
The Plot
Ishq Jalebi like the name suggests may look like a comedy but it has some serious drama involved too and things are not as simple as they look like. The storyline revolves around Mohammad Boota (Qavi Khan) who is the owner of a Sweets Business, he has given its daily operational responsibilities to his son-in-law Ashiq Hussain (Noor-ul-Hassan) and grand-son Basim (Wahaj Ali). Mohammad Boota known lovingly as Bau-ji has been abandoned by his two sons Sadaqat (Kashif Mehmood) and Rafaqat (Mehmood Aslam) who left for greener pastures abroad with their families. Basim who is on the lookout for a shortcut to go abroad is in cahoots with Bela (Madiha Imam) she is his sidekick, best-friend, and partner in crime in all that he does and also his maternal cousin who was orphaned as a child. She is her grandfather's apple of the eye while Basim always seems to be on the receiving end of all his frustration and anger. Bela clearly is in love with Basim but he has not realised his feelings for her just yet. She cannot see him upset and depressed and sells off her mother's jewellery in order to pay the agent who promises to get Basim a visa to go abroad.
The story starts getting complicated after both of Basim's 'Mamu's' (Maternal uncles) Sadaqat and Rafaqat return home after hearing about their fathers declining health condition, Boota is unwelcoming to his sons and daughter-in-laws but is over the moon to see his grandchildren Vicky (Usama Khan) and Eesha (Mariyam Noor). The two seem to have come back to the motherland not just to see their old father but also to ask for their share in all the property and business which they previously left on their own accord. The drama covers Covid-19 due to which the two sons are unable to leave since the lockdown has been implemented.
Are Basim's Actions for Moving Abroad Justified?
One cannot help but understand the frustration that is felt by Basim over wanting to go abroad so badly that he would resort to fraudulent means to do so too. He feels highly undervalued in the family business and his uncles returning has strengthened his belief too, that he is nothing but a worker until the real bosses take over from him. Basim and his father Ashiq Hussain have given a decade to this business yet no-one including Mohammad Boota seem to value their hard-work. Where you see Boota lovingly talk to his other grandchildren he always seems to be rough and tough with Basim.
Kudos to the Ensemble Cast for Applaud-worthy performances!
Qavi Khan needs a special mention for his role as Mohammad Boota, the angry old man persona has been brilliantly done, an actor par excellence Qavi Sahab deserves all the appreciation for his performance. The comic timing and dialogue delivery of Noor-ul-Hassan is the life of the play, not only does he absolutely floor you with his brilliant acting skills but we love the witty dialogues and banter that he and Isra Ghazal (Sajjo) have during their scenes together.
Hina Bayat plays the perfect mother to both Basim and Bela, she is also torn between her brothers and fathers whom she loves dearly.
Wahaj Ali and Madiha Imam Have Sizzling Chemistry!
While Basim (Wahaj Ali) may not have realised how much Bela truly loves him, we the audiences can definitely see it and are absolutely loving the chemistry the two have with each other. With scenes that will make your heart have a happy dance, these two stars are a treat to watch and we're anxious to see what Ishq Jalebi has in store for them next.
What's Next?
Bau-Ji seems to have decided to get Bela married off to his friend's grandson even after Iffat (Hina Bayat) mentions having chosen her for Basim. Will Vicky declaring his love for Bela finally make Basim realise what he's set to lose?