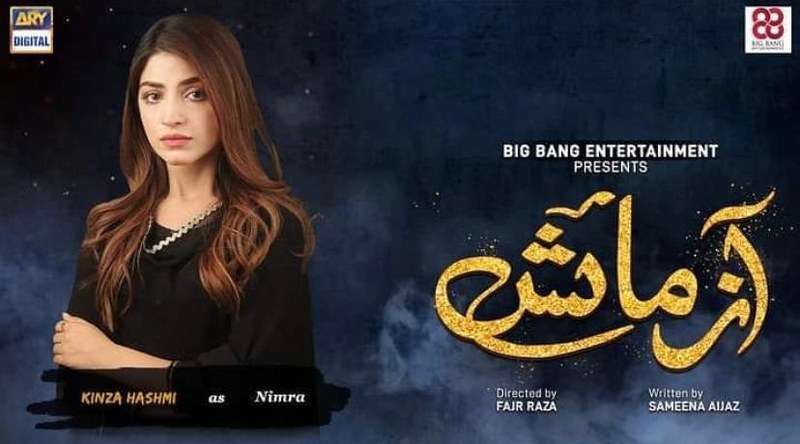 ARY Digital's latest drama Azmaish starring Kinza Hashmi, Yashma Gill and F vahad Sheikh in leading roles is making waves after the first episode was aired yesterday. Azmaish follows the story of two step-sisters and a love triangle between them. The drama has a superb ensemble cast that includes Shahood Alvi, Laila Wasti, Gul-e-Rana and Minsa Malik.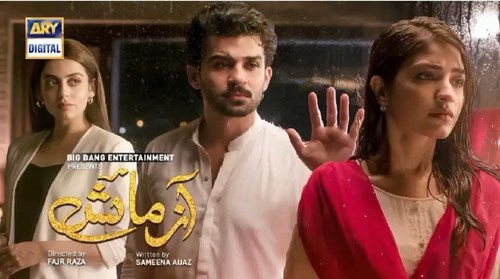 The Plot
Kinza Hashmi is absolutely killing it in the drama serial Aazmaish! She is the reigning queen of our hearts, Kinza is making our screentime worthwhile with her role as the innocent and impressionable sister, 'Nimra' in ARY Digital drama 'Azmaish.'
Throughout the first episode, we see Kinza Hashmi being treated very harshly by her step-sisters Samreen (Minsa Malik) and Shiza (Yashma Gill) who have constantly been taking out their anger and frustration on Nimra and her mother ever since their father Tufail, remarried. It seems like Nimra is playing the 'cinderella' stuck between her two 'evil' step-sisters and strict step-father. Playing the good girl, Nimra suffers the wrath of her sisters and at the same time has lost the precious bond she deserves with her mother since Almas is always busy pleasing Samreen, Shiza and their father. It was heart-breaking to see Nimra's mother helplessly try to defend her daughter infront of her father while the two sisters Sabeen and Shiza continued to complain about her on the breakfast table.
Nimra's love interest in Azmaish, Fahad Sheikh playing Basit is bowled over by her the first time he sees her in her college, coincidentally when Nimra gets locked in the college by Samreen he helps rescue her with her friend Rabia who is his cousin. We are yet to see how their story progresses further on in the drama and their paths cross each other once again.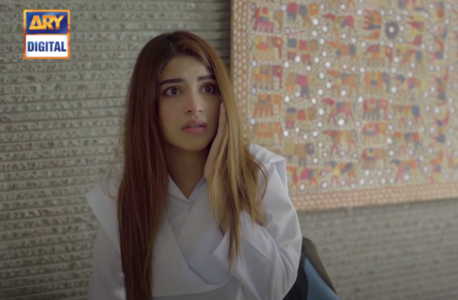 Kinza Hashmi wows the audience with her flawless performance!
Although only the first episode has aired, Kinza has really managed to get into Nimra's shoes and pull off her character quite flawlessly and effortlessly. With her incredibly versatile acting skills and brilliant performances, Kinza has proved to be the perfect fit for the role.
We absolutely love Hashmi's sweet, and innocent girl next door role and it was great to see her trying to stand up for herself against her stepsisters who leave no chance to bully, mock and make fun of her and her poor mother. She nailed her scene with Minsa Malik where the two had a spat in college, with hard hitting dialogue delivery and amazing expressions Kinza has once again proven her mettle with her commendable acting skills in Azmaish
Kinza Hashmi and Fahad Sheikh Sizzle on Screen!
What's Next for Nimra in Azmaish?
Will Nimra be able to defend herself against her menacing step-sisters? Watch Azmaish on ARY digital every Wednesday at 8 PM.