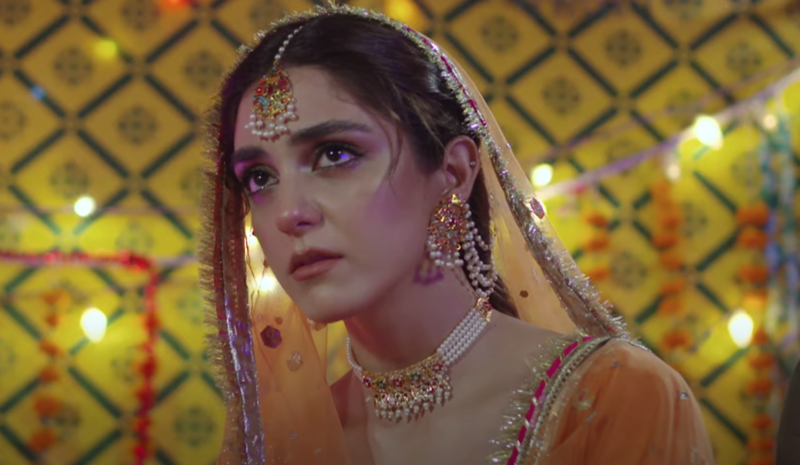 The story about first love faces major drama as Rakhshi & Aslam are getting ready to run away amidst her marriage

The Plot
Plans for the big escape are underway by Rakhshi and Aslam, the duo may be head over heels in love but are surely feeling guilty for having to resort to running away. Rakhshi has been instructed by Zainab (Uzma Hassan) as to how and when to make her escape and has helped her out with a phone and money too that would help her meet Aslam. Aslam on the other hand feels deserted after his best friend Nadeem is afraid to get involved in the matter as he is scared of the consequences he and his family would have to face later on.
Sikander who is becoming more of the villain we never expected him to be has given Zainab 30 hours to think about running away with him, little does he know what Zainab has planned with Rakhshi and Aslam. Ishrat (Nausheen Shah) advices Zainab to let the family members know about the threats Sikander has been sending Zainab, however she refuses to let anyone know as it may hinder Aslam's plan.
Rabia Butt's Nargis has been put into a dilemma by her ex-lover who seems to be completely in love with her and is still willing to give their old relationship a chance by apologising for his errors in the past. Nargis is questioned by Rakhshi but she refuses to divulge any details about her past.
The HIP Review - Sheheryar Munavar, Maya Ali & Rabia Butt carry the weight of the drama on their shoulders!
We're loving the build-up to the grand escape, the ongoing wedding preparations and Aslam trying to kill his time till nightfall made us just as anxious as he was! Sheheryar Munavar's portrayal of a nervous guy who was about to elope was on point. Maya Ali proved her mettle once again with her brilliant performance, her scene with her friend Munazzah made us tear up and our heart went out to her. The drama has us on a nail-biting cliff-hanger with Rakhshi waiting behind the shadows all prepared to leave while a sudden knock on the door puts a halt on her plan. Maya Ali & Sheheryar Munavar's chemistry on-screen is sizzling and we can't wait for the Romeo and Juliet to re-unite on screen in the next episode!
Rabia Butt impresses us once again with her fiery avatar, with an impeccable dialogue delivery and expressions to die-for, Rabia proves that even though she may be a side-kick in Pehli Si Muhabbat, her performance as Nargis is one that catches our attention always!
Will Rakhshi have the courage to take the plunge and run away?
The episode ended with Aslam waiting for Rakhshi while Nadeem tried his best to convince Aslam to return back, however Aslam said he trusted Rakhshi and believed she would come. On the other hand, Rakhshi dressed in her Mehndi outfit, tears welled up in her eyes, was just about to leave when Nargis' ex-lover ended up at her door. Will Rakhshi's plan of running away in the middle of the night be ruined by the sudden arrival of Nargis's former beau? Watch Pehli Si Muhabbat every Saturday on ARY Digital at 8 PM.