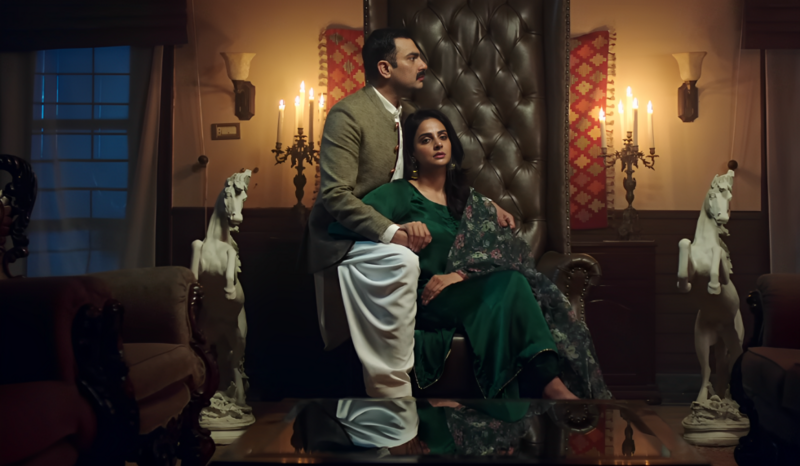 Although Express TV's Gunah features Saba Qamar and Juggan Kazim, it was Sarmad Khoosat and Rabia Butt who did the heavy lifting!

When was the last time you saw a play that dealt with something other than Saas Bahu or a forced extramarital affair? Where the suspense kept you on the edge of your seat from the opening shot? Where you weren't sure who to root for even after the first episode ended? Not in a long time, I am sure. Express TV's Gunah seems to have all the aforementioned qualities and is likely to keep the viewers busy for the coming month with its twists and turns, its intriguing characters, and its captivating plot line.
Although the aired episode featured seasoned actors like Saba Qamar and Juggan Kazim, their characters are yet to develop, and it was left to Sarmad Khoosat and Rabia Butt to carry the first episode forward. Add to that some excellent dialogues, near-perfect delivery, and cinematic sequences and you were left with a local project that would have made international OTTs proud.
The Plot
Powerful landlord Malik Hayat Khan (Sarmad Khoosat) is left helpless when his wife Gul Noor (Juggan Kazim) runs away with Ahmed (Ali Raza), the tuition teacher of their sons. His in-laws (Roohi Khan and Zafar Abbas) try to make him feel better by asking him to marry their other daughter Gul Meher (Saba Qamar), and he only agrees for the sake of his children who were left behind. Things get complicated when an honest female SHO (SHO Sabiha) arrives in the area and starts taking interest in the case and finds enough evidence to believe that there is more to the case than meets the eye. Is Malik Hayat Khan or his henchmen behind the disappearance of his wife? If the wife did run away, where did she go and why? Most importantly, will the SHO be able to solve the case or will she be transferred like her predecessor? Keep watching Gunah to find out the answers to these questions.
The Good
Every director must have a checklist with him which he should carry around to make sure that the project he is working on must not fall short, and it seems Adnan Sarwar ticked most of the boxes in his checklist. The mini-series began in a filmi manner where the crime was already committed before the opening shot, and where the viewers were as clueless to the case as most of the characters. Why did the beautiful wife of the local landlord run away with a boy half his age? Wasn't she happy in her house? Why is Malik Hayat Khan not taking any action against the runaway couple despite having the means to do so?
The director and the writer of Gunah must be commended for their brilliant collaboration and while director Adnan Sarwar brought to life the characters written by Mohsin Ali, he was aided in his quest by his entire team, notably the background music composer Mohsin Allah Ditta and the two cinematographers Omar Daraz and Zaid Safdar Sandhu. While the powerful dialogues took the viewers back into 1970s Bollywood, the suspenseful music kept them interested in the present. A lesser talented DOP would have ruined the good work and thankfully, Adnan Sarwar's vision was translated well on screen due to his impressive DOPs.
As for the performances, the two standout performers of this episode were Sarmad Khoosat and Rabia Butt who didn't disappoint for a second. They were so perfect for their characters that not for one frame you felt you were watching actors portraying a character. While Sarmad played the dejected husband perfectly, who had to face inquisitive people after the disappearance of his wife, Rabia Butt's honest police officer had other ideas. The way her character kept her cool despite the circumstances and emerged as the smartest person in the room was enough to make the viewers switch to her side (I did!). Also, the manner in which both Sarmad and Rabia's characters were introduced should be taken as a lesson by young film students, because their entry was vital to understanding their background story.
And then there was the script by Mohsin Ali who knows how to grab the viewers' attention as well as show that his characters aren't weak despite their surroundings. The way he pens meaningful dialogues for each character shows that he means business. His dialogues were different from what we hear on TV and that's why when Malik Hayat Khan says 'Is Waqt Mere Saamne Haath Jorne Ki Nahi, Haath Thaamne Ki Zaroorat Hai' or how the incoming police officer reprimands her subordinates, you feel like clapping, such was the intensity of the words.
The Bad
There is no second opinion on Mohsin Ali's writing but then, the first episode could have more of Saba Qamar and Juggan Kazim, both of whom were playing siblings. While Juggan appeared in flashbacks mostly, Saba had little to do because her character came into the story after the deed was done, so to speak. Even in her limited appearance, she mesmerized the viewers as always and one hopes that she gets to do more in the coming weeks.
Also, somehow the pace seemed a little slow, but that would have to do more with the high-quality standards of the production team than anything else. Compared to local plays, Gunah is far ahead but when you compare it to international projects, that's where it seems a little slow. Maybe the next episode will make up for the comparatively slow start and will answer most of the questions instead of adding more to the list.
The Verdict
At a time when more and more viewers are switching to OTT platforms, mostly international, the decision of Express TV to come up with limited series projects must be commended. Not only were they able to gather a star cast for the play, they were also able to bring the dynamic duo of Adnan Sarwar and Mohsin Ali together. With their combined experience of coming up with unique films like Shah, Ghabrana Nahi Hai, Parde Main Rehne Do and Motorcycle Girl, and non-film projects like Baarwan Khiladi (for Adnan Sarwar) and Aisi Hai Tanhai and Dunk (for Mohsin Ali), Gunah was always going to be huge and so far, it doesn't disappoint.
On the whole, plays like Gunah will surely take our dramas forward. After ARY Digital's Sar-e-Rah and Geo Entertainment's Jurm, the success of this play will make others believe that limited series might be a step up and that quality work is what gets noted, not the number of episodes.