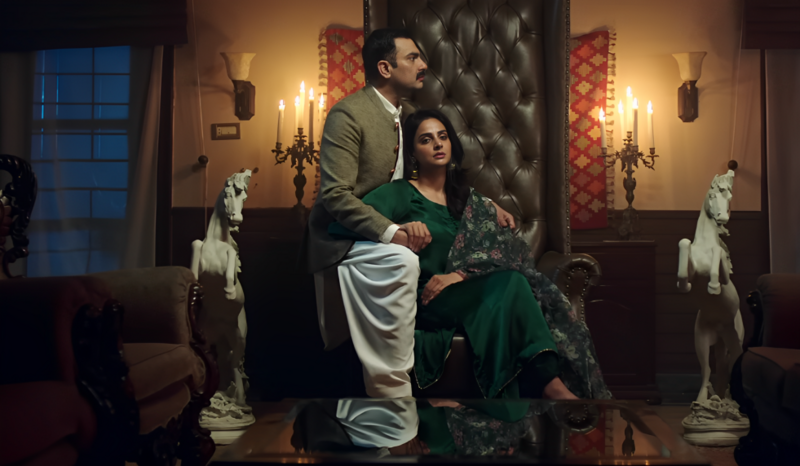 Express Entertainment's mini-series is moving towards an explosive finale and we can expect a lot from the last 2 episodes.

Last week Express Entertainment's Gunah aired its fourth episode and it was well received by all those who are by now wondering what really did happen to Malik Hayat Khan's wife and his kids' tuition teacher who have literally vanished from the face of the earth. However, the teaser of the next episode has somehow lessened the blood pressure of the viewers who have sort of learned that Ahmed the tuition teacher (Ali Raza) was shot dead while the wifey Gul Noor (Juggan Kazim) was thrown into a grave alive for something she didn't do!
The last episode ended as a cop rescued Malik Hayat Khan's servant Rukhsar from being shot, and killed the messenger who was instructed to do the deed because she had overheard Malik Hayat (Sarmad Khoosat) and his sister-in-law Gul Meher (Saba Qamar) devise a plan to get rid of Gul Noor and the tutor so that they can get married without raising suspicion.
Produced as a wannabe Netflix series, Gunah has so far broken all barriers by showing a gunfight, a tough cop who fears no one, an extramarital affair that was slowly revealed, and a mystery that is on the verge of being solved. Before you move ahead, watch the teaser of the fifth episode so that we can talk about it below and predict how the mystery would be solved, if it would be solved at all.
1-Rabia Butt's tough-as-nails SHO Sabiha will likely have two showdowns in the remaining episodes!
Model-turned-actress Rabia Butt has been around for a few years but the way she has carried the role of SHO Sabiha, it wouldn't be incorrect to say that she was born to play the character. In what can be defined as her career-defining role, the actress looks all set to take centerstage and take the bull by the horn, or in this case, Malik Hayat by the collar for making his wife disappear and probably killing his children's tutor. If the teaser is to be believed, SHO Sahiba will arrest Malik Hayat on the night of his Nikaah and then make him reveal the truth behind his wife's disappearance.
In one of the scenes shared in the teaser, she will have a showdown with Ahmed's mother who wants justice for her deceased son, and if that happens then it means that her arrest was overturned, otherwise the mother would have been happy instead of being angry.
2-Sarmad Khoosat's motives will become clear in the next episode
In the first episode, Sarmad Khoosat's Malik Hayat Khan was a grieving husband whose wife had allegedly run away with their children's tutor, and instead of going after her, he chose to forget about her and marry his own sister-in-law for the sake of his kids. However, as the story moved forward, Malik Hayat Khan's true motives came to light and it wouldn't be surprising to see that he would be bailed before spending the night in the lockup.
This character is different from the many played by Sarmad Khoosat because here he gives the Amitabh Bachchan vibe that was missing from his portfolio. His character might be labeled as a cheater in the next episode which might change the scenario, but if he is bailed out by his powerful friends, he might wreak havoc for SHO Sabiha and all those who helped her in arresting him from his wedding event.
3-Saba Qamar's performance will prove to be a game changer, as always!
Saba Qamar is instrumental to every project she is in; in Maat, she stole her elder sister's fiancé and seems to be on the same path 10 years later, but this time her brother-in-law seems to be guilty as well. Her character Gul Meher came across as a grieving sister in the first episode but was revealed to be a jealous sibling who wanted everything her sister had. It was that very jealousy that drove her to hatch a plot where her brother-in-law's henchmen would not just kill her sister but also ensure that the tutor would be declared as her love despite the vast difference in their ages.
In every scene she has been in, Saba Qamar has made sure that all eyes are on her and it seems that in the next two episodes, she will have more to do than other characters. She doesn't feature much in the teaser which intrigues the audience since she is the reason why Sarmad Khoosat's Malik Hayat was compelled to commit a crime in the first place. The viewers can expect a showdown between her and SHO Sabiha, who were seated opposite each other in an earlier episode at a dinner table, and that raised the temperature in the room to the maximum.
4-Despite being missing in the plot, Juggan Kazim will have a lot to do in the upcoming outing
Her character may not have been alive in the present timeline of the story but Juggan Kazim's presence is so towering that the audience doesn't want to believe that her Gul Noor isn't around. In the next two episodes, her character is likely to take center stage because most of the story takes place in the past and the mystery about her fate will be disclosed slowly and gradually.
According to the teaser for the fifth episode, her character was buried alive because her husband believed her sister wanted to remove her from the equation so that she can take her place in Malik Hayat Khan's house. However, knowing that Juggan Kazim's character had done nothing wrong, let's cheer for her and hope that her character isn't dead and comes back somehow to prove her innocence and help the cops nail those responsible for the crime.
5-Don't believe Adnan Sarwar and Mohsin Ali who have been deceiving viewers for a long time!
If you believe that whatever is being shown in the teasers is the final product then think again because both writer Mohsin Ali and director Adnan Sarwar love a twist in the tale. It was Mohsin Ali who made everyone believe that Naumaan Ijaz's character was guilty in Dunk before revealing that it was Sana Javed's Amal who was the real culprit, while Adnan Sarwar's twist at the end of The Motorcycle Girl is still considered iconic.
With the two joining hands for this venture, don't be surprised if there is no murder at all, no bodies to be found, or in worst-case scenario, no culprit to be apprehended. You can expect anything from these two, who will be waiting with bated breath for the viewers' reaction in the same way as the viewers will be waiting for the answer to the mystery.