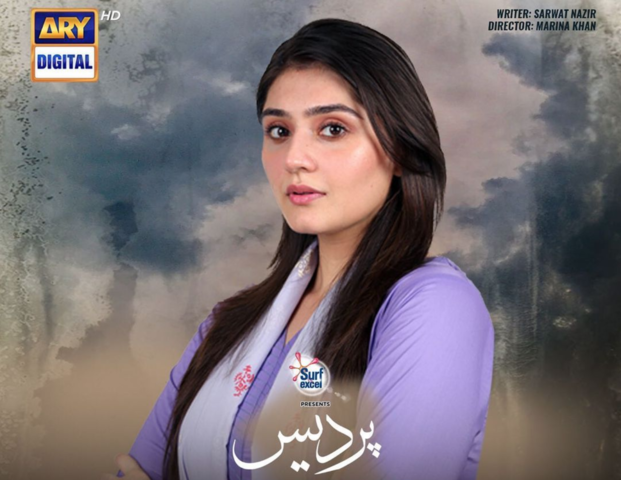 Dure Fishan Saleem leaves viewers teary eyed after latest episode of Pardes.

ARY Digital's Pardes has been one of those dramas that one cannot stop watching. Boasting of a stellar cast that includes Sarmad Khoosat, Shaista Lodhi, Gohar Rasheed, Dur e Fishan Saleem and Affan Waheed. Pardes is directed by the veteran star, Marina Khan and is written by Sarwat Nazir. The play follows the story of Ahsan (Sarmad Khoosat) who has spent all of his life abroad in order to raise his family's standard of living but misses out on the precious moments that include watching his own children grow up.
The Plot Ahsan's sudden change in health brings him to the hospital where the doctor let's the family know he only has a month to live as his illness has completely taken over his body. In order to save him, Aiman (Dur E Fishan) announces the sale of their home in order to cover the expenses of the operation Ahsan must have to increase his survival chances by 50%. On the otherhand, Ahsan's dying wish is to see his daughter get married to Salman. Aiman agrees to this but when Salman reveals he is leaving for Dubai, Aiman refuses his proposal and the stress caused Ahsan another fatal heart attack. Gasping for his last breaths Ahsan asks Aiman her reason for refusing Salman and she says she does not want to repeat history by marrying a man who will leave his family behind and work abroad on his own. Aiman then suggests Ebad as her significant other and since Ahsan knows him as he has been helping out Zaid he agrees but wants Ebad and his mother to ask for Aiman's immediately as he believes he does not have enough time to live to see the next day.
Aiman calls Ebad and he is over the moon as he is madly in love with her, he convinces his mother (Atiqa Odho) to come along and ask for Aiman's proposal even though she is against it. Zubaida is afraid of what the rest of the family members will say but Ahsan says he only wants whatever makes Aiman happy and he trusts her to make the right decisions in life.
The Good - Thumbs Up for Phenomenal Performances by the Cast!
Every cast member in Pardes has been performing exceptionally well and the acting looks natural and we're absolutely loving it! From the ailing Sarmad Khoosat who speaks as gently as possible to Dur E Fishan's fiery avatar, 'Aiman', the father daughter duo have stolen our hearts and we couldn't help but weep with Aiman as she cried helplessly at her father's side. The negative role played by Gohar Rasheed as Asim, the manipulative brother who is as cunning as a sly fox has been done brilliantly. Lastly, our dashing hero Affan Waheed as Ebad is the knight in shining armour for Aiman, not that she is a damsel in distress but we're loving how caring Ebad is towards her and is willing to go to any lengths to help her out.
We're so Glad 'Aiman' Stood Up For Herself
We saw the story as going through the predictable plot of Aiman listening to her father's dying wish and getting married to her cousin Salman, however we were ecstatic to see that she was able to think under pressure and it was equally good to see Ahsan trust his daughter to make such an important decision herself and he approved of her marrying Ebad. This is the kind of positive storyline that we must see in all our dramas. Kudos to the team behind Pardes who have made this drama a roaring success.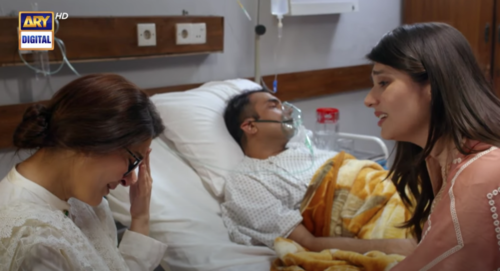 What's Next?
The preview for the next episode shows Ebad and his mother coming to the hospital, will Ebad and Aiman get married to fulfil Ahsan's dying wish? Watch the double episode of Pardes every Monday on ARY Digital.