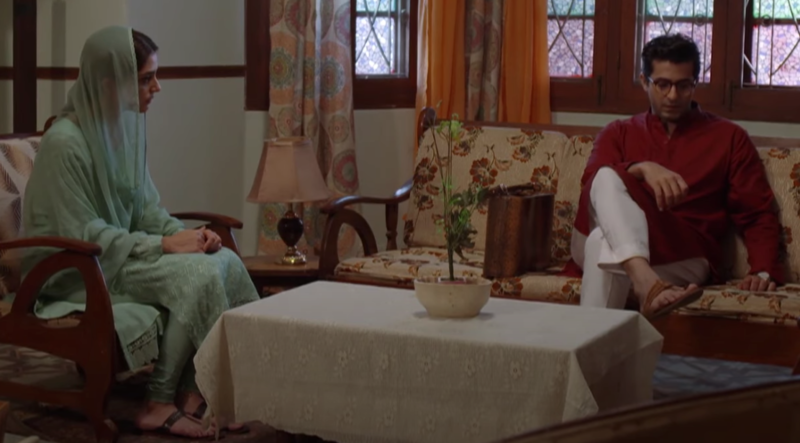 Maya Ali & Sheheryar Munavar star in this classic love-story that brings back old school romance to our tv screens!

ARY Digital's Pehli Si Muhabbat has caught the viewers' attention since its release. The buzz around the leading pair that was seen together after a long hiatus was definitely worth the hype, Maya Ali and Sheheryar Munawar have stolen our hearts as Rakhshi and Aslam. This fresh take on a beautiful yet sad love story has all the right elements that make it a classic romance.
Aslam and Rakhshi's Meeting Brings Back Old Memories
The previous episode of Pehli Si Muhabbat saw the gorgeous Hina Afridi (Bushra) forcing her husband Aslam (Sheheryar Munavar) to conquer his fears and face Rakhshi (Maya Ali) face to face. Once the two saw each other for the first time in years, it was like time had stopped and Aslam was stunned. The meeting was all sorts of awkward with Aslam, his wife and his ex all sitting across each other. Small talk was initiated by Aslam after Bushra left the room pretending to having call her sister-in-law. Aslam paid his condolences for Faiz Chacha's death while Rakhshi spoke about Aslam's mother's death and how she was truly sorry for his loss. Aslam's reply was pensive, definitely had a double meaning and left Rakhshi in tears.
News of Rakshhi and Aslam's meeting reaches Ishrat and Akram's household through Sadaf, the new member of the family. This angers Ishrat and she believes Aslam is trying to get back with Rakhshi, Akram feels they should inform Bushra that Sadaf's step-mother is Aslam's old lover. Little do they know that Saint-like-Bushra is already aware and has been encouraging Aslam to re-ignite his feelings once again! Kudos to Ishrat for trying to protect Bushra during this time and indirectly asking Rakhshi to stay away from the family.
Bushra's selfless love for Aslam has left us speechless!
Aslam and Rakhshi's lovestory was not hidden from Bushra (Hina Afridi) who was Aslam's fiancé at the moment and willingly encouraged him to be with the person he loves. While things did not work out in Aslam's favour at the time, Bushra has now turned into a saint. What else would one call a woman who is pushing her own husband towards his ex-beau? She is yet again encouraging Aslam to pursue Rakhshi and we saw her take Aslam to Rakhshi's house forcibly so as to have them meet face to face. Although we would love to see our Romeo and Juliet find their way to each other again, we cannot help but feel sorry for Bushra who is now Aslam's wife and his child's mother. She has stood by him through his worst time and she definitely does not deserve the love of her life leaving her once again!
Kudos to Hina Afridi who has just started out with her acting career, we are absolutely in love with her as Bushra. She has essayed the selfless love Bushra has for Aslam to perfection and our heart goes out to her when she realises her husband has never truly forgotten his past love.
Pakistani Dramas And Their Unhealthy Obsession With Second Marriages
A question that arises in our minds is why is second marriage normalised in Pakistani dramas? We do admit that Rakshi and Aslam were madly in love but is it so easy to leave your wife and think about getting married to your past-lover. Why couldn't Aslam and Rakhshi not behave like teenagers in love and act like the matured adults they have now become who are responsible for the people in their lives? We may have been rooting for the two love-birds before but we definitely do not approve the turn this storyline is now making, citing 'fate' to be driving force behind it.