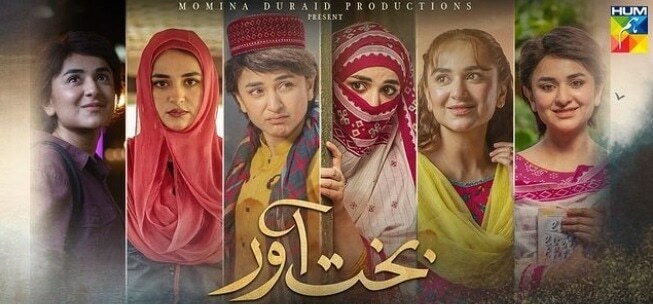 Hum TV's Bakhtawar is the story of a young woman who is determined to find her way out of all the societal ills she is trapped in.

The first episode of the much talked about drama Bakhtawar finally kicked off over the weekend. The drama has created quite the buzz around town with Yumna Zaidi playing yet another challenging avatar. This time she takes on a double-role and is seen dressing up as a young man in order to fend for herself and her old mother. The drama boasts of an ensemble star cast including Yumna Zaidi, Zaviyar Ijaz, Huma Nawab, Adnan Shah Tipu, Mizna Waqas amongst others. The play is penned down by Nadia Akhtar and it is directed by Shahid Shafaat, while it is produced by Momina Duraid.
In a patriarchal society, the innocent young Bakhtawar has faced many societal ills that have made life difficult for her. She dreams of flying high and achieving an education and breaking out from the rut of the village she lives in. Bakhtawar has faced challenges since she was a child, a drunk father who gambled away everything they had and also sold his older daughter into marriage. Rising above the challenges, Bakhtawar has chosen to study and become someone that her mother can be proud of!
Bakhtawar choses a bright future over love
While Bakhtawar was asked to marry her mentally disabled cousin, she also had a sweet young man who was madly in love with her. Her best friends brother wanted to marry her and was ready to support her through her dreams. However, Bakhtawar had other plans in mind, she wanted to achieve her goals and become the son that her mother always wanted. She didn't want to live the same life her sister was forced into.
A heartbreaking turn leaves Bakhtawar all alone in Karachi!
After Bakhtawar and her mother run away in the middle of the night to escape Bakhtawars forced marriage fixed by the village tribal council, what seemed like a beautiful new beginning for them has now turned into a complete nightmare!
Just as the two women stepped out of the train station they were robbed and Bakhtawar began chasing the thief, while Bakhtawar managed to regain her stolen bag, she lost her mother in the meanwhile. Stuck in a new city with nowhere to go and all alone. Bakhtawar's first episode left viewers at a crucial turning point in the story. We are now waiting to see what the next episode holds, will the mother-daughter duo be re-united? Will Bakhtawar manage to be free from the marriage she was being forced into? Watch Bakhtawar on Hum TV every Sunday at 8pm to find out!