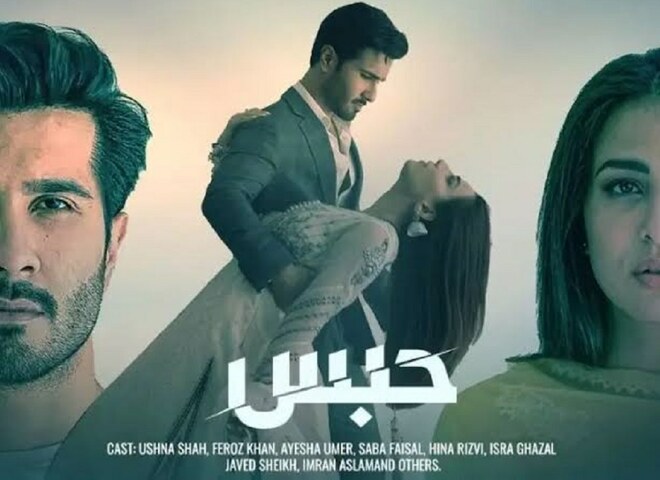 Basit and his mother's relationship becomes more complicated as they celebrate his birthday. Zoya is getting a taste...

Basit and his mother's relationship becomes more complicated as they celebrate his birthday. Zoya is getting a taste of her own medicine from her mother, as she keeps blaming her for ruining her rishta. Ayesha is not optimistic about their relationship, but she continues to believe Basit's mother.
Habs is a beautiful and simplistic story about troubled pasts and families, centered on two very different families. When Ayesha (Ushna Shah) and Basit (Feroze Khan) marry and attempt to work out their relationship despite their differences, things start to change. Mussadiq Malik directed the powerful script written by Aliya Makhdoom.
The episode begins with a connecting scene to the previous episode in which Basit tries to persuade Ayesha to stop crying in front of him because her problems will be resolved with Bano working for him. Although it appeared that he was making amends for his rudeness, he ruined it by saying, "Baba was right, it is impossible to make a woman happy."
Zoya (Janice Tessa) is furious at Basit's actions at Ayesha's house. She blames her mother for repeating what she did with Bano. Zoya's cell phone is confiscated and she is locked in her room by Qudsia Begum (Saba Faisal) for being unreasonable and selfish.
Ayesha and Basit's mother(Irsa Ghazal) get along fantastically. She tells him that she notices a significant change in his personality and that seeing the two together makes her very happy. Basit's mother believes she will never be able to remove Basit's hatred for her, so she intends to go back. Ayesha insists on staying, but she is convinced that Ayesha will be here with Basit, which is the only solace she has. Basit appears to be irritated that Ayesha has changed rooms, but he acts as if it doesn't bother him. He also believes Ayesha complains to his mother about his behavior. Bano replaces Ayesha in Basit's office, and Basit asks her not to tell anyone that she is her family because people at his office will accuse him of favoritism.
Zoya talks to Amir and convinces him that asking for a large dowry in the first meeting was inappropriate. Amir, on the other hand, maintains that it was his mother who said all of that, but he was offended by Basit's treatment of his mother. Zoya says she will apologise to his mother, and it appears that Zoya and Amir have other plans to resolve this issue and possibly marry. Meanwhile, Qudsia Begum wants to marry Zoya as soon as possible, so she hires a matchmaker to bring her some suitable proposals.
Basit's mom realizes its Basit's birthday and appears overjoyed that they will be able to celebrate Basit's birthday. She cheerfully begins making arrangements for Basit's surprise birthday party. Qudsia Begum is seen discussing proposals for Zoya with the matchmaker. However, she only wants to marry her daughter into a wealthy family because she does not want her daughters to suffer as she did as a result of her lack of wealth.
Basit returns home to find his friends gathered at his house to celebrate his birthday. Fahad informs him that Ayesha planned the surprise birthday party. He informs him that he does not celebrate birthdays, to which Fahad responds that we will now celebrate all of your birthdays. While Ayesha and Basit appear to be in good spirits, he informs everyone that he wants them to meet someone before cutting the cake. He introduces his mother to his childhood friends, claiming that she was never seen on his birthdays because she abandoned him in his childhood. Things become awkward from here, but Basit continues with his emotional and sarcastic speech. He asks his friends if they remember him not cutting his cake as a child because he would wait for her and cry. He blames his mother for forgetting his birthday because she was preoccupied with her new family at the time. She questions why she is doing all of this today when their relationship will never change. This surprise will not bring back the childhood happiness and memories that he so desperately needed at the time. He goes on to say that despite ending her relationship with his father, she is still called his mother because she probably doesn't realize how easy it is to be called a mother rather than becoming one.
He continues cutting the cake and celebrating after this rather obnoxious speech, while his mother returns to her room and faints. While driving aimlessly, Basit is seen remembering his childhood birthdays and crying.
Basit's mother is in the hospital, and the doctor warns them that she is at risk of brain haemorrhage due to extremely high blood pressure. Ayesha and Fahad are unable to contact Basit via phone.
Qudsia Begum has discovered a proposal for Zoya, and the guy seems over aged for her. After giving her some baat pakki salami, the prospective family fixes the rishta and leaves.
When Basit's mother asks for him after gaining conciousness, Ayesha and Fahad both lie about him being in the hospital and having just left for an important meeting. Basit, on the other hand, spends the night at his workplace. Basit answers Fahad's phone call and Fahad informs him of his mother's condition. Basit appears startled.
The episode was a little slow because viewers are now eager to learn the backstory and reasons for Basit's mother leaving when he was a child. However, it was brilliantly directed, and every actor performed so well that, despite the fact that the story was now dragging, we enjoyed watching it until the final scene. Basit's tears were especially heartbreaking because he has been portrayed as a very strong and mostly arrogant character. Nonetheless, the episode demonstrates how his childhood trauma has persisted in his personality. Feroze Khan's heartwarming acting ranged from hurtful in one scene to literally breaking down in the next.
Ushna Shah made us all feel the scene with her brilliant acting as Basit delivered his sarcastic birthday speech. Irsa Ghazal was also outstanding in this episode, as she maintained her persona despite being heartbroken. We especially appreciate how everything in each episode is kept in balance while keeping the focus on the storyline, resulting in a pleasurable viewing experience. It's also admirable that everything is depicted exactly as it is in real life. We really appreciate how they didn't glamourize the scenes at Ayesha's house and didn't make the characters look unrealistic with blow-dried hair and designer outfits while claiming to be from a middle-class family.
The next episode's trailer depicts more of these eye-opening encounters between Basit and his mother. While things don't appear to be going well, we hope they don't kill off Basit's mother before revealing her side of the story. Oh, and we want more heartfelt eye contact between Basit and Ayesha like we saw on his birthday.