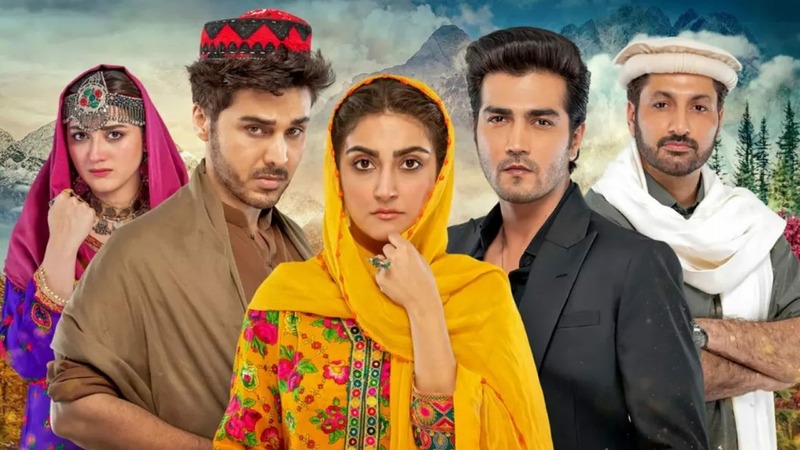 Since Darakhzai's passing, everything has undergone a significant change. The only hospital in her village is...

Since Darakhzai's passing, everything has undergone a significant change. The only hospital in her village is operated by Khajista, who has developed into a powerful woman. Hadi hasn't moved on yet, but Hassan has definitely started to lead a family life.
A Geo Entertainment drama titled Mere Humnasheen, written by Misbah Ali Syed and directed by Ali Faizan, stars Ahsan Khan, Hiba Bukhari, and Shehzad Sheikh. The protagonist of the story is a young, passionate woman from a traditional family and community, where women are not generally granted the same rights as males, particularly when it comes to education. Khajista (Hiba Bukhari) moves to the city to pursue her dream of becoming a doctor despite all hurdles. Her conservative and headstrong fiancé Darakhzai (Ahsan Khan) makes things challenging for her, and her university classmates are not delighted to see a meek girl from a backward area excel at everything she does. This causes some of her university and class fellows to feel envious leading to more problems for Khajista. But Dr. Hadi (Shehzad Sheikh), a senior at the university, falls for her because he thinks she is a brave and admirable individual.
The episode starts with years passing after Darakhzai's death. Amroze and Shanzay's son is given the name Darakhzai, and Khajista is eager to send him to the big school that has been established in their community. The responsibility for poisoning Darakhzai (Ahsan Khan) was removed from Behram Khan after Sanober (Meharbano) went insane when she confessed about poisoning Darakhzai. Daji (Rehan Sheikh), on the other hand, was grieving and worried about the commitment he made to his brother and Khajista's father about being in charge of his daughter. When he saw Khajista (Hiba Bukhari) absolutely lost and distraught following Darakhzai's death, he suggests having Khajista be married to Amroze instead. After being pressed by Daji, Amroze (Syed Jibran) reluctantly consented to do so. In contrast, Khajista refuses to go along with this absurd decision in a flashback sequence, she gives everyone a piece of her mind. As a last resort, she even advised Daji to arrange for her marriage to Behram Khan. She was told by Mor (Munnazah Arif) that this has been going on in their community for a long time and would continue to do so with her as well. She declared that I would never marry someone I had only ever thought of as an older brother. After this everyone realized how misguided this decision was and Amroze reassured Khajista that she would always be his sister. As a result, Shanzay (Momina Iqbal) grew to admire and respect Khajista for being such a mature and strong individual.
To work at her hospital, Khajista is seeking a cardiologist. But nobody wants to work in her area. Despite everything she has experienced in life, Dr. Khajista appears content with her hospital and her life today. But she still feels sad when she thinks of how hard Darakhzai worked to get the hospital built and how he sacrificed everything to make Khajista happy.
Hadi is still in the US, and his mother appears to be extremely concerned about the fact that he hasn't seen her in years. Given that Hassan (Haris Waheed) has a family of his own, it appears that things have calmed down for him. But he still feels guilty for making his mother upset. When visiting Hadi, Dr. Shehryar tries to persuade him to travel to Pakistan for a medical conference. He declines due to what appears to be his increased workload as a cardiac surgeon in America. Dr. Shehryar urges the two brothers to put an end to their history.
Hassan vacations in the same village as Khajista in the northern areas. Here his wife gets hurt, he takes her to Khajista's hospital. When Khajista meets Hassan, she becomes enraged and walks away, but Hassan tries to stop her by apologising for everything he may have done in the past. He blames her for Hadi's mother's sadness and ill health as a result of his absence ever since he left. Hassan indirectly accuses her of being to fault for all that has occurred, but Khajista immediately shuts him up as she does especially want her to talk about her past not at her own hospital.
Watching Khajista develop into the resilient woman we always wanted her to be made the entire episode really wholesome. In the scene where her life's most important decision was being decided against an illogical tradition, Hiba Bukhari's strong dialogues were so empowering and touching. Even though Khajista took front stage throughout the entire episode, it was nice to see Hassan experience the guilt he ought to have felt sooner. We did, however, miss Darakhzai's presence in the drama because, although playing a dreadful role, Ahsan Khan's performance made his appearance in the drama memorable. No wonder he received this year's Hum Award for Best Actor in a Negative Role. He certainly gives his characters personality.
We are eager to watch how the drama ends because the last episode's teaser made it clear that Khajista and Hadi's paths would cross once more. Will they both eventually get together? Please share your thoughts with us in the comments section.