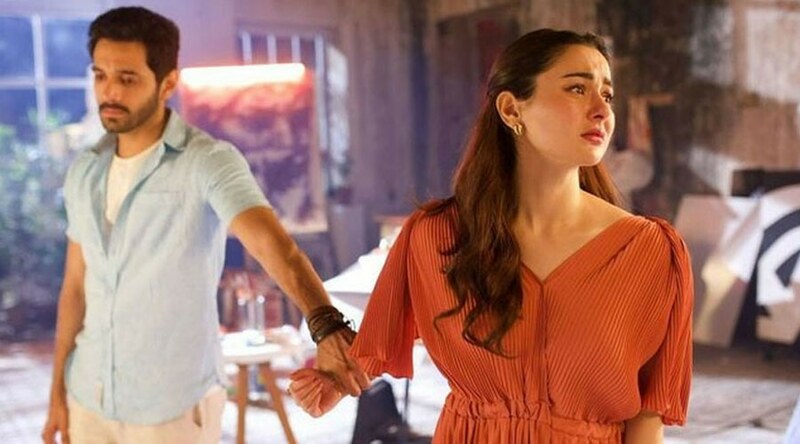 View this post on Instagram A post shared by Churail Sarwat (@sarwatg) By announcing his...

By announcing his refusal to wed Maheer, Saad resolves to take it all on himself. For the proposal, Areeb took his mother over to Maheer's house, but she seems overconfident and too proud of her being wealthy.
The drama "Mujhe Pyar Hua Tha" on ARY Digital tells a complicated yet compelling tale of love and sacrifice. Babar Mehmood is the director and Sidra Sehar Imran is the playwright. Maheer (Haniya Amir), Saad (Wahaj Ali), and Areeb (Zaviyar Noman Ejaz) are the three main protagonists in a love triangle. Maheer and Saad have always lived together as cousins. However, Maheer has always considered him as her cousin and closest friend. But Saad has always had a soft spot for Maheer. At her cousin's wedding, Maheer meets affluent Areeb, and the two fell in love.
Maheer tells Rafia(Salma Zafar) that Areeb has convinced his parents to visit tomorrow but she is also worried about Saad and her father. Meanwhile,Neelo (Rabia Kulsoom) and her mother are preparing for Saad and Maheer's engagement. When Neelo shares her preparation to Saad, he reacts angrily and rudely.
Maheer and Areeb are talking on the phone and pledging to be together no matter what. Maheer expresses her concern about losing Areeb and her worry that his mother might not approve of her.
When Azhar (Shahood Alvi) notices Maheer and her mother cleaning the house, he asks Rafia what all the preparation is about. Rafia reveals that Maheer will get a proposal from someone who is coming. Azhar becomes enraged by this and severely reprimands Rafia, ordering her to warn the folks not to come because his daughter is getting engaged on Friday.
While this argument was going on, Saad entered their home and advised his uncle not to turn away the potential guests since he and Maheer would be unhappy. Azhar responds, "Leave Maheer out of this," since he believes that Saad is the only one who is opposed to this marriage. When Saad's parents arrive, he tells them how Saad has humiliated him since everyone knows his daughter would be getting engaged on Friday, but he has chosen to reject the proposal right now. They are pushed out of the house by Azhar, he says he didn't even want to look at their faces. Everyone is in disbelief about how can Saad do such a thing.
Azhar apologises to Maheer for making such a poor choice and appears sad. She requests that Rafia arrange Maheer's rishta with anybody they want. Maheer is quite concerned because she can see how devastated her father is. Maheer is quite concerned because she can see how devastated her father is. Rafia tells her that Areeb is far better than Saad in every aspect and that her father would be fine when he meets Areeb.
Saad's father is enraged that Saad made such a major decision all by himself. He slaps Saad and demands to know why he did it. Maheer steps in and prevents her uncle from beating Saad and blaming him any longer.
Maheer apologizes to Saad for having to bear the brunt of her mistakes. She declares Saad to be the world's greatest individual. Saad, however, just begs her to go while promising her that everything will be fine. She wishes Saad gets whoever he wants in life since she has a lot of respect for him for not betraying her trust.
When Neelo questions Saad about the reasons behind his actions. He explains to her that he did so because Maheer doesn't love him and likes Areeb instead, saying: "Sab kuch jhoot ho sakta hai lekin ye sach hai k Maheer mujh se mohabbat nahi karti."
When Neelo questions how Maheer can reject you and cause your heart to break. Saad reminds her that she has never shown her love for him, she has never hurt him.He says, nothing is more precious to him than Maheer's hapiness.
Rafia is excitedly preparing snaks and stuff for Areeb and his mother. However, Areeb's mother behaves snobbish when they get there and didn't bother to eat anything since she felt stifled in the neighbourhood and home Maheer resides in. Areeb's mother only glanced at Maheer and told Areeb to leave because they are done with what they came for. Everyone gets shocked and uneasy by Areeb's mother's harsh behaviour.
Despite the fact that it was an intense episode, it was poorly handled since we had trouble connecting the dots between the events that took place.Why did everyone blame Saad forgetting that he liked Maheer yet they decided to believe him, beat him, and curse him when he suddenly refused to wed Maheer? Why is no one raising a concern about the timing of Saad's rejection and Maheer and Rafia's preparation for a different proposal? In terms of how the plot developed toward all the predicted outcomes, the episode was quite typical. However, Wahaj Ali's portrayal of Saad is the only thing keeping this drama interesting. Despite having few dialogues, he easily conveys so much that it causes you to have a knot in your throat. We're waiting to see what happens when Maheer marries Areeb since, most likely, that's when something unanticipated starts.
Until then, the drama's cast, particularly Wahaj Ali, is the only thing keeping it alive.