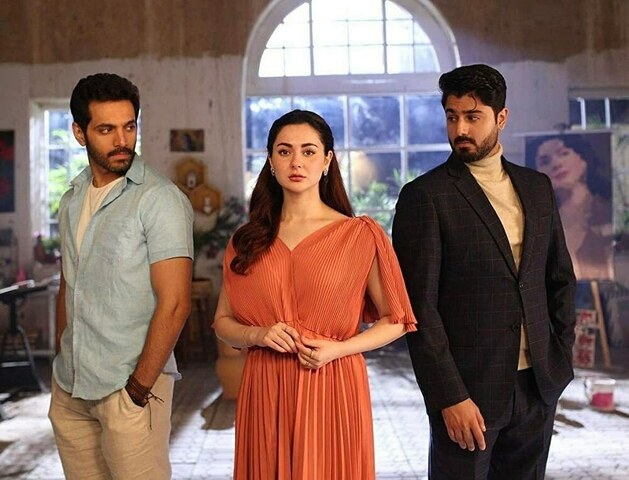 Areeb has gone completely berserk as he attempts to force his way into Maheer's house and make things worse, but...

Areeb has gone completely berserk as he attempts to force his way into Maheer's house and make things worse, but Maheer is definitely over him and she makes it clear that she wants him to leave her home and life forever.
Synopsis:
Every Monday, Mujhe Pyar Hua Tha is aired on ARY Digital. The musical soundtrack and the first few episodes of the drama garnered a lot of love and attention, but it lost its appeal after that. The fan's faith in the tale has, however, been somewhat restored as a result of the most recent episode. The three major characters in the story are Saad (Wahaj Ali), Maheer (Hania Amir), and Areeb (Zaviyar Noman). Maheer and Saad are cousins who live in the same house. Saad has always loved Maheer, but he has never been able to express his feelings. Maheer falls in love with Areeb unaware of Saad's emotions, and the two were about to get married until Areeb's father passed away on the same day, prompting his cruel mother to call off the wedding because she had never been in favour of her son marrying someone who was not as affluent as them. The family agrees to marry Maheer and Saad after her wedding is abruptly cancelled. Maheer initially struggled to accept Saad as her husband after getting married. However, Areeb now wants Maheer to leave Saad and be with him now that she has wholeheartedly accepted her fate.
"Saad and Maheer are a team now"
Maheer and Saad have finally begun to get along as husband and wife, but to make matters worse, Areeb chooses to show up at their home and begins yelling for Maheer to come and go with him. In order for Maheer to end her supposed marriage, he brought along divorce papers for her to sign. Saad attempted to stop him when he started yelling and pressing Maheer to sign the documents, but he had gone absolutely insane and pushed Saad away. When Maheer finally bursts and slaps Areeb asking him to stop talking rubbish as she has had enough. She tells him that no matter what happens, she will always stay with Saad and that she hates Areeb and his existence. He is pushed out of her home and is warned not to return by Maheer.
After Areeb left, Neelo and Saad's mother began to blame Maheer for providing Areeb with the reason and grit to enter their home and ask Maheer to get a divorce from Saad. Maheer makes an effort to convince them that she is unaware of the situation and has nothing to do with Areeb's actions Despite Maheer's guarantee; Neelo and her mother do not accept it and accuse her parents of raising an immoral girl. Neelo is asked to leave and to stop making unfounded allegations on Maheer by Saad.
Maheer is devastated by what Neelo and her mother said, as are Maheer's parents. Saad offers them an apology and guarantees that this will not happen again.
Maheer tells Saad that he is far superior to Areeb and that she has now come to the conclusion that her choice was incorrect.
Saad promises her that he believes in her and would stand by her despite what others may say. In the fairly tedious and boring tale, the episode was at last a breath of new air. Fans praised Saad and Maheer's chemistry and their recent union. Despite the drama losing its essence, the most recent episode actually helped us all forget our gripes about how nonsensical it had turned. After Saad and Maheer hugged each other and Saad gave Maheer a rose in appreciation of his wife, it's safe to say that all the fans went, "Awww!" We are even ready to ignore Neelo and Saad's mother's unnecessary villainy although they saw Maheer's response to Areeb. This episode is by far the best and has warmed our hearts.
We now know that Areeb is utterly out of control and will make every effort to separate the two. What do you predict Areeb will do next? How can Saad and Maheer make their bond stronger? Will Maheer be able to see Saad beyond their friendship? Let us know in the comments section.