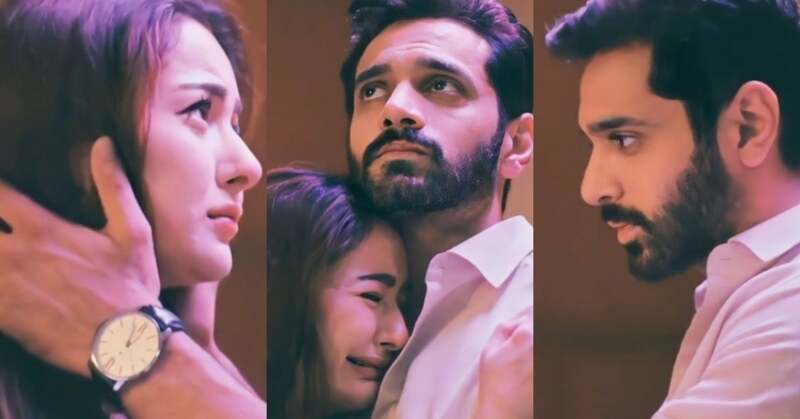 Areeb hires goons to harass Saad and his family because he is so distraught over Maheer's rejection and hatred for...

Areeb hires goons to harass Saad and his family because he is so distraught over Maheer's rejection and hatred for him. However, Saad has set a high standard for men by refusing to divorce or leave Maheer despite his mother's pleas.
When "Mujhe Pyaar Hua Tha," an ARY Digital drama serial, debuted, it quickly attracted a sizable audience. The story about Maheer and Saad's forced marriage, however, caused the show's popularity to drop. Fans expected to see Saad and Maheer's relationship bloom, but many were disappointed when the two of them failed to evoke any sort of feelings for each other. Maheer's continuing involvement in Areeb's thoughts—where she continued to circle back to him and her failure to see Saad's efforts in the relationship—added fuel to the flames. However, When Maheer realized she and Saad belonged together in the drama's 25th episode, things seemed to be improving. Overall, the performances were excellent, but Zaviyaar Noman's portrayal lacked intensity and depth.
Maheer firmly rejected Areeb in the previous episode, and even resorted to slapping him across the face. Areeb had a strong reaction to this because he had just heard Maheer declare her hatred for him. Areeb broke Maheer's photo in front of his family to show his inner agony and sobbed madly while accusing Maheer of betraying him. Areeb is now driven by an urge for vengeance and is determined in his desire to keep Saad from having Maheer.
Areeb has hired people to harass Saad and his family. While Neelo was out getting groceries, a few men harrassed her and threatened her with dire repercussions if Maheer stayed at their house. Neelo and her mother are in a dangerous situation as a result of frustration and rage they burst out at Maheer. Neelo's mother, who is terrified, forces Saad into divorcing Maheer right away.
Saad, though, is unyielding in his stance that he will not leave Maheer. Maheer admits to Saad that he deserved someone better.
He reassures her that he is not among those men who are constantly worried about their own masculine honor and prestige when it comes to women.
Areeb uses thugs to harm Saad, which reveals his true colours. While Saad is with Maheer, they damage Saad's car and abuse him. Maheer is terrified when Areeb calls her and bluntly admits his role in the incident. Areeb goes so far as to threaten to harm Saad. Maheer tells him not to harm Saad if he does not want her to hate him more. When Areeb sees Maheer showing genuine concern for Saad, his resentment grows.
Saad rushes to the police station to report the incident after learning that Areeb was responsible for their mishap. He then heads straight to Areeb's house to warn him of what he has been up to. When he fails to find Areeb, he tells his mother that Areeb will be responsible for whatever occurs if he doesn't stop.
Fans are comforted by the recent development in the story and are all praises for Saad's character. The previous episode gave us hope that Saad and Maheer were headed in the right direction for a happy ending. In this one, it was truly inspiring and comforting to witness a man stand up for his wife in front of his mother and not holding his wife responsible for his honour. Seeing Saad was especially pleasing since male characters, particularly husbands, are frequently shown in modern dramas to be unfaithful to or unsupportive of their wives.
Do you believe Areeb's ego and desire for vengeance will triumph over Saad's love and support for Maheer? Post a comment and let us know.